There are few countries in the world where you can hike in five national parks and two UNESCO Heritage sites in a week. You can stick to the coast or head inland, the latter being, generally, much more tourist free. Nothing is too far in Croatia, however, if you want a pick 'n mix of pretty paths. Velebit Nature Park, for example, which comprises the two national parks of Paklenica and Northern Velebit, is only two and a half hours' drive from Plitvice Lakes National Park. So you can take on the canyons of the former in the morning, and cool down by the waters of the latter in the afternoon – making every walking vacation here a veritable tour de force.
1. Elafiti Islands
So close together and all biodiverse beauties, the islands of Lopud, Sipan and Kolecep are perfect for island hopping and hiking. Lopud is a pine-forested island idyll and Kolocep is all about cliffs, coves and tiny villages. Sipan, the archipelago's largest, was the favoured resort of 14th century aristocracy and still full of architectural delights. Easily accessible from Dubrovnik for heritage walking tours at their finest.
2. Istria
You might think Istria is all a bit highbrow and high price, but real Istria is to be found by hiking. Explore Ucka Nature Park, for example, with climbs up to Vojak peak at 1,401m, with ravishing views along the peninsula. Or the restored, 120km Parenzana railway line, which traversed the much fought over area with neighbouring Italy for many years. It still shares its cuisine, allowing for feasts en route.
Mljet (Island) National Park
3. Mljet (Island) National Park
We love it when an island is one big national park because it feels like you have landed on one precious natural nugget. This island is also pretty unique with two salt water lakes on it which you can hike around. They are surrounded by pine, wooded hills with turquoise peeking through the trees, beckoning you to tiny golden beaches. Because it is, in fact, a golden nugget.
4. Plitvice National Park
Plitvice is paradise if walking on water is your thing. OK, close to. Because it boasts 16 freshwater lakes and 90 waterfalls, gifting a landscape that has so many shades of blue and green, you'll question your camera lens. So, this is not only a sublime place to plod around, but also plunge into. Bedecked with wooden paths and bridges, walking here is simply a joy.
5. Risnjak National Park
Home to two precious peaks, the most sought after summit being 'Big Risnjak' or Veliki Risnjak, the park's highest point at 1,528m. The other is Snjeznik at 1,506m. Given that this is the northernmost national park, near the coast and the most mountainous, you have stupendous views out along the archipelago. Fawn over fauna such as bear, deer, chamois and wild boar with rare orchids adding to the flora delights.
6. Velebit Nature Park
You get two for the price of one here as it has two designated national parks within it: Paklenica NP and the Northern Velebit NP. The former is also part of a UNESCO Biosphere Reserve and, as you hike through prolific pine forests and dramatic river canyons, you'll see why. The latter is contrastingly karst with exposed rocky hills, habitat to rare treats such as bear and wolf, lynx and golden eagles.
Our top trip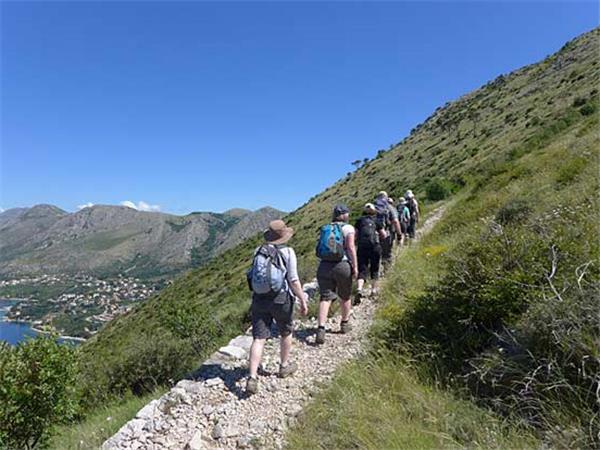 Idyllic walks through some of Europe's finest scenery
From
US $

2325

to

US $

2625
8 days
ex flights
Small group travel:
2024: 11 May, 18 May, 8 Jun, 15 Jun, 29 Jun, 24 Aug, 7 Sep, 14 Sep, 28 Sep
If you'd like to chat about Croatia walking or need help finding a vacation to suit you we're very happy to help.

Croatia walking vacations travel advice
Ana Vujakovic from our Croatian supplier, Huck Finn Adventure Travel:
"If you plan to visit national parks, it is good to check their opening times in advance. In the summer months it is not something that should be a problem since they have longer working hours, but arriving early in the morning (just after opening) will help you see the park before rest of the visitors arrive. Also, traveling with a local operator can help avoid long lines and pick put the best spots to see. One of the parks we recommend the most is Velebit National Park – interesting for its biodiversity and untouched nature as well as no crowds."
Andrew Appleyard, from our supplier, Exodus Travels gives great Croatia walking vacations tips:
"If your trip starts in Pula give yourself an extra few days as it's a fab town with an amazing Roman amphitheatre and old Roman temples in the forum with fantastic local eateries. La Parenzanna is a fantastic walk along the old railway line from Motovun to Groznjan in Istria, and in May there are stunning orchids and wild flowers there. Motovun is busy during the day but empties at night and has some superb restaurants seeing wonderful load cuisine."
Tomi Coric from our walking vacations in Croatia supplier, Viator Travel:
"Some people think that they can visit everything in seven days. But especially on the coast, you can't see it all in one trip. It is much better to concentrate on a small area, and not try to do too much."
At Responsible Travel, we think the best people to advise our travelers are often... other travelers. They always return from our tours with packing tips, weather reports, ideas about what to do - and opinions about what not to.
We have selected some of the most useful Croatia walking vacation tips that our guests have provided over the years to help you make the very most of your vacation - and the space inside your suitcase.

Do not hesitate at all if you want to see such lovely landscapes and challenge yourself! A little exercise beforehand would help to enjoy uphill, uphill!

"Reading up a bit on recent Balkan history could help understand what happened to the country. Secondly, a pair of shoes you can go into the water in, say jelly shoes, would make the rocky beaches more comfortable!" – Liz Pritchard

"Be prepared for very variable weather even if the forecast is good; take waterproof/windproof and something warm as well as the usual shorts and T-shirt. Eating out was about the same as in the UK but generally better value." – Sandra Pullen

"May be very hot if you go in summer so some of the walks will be less demanding than normal on safety grounds and you won't get so much of a challenge (if you are seeking that as well as scenery). The river areas for swimming are very crowded in the summer so don't expect a peaceful swim." – Chris Owen

"Our group got on well (eight of us), this also made the vacation that much more enjoyable. We generally wanted to do the same things but on the odd occasion someone did not want to do the planned activity Irena accommodated this." - Pat Lawrence

Be prepared - good walking shoes, though not unduly strenuous the tracks can be rocky. Springtime is wonderful, not too hot but Islands lish and green and covered in flowers and herbs. An umbrella is useful for rain and sun and be prepared for swims.

"Bring shampoo, body lotion and wash cloths as the hotels and guest houses were we were lodged did not supply the usual samples." - Lucea Keller

"Be prepared for change of plans but also the operator had very good in-depth knowledge of the local islands, footpaths, kayak routes and even local herbs and other facilities. Have a few ideas of what you would like to do yourself on the islands as there is free time to explore." - Sarah Freeman

"If you are staying on Sipan and Lopud make sure you stay on Sipan first. It is a lovely island but very quiet with little to offer in the way of bars or restaurants. If you stay on Lopud first this can seem a bit of an anti climax." – Eunice Gray

"Lots of things to do if weather is bad they find something interesting to entertain the group. Stays were lovely, clean lovely surroundings, big breakfasts and friendly helpful hosts. Just go with the flow, I am 70 had a ball did walking and sea kayaking." - Gloria Bentley-Reaney
More Croatia walking articles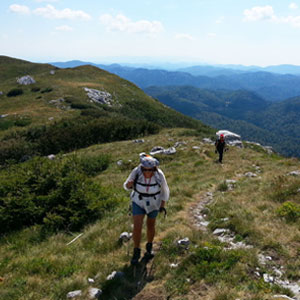 Step inside our Croatia walking travel guide and you'll find yourself overlooking tranquil blue waters as you ponder over the best time to go on a Croatia walking vacation in terms of temperature & rainfall.