Trekking in the Tigray Region
The northernmost of Ethiopia's nine regions, Tigray borders Sudan and Eritrea and has a strong Christian heritage, as well as a landscape and history worthy of a fairy tale. Rugged red plains and soaring turrets of rock hide ancient churches, built into caves and carved into cliff faces - and itís also home to the minority Tigrayan people, whose nobility trace their ancestry back to the legendary king, Menelik I.

Treks in this region focus on moving to the rhythms of local life with paths leading through remote farming regions and stays at community lodges included. Youíll also get to visit some of the aforementioned churches, reached by hikes through spectacular landscapes - though getting to some of them can involve a bit of a scramble, youíll likely get to explore on your own, even during peak season.
Our Ethiopia walking Vacations
Treks in the Tigray will take you deep into rural Ethiopia to the cliffs, plateaus and sandstone ridges of the Agame Mountains where farming is the main way of life. Tours are tailor made and a standard trip lasts four days, though this can be extended to a week if you prefer. Itineraries can also be tweaked to suit your needs with both easygoing trails and more challenging routes available. Youíll be accompanied by local guides and your luggage will be transferred by mule, ensuring the least possible impact on the land.
Youíll walk for between two and six hours a day depending on your itinerary. Some days will involve gentle walks across hills and valleys while others will be tougher, for example climbing up to see the rock hewn church at Debre Giyorgis, which involves a steep walk followed by a 200m climb up steps and ladders. Wherever you choose to walk, though, the far-ranging views make it well worth it.
If you want to see more of the country while youíre here you can tailor tours to take you to Axum, Lalibela, Gondar or the Danikal depression, too.
Ancient heritage
The sandstone carved churches of Ethiopia's Agame Mountains are not as well-known as the rock hewn churches of Lalibela, but they are just as beguiling. On tailor made treks in this region you can take in as many or as few as you wish, with highlights including lesser known sites such as the churches at Mariam Buzuhan and Kiat Mariam. Itís not just the churches though - you also have the chance to see cave paintings and early Axumite remains including a temple said to belong to the Queen of Sheba.
Wildlife
The area is rich in birdlife and while walking on the escarpment thereís a good chance of seeing raptors and sunbirds. You could also catch a glimpse of a rock hyrax or jackal, and gelada baboons are common around these parts. Youíll often spot them lounging on the rocks and hillsides, or possibly sneaking into fields to steal freshly grown produce.
Community connections
Our trekking trips in the Tigray region are all about connecting with local people. Your guides will come from the immediate area, and thereís a handful of simple guesthouses that have been built by nearby residents and are locally owned, with the bulk of profits going to the community. Stay in these and youĎll get simple but comfortable double rooms with a shared composting toilet and a shower warmed by the sun, as well as a terrace and areas for relaxing and dining. Homemade traditional meals are included, and evenings can be spent chatting to the villagers, playing games with local kids or even doing a spot of impromptu dancing.
Our top Ethiopia walking Vacation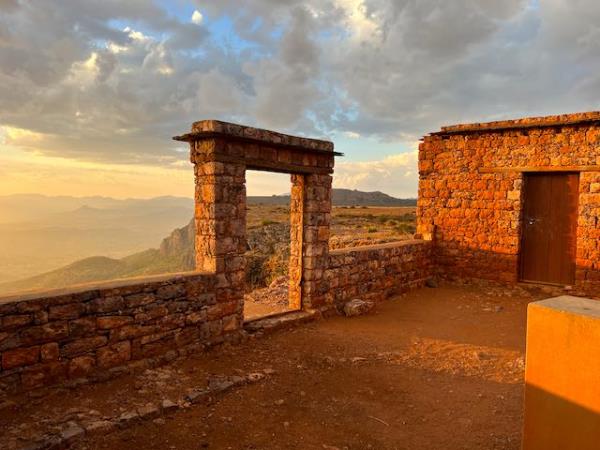 Walk with locals in beautiful sandstone mountains of Tigray
From
US $

525
5 days
ex flights
Tailor made:
This trip can be tailor made throughout the year to suit your requirements
If you'd like to chat about Ethiopia walking or need help finding a vacation to suit you we're very happy to help.

Trips are based around the town of Adigrat some 900km north of Addis Ababa. Youíre best off taking a domestic flight from Addis Ababa to Mekele or Axum, from where you can be transferred by 4WD to the start of your trek.

Itís possible to visit the region year round, but the best time to go to is from November to March when days are warm and dry and the terrain at its greenest after the long rains. Light cotton clothes are the best for trekking here, but bear in mind that it gets cold at night so youíll need some warm layers as well as a good jacket for wind and unexpected rain showers.

Also remember that people are conservative up in the highlands so you should make sure to dress respectfully, by covering your shoulders and legs, especially when going into churches or family compounds.
More about Ethiopia walking