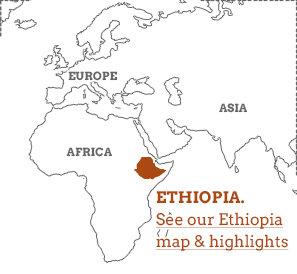 Exploring Ethiopia may occasionally feel like stepping back in time, but these vacations bring you bang up to date by introducing you to the people and culture. You might sample the finest vegan food (few countries do it better), go trekking in the Bale Mountains or to see the baboons in the Simien Mountains, or travel the Northern Circuit to admire the ancient rock-hewn churches of Lalibela. But wherever you go, you'll be in the company of knowledgeable local guides and staying in smaller, often family-run accommodations. It's the best way to travel here, and definitely the best introduction to Ethiopia.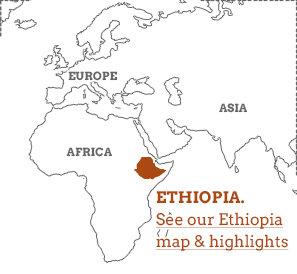 Our top Ethiopia vacations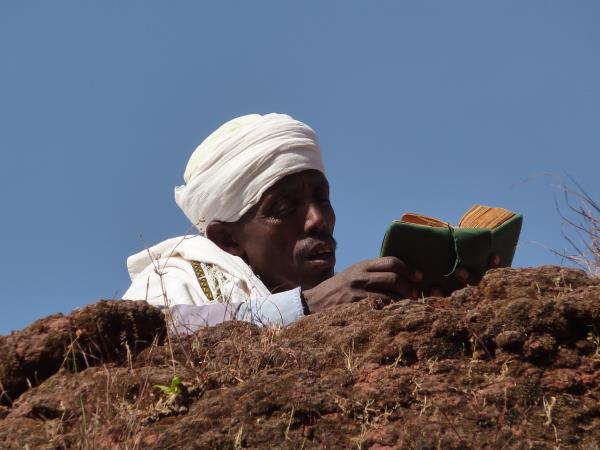 14 days
ex flights
Discover the natural beauty and culture of Ethiopia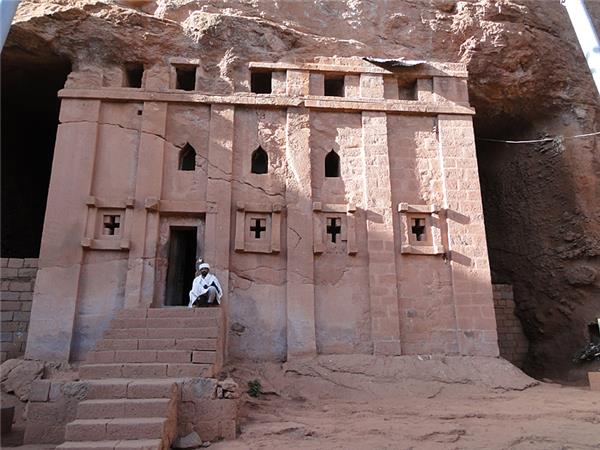 From
US $

3999

to

US $

4179
13 days
ex flights
Journey along Ethiopia's magnificent northern circuit, including Tigrai
Small group
2022: 25 Sep, 16 Oct, 6 Nov, 23 Nov, 27 Dec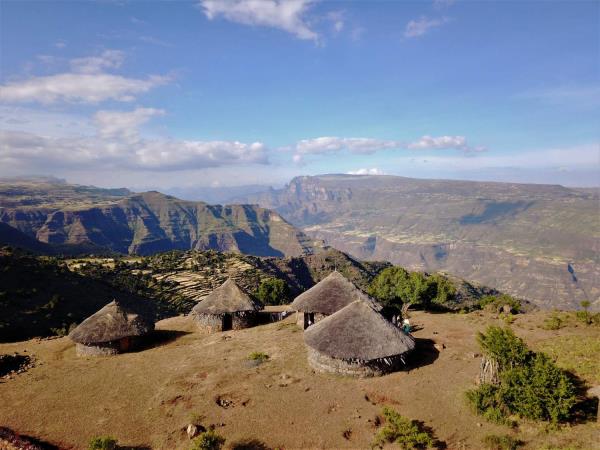 5 days
ex flights
Trek remote, beautiful farmland near Janamora
Best time to go on vacation to Ethiopia
Much of Ethiopia sits over 1,500m high, so the days can be mild and nights chilly – especially in the fog-shrouded highlands, which soar well above 3,000m. The best time to visit Ethiopia is September to April, but particularly at either end of the rains – in April, when the land is dry and barren, or as it flourishes again between September and October. This green season is also best for highland wildlife. Rains replenish the Omo Valley even sooner, so travel November to March or June to September. Generally, though, the rains cause little disruption; you'll just find lusher landscapes and fewer tourists.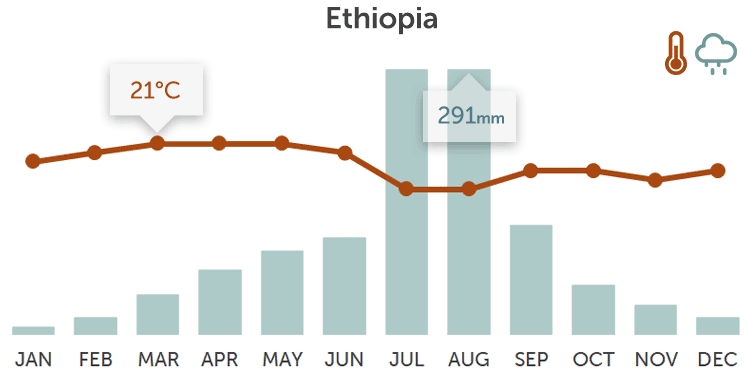 Map & highlights
The 11 churches of Lalibela, hewn from rock in the 13th century, are Ethiopia's big 'tourism attraction', and an integral stop on the Northern Circuit. Also on this popular historical route are the ancient city of Aksum, famed for its huge stone obelisks, and Gondar, with its impressive Royal Enclosure complex. Gondar is the gateway to Lake Tana, dotted with islands on which old monasteries and churches perch. Guided trekking in the Simien Mountains brings you close to wildlife, including baboons, ibex and vultures, while exploring the Omo Valley introduces you to over a dozen tribal cultures.
1. Aksum
One of Africa's oldest continuously inhabited sites, this was the capital of the Aksumite Kingdom dating back to 100AD. Today, it is known mainly for its stellae – enormous stone obelisks up to 33m tall and weighing up to 520 tonnes – the oldest of which date back 1,700 years. Aksum is also said to be the resting place of the Ark of the Covenant, in the unassuming Chapel of the Tablet – the holiest site in Ethiopia.
2. Bahir Dar & Lake Tana
One of Ethiopia's most pleasant cities, Bahir Dar is the gateway to Lake Tana and the Blue Nile Falls, though this once magnificent 40m-high cascade has withered in recent years with the construction of a dam. Take a boat tour to Lake Tana's islands, home to ancient churches and monasteries, looking out for hippos along the way. The town itself has a thriving daily market, and charming cafes with lakeside views.
3. Gondar
Dating back to the 17th century, Gondar is a relatively 'new' city by Ethiopian standards. The Royal Enclosure is a complex of impressive buildings including churches, palaces, castles, a ceremonial bath and a banqueting hall. Today, Gondar is a convenient stopover on the way to Lake Tana and the Simien Mountains; it is also known for its huge Timkat celebrations in January.
4. Lalibela
These 11 rock-hewn churches – up to 13m high – were created in the 13th century, and are the closest thing Ethiopia has to a 'big' tourist attraction. They were freed entirely from the rock with just hammers and chisels, complete with elaborate windows, columns and roofs. Lalibela remains very much a living cultural site; 1,000 of its 10,000 residents are priests, and the churches are the focal points for ceremonies, vigils and processions.
5. Omo Valley
Some of the world's oldest human remains were found in this region, and today the Omo Valley continues to provide a glimpse into ancient ways of life, thanks to more than a dozen tribes that live along the banks of the Omo River. Famed for their body adornments – which include lip plates, scarification and face paint – the tribes are a huge attraction, though tourism has already begun to chip away at tradition.
6. Simien Mountains
The jagged peaks and deep gorges of this mist-shrouded national park are home to Ethiopia's most striking wildlife: gelada baboons, Walia ibex and lammergeyer vultures. Millions of years of erosion have created a jaw-dropping landscape, recognised by UNESCO. Surreal Afro-Alpine vegetation clings to the steep slopes, over 3,600m high. Single or multi-day treks with local guides offer an insight into life on the "roof of Africa".
Culture
Ethiopia is the only African country never to have been fully colonised, resulting in a culture little-influenced by the West. It has its own alphabet, calendar and time zone, and this strongly religious country (the second-oldest Christian country in the world) also dictates regular fasting days on which you'll find only vegetarian or vegan food. When thinking of Ethiopian culture, though, most people picture the tribes along the Omo Valley, each with their own distinctive appearance, from lip plates to face paint. The Omo tribes continue to maintain their unique cultures and languages under pressure from displacement and increasing interest from tourists.
Walking vacations in Ethiopia
Ethiopia walking vacations
take you to trails that are refreshingly crowd-free and guides capable of introducing you to communities away from the main destinations. Most Ethiopia trekking is done in the north of the country, especially in the Simien Mountains National Park, where you can encounter Gelada baboons in the grasslands and rare Walia ibex. You can also explore the Bale Mountains south of Addis Ababa. The best time for walking is between October (September in the Simien Mountains) and January, and you can choose from small group or tailor made trips.
Northern Circuit
The
Northern Circuit
is the most popular – and most impressive – tourism route in Ethiopia. It takes you from Bahir Dar on the shore of Lake Tana (said to be the source of the Blue Nile) to Gondar, Axum and the ancient underground churches of Lalibela. Small group and tailor made trips normally travel in a clockwise direction, with internal flights from Addis Ababa. They last for around two weeks, so that you can get the most from a tour with some long distances involved. You can also include guided trekking in the Simien Mountains between Gondar and Axum.
Types of vacations & vacations to Ethiopia
Whether you're there for trekking, tribes or tramping around ancient churches,
small group vacations
in Ethiopia enable you to make the most of your time. You'll see as many of the highlights as possible with well-organised, fully guided itineraries. If your time is more limited or you want to pick and choose between accommodations and activities according to your own tastes, then you can look at
tailor made vacations
. Encountering the tribes along the Omo Valley is the focus of many
cultural tours
in Ethiopia, but you can also visit remote mountain communities while walking with a guide.