Best time to visit Ethiopia

Many people are surprised to learn that rain and rivers do, actually, flow in Ethiopia, resulting in wildflower carpets and thriving forests.

Much of Ethiopia sits over 1,500m high; days can be mild and nights cold – especially in the fog-shrouded highlands, which soar well over 3,000m. The best time to visit Ethiopia is Sep-April, but particularly at either end of the rains – in April, when the land is dry and barren, or as it flourishes again in Sep-Oct. This green season is also best for highland wildlife. Rains replenish the Omo Valley even sooner – so travel Nov-Mar or Jun-Sep. Generally, though, the rains cause little disruption; you'll just find lusher landscapes and fewer tourists.
Simien Mountains Weather Chart
Ethiopia's annual Christian celebration, Timkat, takes place around the middle of January and, although crowded with tourists and known for large gatherings, this is an amazing event to witness firsthand especially with the relatively mild temperatures. If you're planning on visiting Ethiopia any time over their winter period, which runs until February, you need to be aware that it can get cold in the highlands, especially at night. The Simien Mountains and northern areas, around towns like Lalibela, start to get a little warmer from March and trekkers will find ideal conditions with the occasional shower never too problematic. Regions around the Omo Valley in the southwest of Ethiopia are the first to experience the shorter belg rains in April with the wetter weather moving eastwards into Bale Mountains National Park and the Rift Valley Lakes during May and June. As the heavier and more permanent rains of the kiremt season really start to kick in around Simiens and Bale in July and August it's probably advisable to give them a miss around this time of year and opt for Omo and Mago National Parks instead. Ethiopia's rainy season can stretch into September although around October you'll find the best time of year to visit the central highlands and northern circuit with lush green landscapes featuring carpets of yellow meskel flowers as well as easier traveling conditions. One of the best times to visit the South Omo Valley and the Danakil Depression on the Eritrean border are the months of November and December as temperatures are lower with little or no rainfall. In general, avoid the rainy season from June to August and bear in mind lower temperatures the higher the altitude and hotter conditions the lower you go and the further east you travel.
Our top Ethiopia Vacation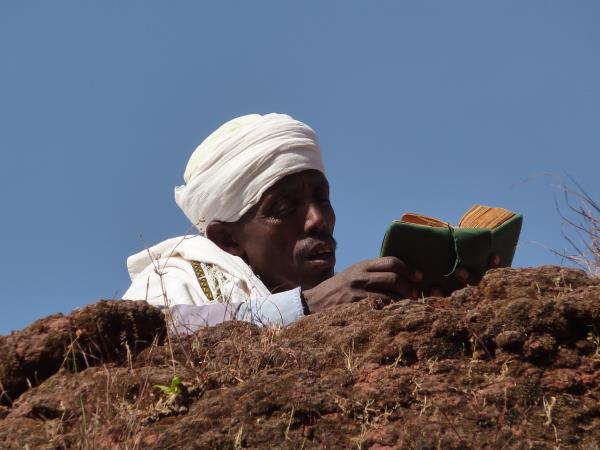 Discover the natural beauty and culture of Ethiopia
From £1795 14 days ex flights
Tailor made:
This trip can be tailor made at a time to suit you and can be adapted to suit your interests, budget and requirements as necessary. Minimum 2 people
If you'd like to chat about Ethiopia or need help finding a vacation to suit you we're very happy to help.
Tips on the best time to visit Ethiopia
Lukey Bourne, from our supplier Wild Frontiers, shares her best time to visit Ethiopia:
"I went in April and it was starting to get hot but we had Lalibela to ourselves. We were going round the rock hewn churches and there were so few tourists. It is just before the rains so it was still very barren and dry, and spectacular. So I usually recommend April.
The south's slightly different though. You're really best going to the Omo Valley in March, as their rains start in April. The roads in the south are not very good so although you can go in the rains, the journeys take quite a lot longer and there is quite a lot of driving everywhere you go."
Linda Maguire, from our supplier Undiscovered Destinations:
"If I went back I would go just towards the end of the rainy season, in September or October. It's absolutely gorgeous; all the wildflowers are out. It's just as green as green can be at the end of the rainy season – but you can go any time. If you have to travel in July or August, It would be in the rainy season but that shouldn't deter people from going if that's the only time they can go."
Festivals & events in Ethiopia
Timkat
Lalibela, Addis Ababa and Gondar are the hotspots for this 1,000-year-old epiphany celebration, in which religious processions carry replicas of the Ark of the Covenant. There is lively music, dancing and colourful robes – followed by feasting and a ceremonial bathing to mark Jesus' baptism. Many tours incorporate Timkat, which takes place from 19-21 January. You can read more
here
.
If you'd prefer to travel in September, Meskel - which commemorates the finding of the True Cross - is a two-day celebration with bonfires and feasts. Book well in advance for both.
Convert currencies