Preparing for the culture shock
Eskinder Hailu, from our Ethiopian supplier Highway Tours:
"Ethiopia is a developing country so people shouldn't expect the comfort they get in Europe or America. But this doesn't mean that everything we have here is basic. We have some good hotels, everything is improving. Week after week, year after year, we are having lots of changes in the country. So if they are ready for a kind of adventure experience they will enjoy the things we have here. Reading helps – study the background of the people, it'll help them come to terms with the tastes and culture because we have different timing, a different calendar. These days you can find Ethiopian restaurants almost everywhere in big cities and a little experience of the food prior to arrival can help."
Lukey Bourne, from our supplier Wild Frontiers, shares her Ethiopia travel advice for families who are thinking of coming here: "I think it would be a fascinating family destination. But the reality is that the accommodation is very simple, and generally families do want a higher level than what you get here. As a general rule – you're not going to Ethiopia for the hotels; you're going for the experience. The driving distances are also quite long. I have sent families, and they've loved it – but with older children. The children have to be old enough to want to experience the landscapes and the history and the walking – it's not for everyone."
Opinions on food differ…
Jane Daniell, from our Ethiopia specialist supplier Alligan Travel:
"The national dish is injera which is a flatbread with various toppings which are put in spoonfuls on the injera. It's really delicious and they eat that all the time. There doesn't seem to be much else apart form that; it's eaten morning, noon and night. The only other alternatives are things like really dreary pasta, nothing particularly memorable. But the injera is amazing."
Linda Maguire, from our supplier Undiscovered Destinations:
"The food wasn't great… that injera! I didn't find it bad but I wouldn't say the food was absolutely fabulous. It was edible, and some of it's quite nice, quite spicy – but that injera, I would have nightmares about that when I came home! You won't starve, and if you go to the better restaurants it's fine, but I wouldn't say the food was a reason to go. It wasn't a highlight of Ethiopia."
Lukey Bourne, from our supplier Wild Frontiers, advises looking beyond the south for cultural experiences: "The north is very different from the Omo Valley, where you are looking at tribal communities with tattoos and lip plates; it is a bit more staged. In the north you won't get that, you are seeing local people how they really are. You're just seeing local life, how people live in rural communities, how they're farming, visit local houses, visit schools… it's a very authentic experience. You're not just visiting, you're staying with them. If you do the community trekking, they host you and the money goes back into their pockets. It is a community experience and the money is going back to the right people. You're not staying with a family, there are tukuls [traditional huts] which they put aside for guests, so it's between a guesthouse and a homestay. They live in a different tukul within the same community."
Our top Ethiopia Vacation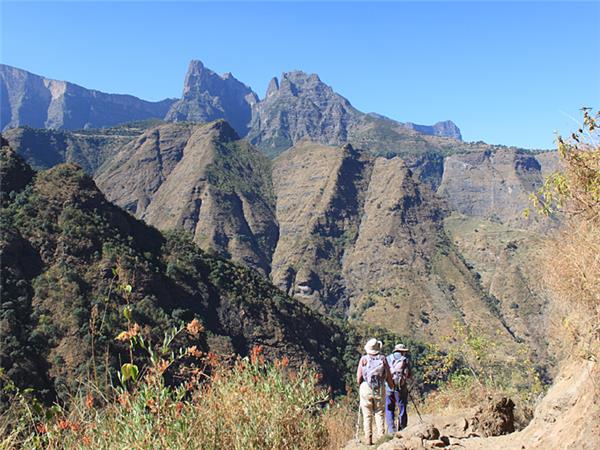 Trek the isolated splendour of the Ethiopian highlands
From
US $

4265

to

US $

4415
13 days
ex flights
Small group travel:
2019: 6 Oct, 27 Oct, 10 Nov, 24 Nov
2020: 9 Feb, 23 Feb, 4 Oct, 25 Oct, 8 Nov, 22 Nov
If you'd like to chat about Ethiopia or need help finding a vacation to suit you we're very happy to help.
Health & safety in Ethiopia
HEALTH
Visit your GP six to eight weeks before departure to ensure you are up to date with vaccinations. You may be required to show a yellow fever certificate on entry to Ethiopia.
Stomach upsets are unfortunately common. You may be able to get prescription antibiotics and anti-diarrhoea medication from your GP or travel clinic in advance of your trip – this is advised, especially if traveling in remote areas where hygiene is poorer and clinics are few and far between. Rehydration sachets, painkillers, antiseptic wipes and a small first aid kit are also a good idea.
Reasonable private hospitals are available in Addis Ababa only. Purchase comprehensive travel insurance, and ensure that it covers emergency medical evacuation and repatriation.
Most of the country is at high altitude, so malaria is not a risk. However, if you are planning to travel below 2,000m, anti malarial medication may be required. Consult your tour company and travel clinic for more information.
Other mosquito-borne illnesses include dengue and yellow fever, so be sure to wear long sleeves and trousers, bring insect repellent and use mosquito nets where provided.
Never swim or paddle in a lake in Ethiopia; all lakes contain Bilharzia (schistosomiasis), a freshwater parasite picked up through the skin. The only exception is Lake Langano, which has turned into a popular local resort for this reason.
Tap water is not safe to drink in Ethiopia. Although local hygiene standards vary, wash your hands with hot water and soap whenever possible, and bring hand sanitiser for when it is not. Keep the use of plastic bottles down by bringing water purification tablets, or a self filtering water bottle such as LifeStraw.
Take note of the local emergency number: 907.
SAFETY
Most visits are trouble free, however terrorism is sadly a reality of traveling in these times. Ethiopia has suffered at the hands of terrorists' activities, the most recent being in the form of grenade attacks in Gondar in April 2017, a popular tourist area famous for its ancient castles. No organisation took responsibility for these attacks, although it they are thought to be linked to anti-government protesters, following civil unrest in the country. It is believed that this unrest also led to the bombing of a mosque in Addis Adaba in 2015. The government declared a state of emergency in February 2018, although this does not restrict the movement of tourists.
Tourists are advised to avoid the border area with Somalia, where terrorists from militant organisation Al-Shabaab, which is affiliated with Al-Qaeda, and based in Somalia are believed to operate. They are also advised against all travel near the border with Kenya, where Ethiopian security forces killed nine civilians at Moyale in March 2018. Always get up to date information at the Foreign and Commonwealth Office (FCO) travel advisory department before traveling to Ethiopia and also ensure that your travel insurance covers your trip, given that it is a destination affected by terrorism. Read more details on FCO and insurance here.
Take care in busy areas, such as markets and festivals, and be wary of young children who approach you in the cities. Selling you something may be a distraction while they pickpocket you. Never have valuables on show.
Health and safety standards are poor in Ethiopia. Boats are unlikely to have lifejackets, roads are unpaved and unlit and accessing sites such as the Lalibela churches, for example, will include walking up and down rough steps and paths – with no handrails.
Driving at night is not recommended; there may be wild animals, livestock and donkey carts on the road, and local driving standards are low.
You may not take more than 200 birr out of the country. You may be arrested or fined if taking more than this, so be careful how much you withdraw – and leave any excess as a tip for hotel staff or your guide.
It is possible to camp in the Omo Valley but check with your tour company on the latest security situation, and be sure that local tribes are happy with you camping nearby. Confrontations have occurred in the past.
Ethiopia's highlands are surprisingly cold and wet temperatures can drop below freezing at night in winter and many travelers are poorly prepared. Conversely, other regions, are scorchingly hot and dry – the Danakil Desert is one of the hottest places on earth, with no shade. Pack, and dress, appropriately.
Be aware of the symptoms of altitude sickness which may occur from 2,500m upwards. If you feel ill, descending even a few hundred metres will help greatly. Keep well hydrated and also remember your sun screen; although it's cold, you're still very close to the equator and altitude magnifies the sun's power.
Consult the FCO website for more information on health and safety in Ethiopia.
Ethiopia tips from our travelers
At Responsible Travel, we think the best people to advise our travelers are often... other travelers. They always return from our tours with packing tips, weather reports, ideas about what to do - and opinions about what not to.

We have selected some of the most useful Ethiopia travel tips that our guests have provided over the years to help you make the very most of your vacation - and the space inside your suitcase.

The people of Ethiopia are fantastic, never once did we feel unsafe. Give them a smile or a wave… a Salam'na will always break the ice

"Guides were great, of special note was our young female guide Kidist, an inspiring example of a women in Africa and a privilege have her company... go for as long as you can! Its a huge country, very diverse, and if you can go for 3 weeks you can see so much more." - Christine Browning

"Try and get small denomination notes (1,5 & 10 birr) for tips, small purchases in markets, coffees etc." - Lorraine Goodhew

"The deprivation was startling and one had to remind oneself this is how so many people live. Mixing with the locals at markets and villages was very real and exciting." - Phil Hughes Rocne

"The people of Ethiopia are fantastic, never once did we feel unsafe. Give them a smile or a wave… a Salam'na will always break the ice and the offer of a hand shake goes a long way in establishing a relationship, even a brief one. Spend your money in villages, don't quibble, they need it more than you do." - John Palmer

Be in Lalibela on a Sunday morning to see the churches in 'action'.

"Do not be tempted to try and see too much, as road travel in Ethiopia is slow and bone-shaking, and distances routinely measured in hours rather than kilometers." -Robert Reid

"Take shoes which are easy to take off and put on - you have to remove your shoes every time you enter a church." -Paul Infield

"If you don't have a lot of time, then go with the reputable tour company, as we did. This meant that they took charge of all guides and scouts when visiting sites (usually compulsory) and made life easy and relatively hassle-free." - Jan Baker

"Be in Lalibela on a Sunday morning to see the churches in 'action', visit a nightclub in Gondar for immersion in Ethiopian music and co-incide with teh Dimeka and/or Kefar Afar market days in the South Omo Valley." - Christine Didsbury
Convert currencies