Everest Base Camp photography vacation
The Buddhist monastery at Tengboche is often referred to as 'the gateway to Everest'. It's an enduringly popular stop-off on the way to Everest Base Camp South, and during the spring climbing season those gearing up for an ascent will often pause at the monastery to pay their respects, light a candle and pray for success.
But for anyone with a passion for mountain photography, there's an equally pressing reason to spend time in Tengboche. The panoramic views here, of Everest and other Himalayan peaks including Nuptse, Tawache, Lhotse and Thamserku, are stupendous. John Hunt, who led the 1953 expedition that saw Edmund Hillary and Tensing Norgay summit Everest, declared Tengboche "one of the most beautiful places in the world". He's right, of course, but simply getting to the village is in itself an unforgettable odyssey between majestic peaks and remote Himalayan communities.
Everest Base Camp
makes for peak adventure photography, but it's also an ambitious destination that needs to be approached with as much care as anticipation. To that end, it's likely that your tour leader will be a highly experienced mountain guide as well as photography tutor, and may have conquered Everest themselves at least once. Knowing there is that level of professionalism involved, along with the fact that Nepalese Sherpas rank among the most elite mountaineers on Earth, is enormously reassuring for anyone that has not trekked at these altitudes before.
As Geraldine Westrupp from our specialist operator Wild Photography Vacations puts it: "The Sherpas we use are so experienced, and in Nepal the guides are just the cream of the crop already. In terms of trekking here everything works so well; it's very organised and professionally run." So you can concentrate on what's in the viewfinder, 100 percent confident that those leading the way know exactly what they're doing.

Another key advantage of traveling with a responsible vacation company that has years of experience with running tours in this region – and one that's difficult to overstate – is long-established connections with the communities that you'll pass on the way. While iconic locations such as Namche Bazaar naturally feature along this well-trodden route, you'll also spend time in less-visited places where you can explore traditional ways of life and cultural practises that would likely escape most trekkers. This won't just lead to some thrilling photography opportunities for you. Through the purchase of food and handicrafts, your visit can also offer economic benefits to people that live off the main tourist track and suffered significantly from the 2015 earthquakes.

The route from Lukla to Everest Base Camp is a classic trek through a classic photography destination. There's plenty of challenge involved, but the potential rewards, including close-up views of the world's highest mountains and countless encounters with local people dressed in traditional attire, make it absolutely worth hitting the gym for a few weeks before departure so that you can make the absolute most of the experience.
Photography subjects
When you're trekking across the roof of the world, you're going to be practically overwhelmed by inspiration from the moment you step out of your accommodation every morning until you zip up your sleeping bag at night. The adventure begins as soon as you fly into the Nepalese capital, Kathmandu. The hilltop Swayambhu stupa, situated just west of Kathmandu, is a complex of ancient Buddhist temples and shrines where monkeys scamper, and an important pilgrimage site. Arrive before dawn to watch the devout performing their circumambulations. You might encounter ash-smeared sadhus (holy men) by the ghats of Gaurighat, where many Hindu believers are cremated. Then there is the lively Asan Bazaar, a must-visit for street photographers.

The Sherpa capital of Namche Bazaar is another major highlight of the Everest Base Camp South route, a key trading hub and rest stop for acclimatisation purposes. The town is surrounded by snow-capped mountain peaks, and brightly hued houses arranged on rocky terraces. But before reaching Namche Bazaar you'll need to take a breathtaking flight between towering Himalayan peaks in a small twin-engine plane from Kathmandu to Lukla, which is where you'll first connect with your porters and local guide. Lukla is another amazing spot for portraits, with a constant stream of porters going back and forth with their pack animals, as well as climbers on their way to Everest.
Our top Everest Base Camp Vacation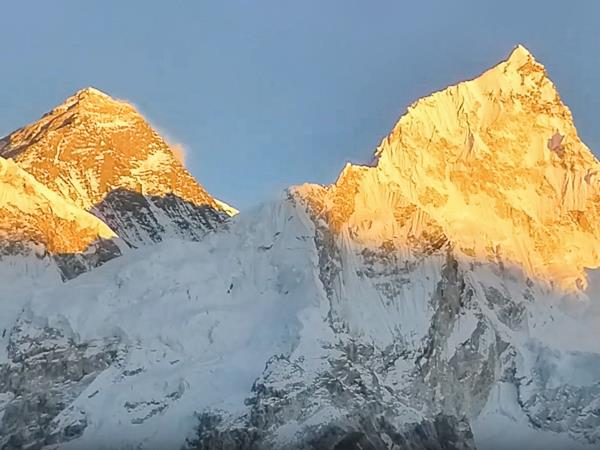 Stunning mountain photography en route to Everest Base Camp
From
£

2950
16 days
ex flights
Small group travel:
2024: 13 Apr
If you'd like to chat about Everest Base Camp or need help finding a vacation to suit you we're very happy to help.

"Everything leads up to the ascent of Kala Patthar," says Geraldine Westrupp. "It's a small mountain that looks down onto Base Camp and up to the Himalayas, and offers magnificent views of the Khumbu icefall, and the south face of Everest." Getting to the summit of Kala Patthar takes between two and three hours, and in all likelihood you'll reach it in time for sunset, when the peaks turn a fiery red.

But while the iconic locations along the Everest Base Camp trek will knock your socks off, you may well find the small stuff just as satisfying when it comes to photography. You can watch as all manner of life walks by on the suspension bridges as you pause for your turn to cross, including heavily burdened Sherpas catching a break against a rock, equally laden yak trains with bells that can be heard ringing from a way off, and children smiling as they make their way to school. You might also capture monks bent in prayer during evening rituals, moving memorial shrines dedicated to climbers and Sherpas that have died on Everest over the years, and colourful prayer flags fluttering in the breeze above rock cairns.
Practicalities
First, the most obvious point: you need to be in as good physical shape as possible before embarking on an Everest Base Camp trip. Even though the primary focus is photography, you're going to be trekking daily at high altitudes, and
getting fit beforehand
is vital for your safety, for keeping up with the rest of the group, and for getting the most from your vacation. Your vacation company will be as supportive as possible. "We can be flexible in terms of how quickly people move up," says Geraldine Westrupp, "if they need to go at a slower pace due to feeling the altitude."
But at the very least you want to be comfortable with hill walking for 5-6 hours at a time, ideally for two days on the trot. The steeper you can get the better, to prepare your body (especially your lungs) for the rigours of trekking at high altitude.
The terrain will grow steeper and more rugged the higher you go, but the majority of your bags will be carried between accommodations by strong Sherpa guides. You'll be staying in a succession of remote lodges and beautiful Buddhist monasteries, many of which will have been working with your vacation company for years. Expect basic but comfortable arrangements, and a smiling welcome. Throughout your trip your tour leader will ensure that you know how to behave respectfully in very spiritual communities, especially when it comes to photographing people.
Small group tours are capped at around 12 people in total. Over the course of a 16-day trip, then, everyone should be able to get all the support and advice they need from the tutor accompanying you. You'll pick up practical technical and creative tips during the days, then in the evenings a highlight will be regular review sessions, as the group's latest efforts appear in slideshow for feedback. The positive atmosphere will drive inspiration, and help you refine your skills. It's possible that you will see a massive improvement in your photography by the end of the vacation.

You don't need any experience, or sophisticated equipment, to take part in a photography vacation to Everest Base Camp. Both will come in useful, however. You will be on the move constantly, rarely staying in one place for long, so being familiar with your camera's capabilities and functions already will avoid wasting any time. If you have access to a DSLR with a selection of lenses then you have more options.
When to go on an Everest Base Camp photography vacation
The optimum window for climbing Everest is between April and May. April is the most likely departure month for trekking to Base Camp on a photography expedition. That's when the snows have stopped, but the monsoon rains of mid-June and August are still a while away. April also offers the clearest views of the mountains, set against gorgeous blue skies and bright sunshine.

Another good reason to travel in April is that with the start of spring many of the hillsides are brilliant with wildflowers. The slopes around Tengboche, especially, are likely to be covered with colourful rhododendrons.

The classic route from Lukla to Kala Pattar is bound to be busy with other trekkers and climbers, but your group will stay in more out-of-the-way places, and split into twos and threes when photographing. This lessens your impact on often fragile communities that feel the strain in peak climbing season, and should hopefully mean you get a few unique viewpoints to yourselves as well.
More about Everest Base Camp