Family volunteering with bears in Romania
Who would throw rocks at this bear? It's rolling in the sun-dappled grass behind a barrier, and it's almost comically fat and fluffy. Why would it be perceived as a threat? The attitude can be hard to understand. Your kids might be well-versed in story books, where bears are cuddly, never baddies. But in Romania, bears are seen as something to be feared.

The bears literally come rippling out of the forest from nowhere.

Bear sanctuaries like
Libearty
, near Brasov, are doing a lot of work to shift attitudes. "At first, they'd get Romanian kids coming around and they'd be throwing stones into the enclosure at the bears," Anne Smellie, from our volunteer specialist Oyster Worldwide, explains. "The sanctuary has invested a lot in educational groups." Oyster Worldwide have worked with Libearty for a number of years, sending volunteers to help with the sanctuary.
Our top Family volunteering Vacation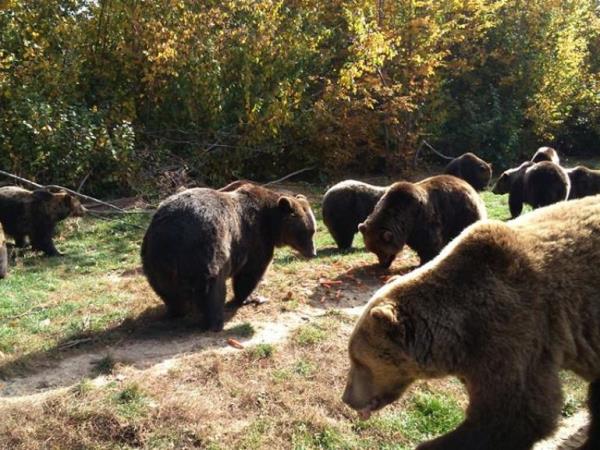 Unique family volunteering vacation at a bear sanctuary
From
£

925
7 days
ex flights
Tailor made:
This trip can be tailor made throughout the year to suit your requirements
If you'd like to chat about Family volunteering or need help finding a vacation to suit you we're very happy to help.

Bears in Romania
Historically, you could go into zoos, hotels and even restaurants across Romania and see bears in captivity. Libearty Bear Sanctuary was founded to rescue such bears. It is supported by
World Animal Protection
and is Europe's largest bear sanctuary. It now has over 100 bears in its care and has begun rescuing animals from the Ukraine and Russia, too.
Since Romania joined the European Union in 2007, bears have had better treatment. Shooting them has been illegal since 2016. But attitudes are slower to shift. As the bear population
rises in the wild
, bears are portrayed as fearsome, and the national press quick to publish stories about corresponding rises in bear attacks.
Sanctuaries not only look after the bears, but rehabilitate their image too. Libearty has donated teddy bears to its local orphanage, and welcomes visitors over the age of five to visit the sanctuary – and over the age of 10 to volunteer. "Through the educational side of things the younger generation in Romania are becoming a little bit more understanding of bears and more sensitive to them," says Anne. She recommends doing a feeding tour. "The bears literally come rippling out of the forest from nowhere, you can see 20-30 at a time."

We all really enjoyed it. It was one of the best vacations we've done

– Rhiannon Lewis and her family went family volunteering with bears in Romania.
What does family volunteering with bears entail?
You could
volunteer for a week at the sanctuary with your family
, and make a big difference in just a short time. Anne believes kids make fantastic volunteers: "They're totally gung ho, they just get stuck in." The bear sanctuary only takes four to five volunteers at a time, so you and your family will have the run of the place, alongside the staff.
Where will I be staying?
You will generally stay off site for trips like this. You could be housed in an apartment right in the center of the nearby town of Brasov, in which case, every morning you'll be driven the half hour over to the sanctuary. The day's work is usually finished by around 3pm, leaving you with time to enjoy Brasov – a medieval town with lots of charm. You'll also have your weekends free. You can swap bears for bats with a trip to Bran Castle, an amazing fortress popularly thought to be an inspiration for Dracula's castle in Bram Stoker's famous novel.
What will I be doing?
One of the biggest tasks is food preparation – a single bear can eat 10kg of food a day, and there are 104 bears at the sanctuary. Childish excitement is very welcome. "Adults might be less enthusiastic about sorting through food," agrees Anne. Moved by the bears' sad stories, kids are even quicker than adults to get stuck in with messy tasks. "Their kids lead them in with their enthusiasm for the work that they do, and the fact that it supports the hundred or so bears at the sanctuary," says Anne.

There were some newly rescued bears walking around in circles – it was really sad to see. But it was nice to see bears rescued, free but supported at the sanctuary

Once you get used to the work, you really love it. Rhiannon Lewis travelled to Libearty in 2019 with her husband and three teenage children. "Every day was different at the sanctuary," she said "We all really enjoyed it – it was one of the best vacations we've done."

Anne agrees. "We've had quite a few families do it a second time." She herself is a repeat visitor to Libearty, first volunteering there a decade ago. Since then, every time she returns she sees bears she knows, still doing well.
What age kids is this project best for?
Volunteering with bears is better for older children and the project's hard limit is 10 years old or over. Rhiannon's youngest daughter was 13 when she did the project. "Our kids were the right age because they could see the pay-off," she explains. Anne agrees that volunteering with bears suits older children. Another reason is that volunteers live in the center of town, rather than at the sanctuary itself. "It allows for a little more independence as the apartment in Brasov is two minutes from the central square. Teenagers can go off and do their own thing," she adds.
When is the best time to go?
The project runs throughout the year, but the most popular time for volunteering trips is June to September. The summer vacations will be warm, but there will be rainy days. If you go in spring and autumn, be prepared for a range of weather. "We went from the end of October to the beginning of November and we had all the weather in one week," Rhiannon says. "At the start of the week it was 22°C and we were pottering around in sandals, but at the end of the time it snowed and it was truly dipping into winter."
More about Family volunteering