Family sea turtle conservation vacations in Costa Rica
Karen and her daughter Ruth went on a family volunteering vacation in Costa Rica in October. Ruth turned ten when they were over there, contributing to an ongoing
turtle conservation project
. They took time to chat with one of our travel writers, Catherine Mack, about how they had never done anything like this before, but had the most memorable experience. They are now looking into more wildlife volunteering vacations together.
Our top Family volunteering Vacation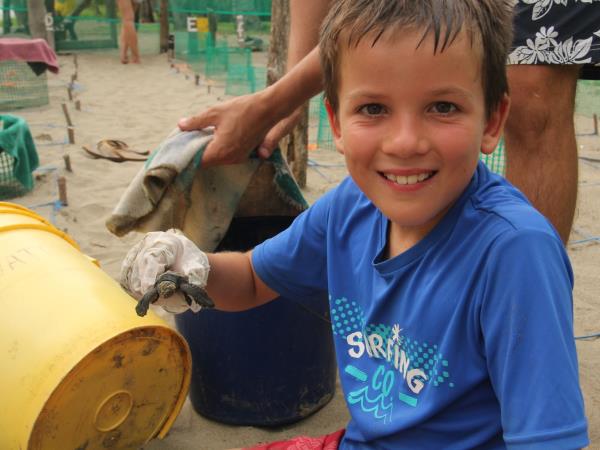 Family turtle conservation volunteering in Costa Rica
From
£

1302
7 days
ex flights
Tailor made:
Tailor made: Flexible departures July - December (nesting season)
If you'd like to chat about Family volunteering or need help finding a vacation to suit you we're very happy to help.

Had you been on a volunteering trip before?
Karen: Never. We have been skiing and we have done all inclusive package tours but nothing like this at all. My older two daughters were planning a gap year where they were thinking of going traveling and that got me wanting to do something like this too. I had backpacked before I had the kids, and fancied going back to a more basic and meaningful vacation.
Are you used to working with animals? Do you have them at home?
Ruth: Yes we have. We have three dogs, three cats and two horses.
What was it about Costa Rica that made you want to go there?
Karen: Ruth was really keen on working with turtles, and because we live by the sea in Whitby, we thought it would be really nice to have the sea by us again. And it is just a totally different country, different culture, sights and smells, so all that appealed to us.
Was this your first trip on your own with your mum, Ruth? Were you nervous before you went?
Ruth: Yes it was, and we went for three weeks. I was nervous about everything! I am scared of planes, but not as bad now. If there are movies on the flight, then I am OK.

Karen: I was nervous too, about everything really. It was a big step going on that vacation on my own with a nine year old, and being totally responsible in a country with a different language, no idea where we were going to stay or what it was going to be like when we got there. And then of course I was nervous about leaving my other daughters at home, to look after the animals and our vacation cottage business. It was a big thing to do, but I knew they could do it. And that we could do it.
Did the volunteering organisation reassure you enough about your concerns before you went?
Karen: Oh yes, they were amazing. I kept emailing them questions, and then we would think of something else to ask them. We just kept going backwards and forwards and it was never too much bother for them. They always answered our questions to the best of their abilities.
Did you have any idea what it was going to be like, looking after turtles in Costa Rica?
Ruth: Not really, although we did read up about it before we left. When I saw them on the beach for the first time it was really amazing and exciting. It was during the day, and there was just one big turtle there laying eggs.
Was it hard work?
Karen: We are a very active family, with horses and dogs, so we are used to hard work. So for us, it didnít feel like hard work. It was actually a lot easier. But I can imagine if you have a sedentary job, or you arenít busy after school, then you might find it hard. The night patrols were three hours long so there was lots of walking up and down the beach. We did carry massive buckets of sand at times too.
What were the big buckets of sand for?
Ruth: When we were cleaning the nests out, we had to take all the dirty sand out and put fresh sand in. When the eggs hatch, all the egg shell is still in there, so you have to clean it out and take all the sand with the egg bits in. Then you take the egg shells out and count them, and then you put fresh sand in for the next lot of eggs.
What was the hatchery like?
Karen: The hatchery was an enclosed area on the edge of the beach that was safe from people, dogs, cats and other animals. On the neighbouring beach there was no protected area like that as there wasnít room, so that was all just nests on the beach. The hatchery meant that the area could be zoned into grids, so that we could work out which eggs were likely to hatch next. And then we knew for each nest, how many eggs were laid, what time and so on. Once the hatchlings came up, we would count them all out, and then we would leave the nest for a few days to see if any others came up.

By taking up all the bits of eggshell, we were also able to work out what had happened to the ones that hadnít made it, and at what point of gestation they hadnít made it. That was all linked back into the research that was going on.
Do you know why some of the hatchlings didnít make it, Ruth?
Ruth: Yes. Sometimes they are too hot, sometimes they are too cold. And sometimes ants ate them. I learned a lot about them.
Were there lots of other families there? And how was it taking Ruth out of school at that time?
Karen: We went during the October half term, and there was one other family there. They had already been out in August but they hadnít seen any hatchlings, so they came back. But they said there were a lot more families during the summer vacations. I took Ruth out of school for longer because at the time she was attending a failing school and she was very unhappy, so I decided to give her an education myself and put the joy back into learning.
Are you happier now in your new school Ruth?
Ruth: Yes, my new school is loads better. They thought that my trip to Costa Rica was really good and really exciting. I did a 15 minute PowerPoint presentation of the trip at school that turned into 40 minutes with everyone asking loads of questions.
What misconceptions do people have about volunteering vacations, in your opinion?
Karen: A lot of people think it is all work and no time to relax or do your own thing. With the turtles, we did our patrols between 7pm and 5am, so apart from maybe catching up on a bit of sleep, we also got to swim, walk to the lagoon or play on the beach. We did trips into town every Friday and it certainly wasnít like slave labour! The staff were really good about checking if certain shifts were OK for us or not. It was basically like an all inclusive vacation, but you just put a few hours of your time aside to help. But that was really nice to do.
Did some people think it was a bit of an odd thing to do with your nine year old daughter?
Karen: Definitely. Itís in the press all the time, that volunteering is just a gap year thing to do. Ďooh, arenít you a bit old for thatí they would say, and Ďgosh, you are taking a child with you too?í People didnít really get it. And they donít understand why I didnít just want to go and lie on a sunbed for a week and do nothing. Or sit round a pool, which I really donít find enjoyable. Because I am so active, I donít sit still for very long. I am just not that character, and nor is Ruth. We like to be busy and doing things. So, for us it was perfect because we had a focus and something to do.
When you were doing the night shifts, would you then just go back to bed and crash out?
Ruth: Yes normally. My favourite shift was 2-5am because we could have our dinner, go to bed and then get up again. We did that with the 11pm-2am shift as well, so both these shifts were fine for us.

Karen: The 8pm start was hard because you couldnít get a sleep in beforehand. The start time depended on the tides, but each shift was three hours. Some mornings we did hatchling duty which was 5am-7am, but I think we were given those because we had been there for more than a week.
And what happens on the hatchling shift?
Every half hour you check for hatchlings. It is really nice, because you are really excited going down there every morning to see if they had hatched. And then you could watch the sunrise, which was perfect, before anyone else was up.
Was it very remote, or was there a local community?
Karen: It was very remote there, and it was really just the project people. But we did get to know everybody really well. We stayed in a small cabina just beside the beach, which they rented off a local guy called Pepe. It was a bit like the beach house in ĎDeath in Paradiseí if you know what that is like! It was really perfect. Very basic, but they had everything you needed and we werenít in there that much, to be honest.
Was all food provided?
For breakfast there was food in the cupboards and fridge in the main project kitchen, so you just helped yourself depending on what time you were up. Some people had only just come off shift, so we cooked up pancakes and all sorts of things. There was always lots of fresh fruit, too. Lunch and tea was provided. Gracilla and Marbeth took it in turns to cook for us, so it was perfect as I didnít have to cook. There was a little stove in the cabina so if I wanted to brew a cup of tea I could, or make Ruth a bit of toast. But no washing up, apart from breakfast, so that was lovely!
How did you find the food?
Ruth: There was a lot of carbs, so rice or mashed potato. I did think the food was quite nice but I am quite a fussy eater, so on some of the meals I wouldnít always eat it. We had lots of chicken though. And beans but I didnít eat those really. I did discover stir fry though and I like that now.

Karen: We didnít have as much fish as we thought we would. It had to be caught by a local fisherman and it had to be caught on a line, so it wasnít always that easy for them to get hold of fresh fish. The fruit was amazing. I donít like mango and pineapple in this country, but out there it was just delicious. It doesnít taste the same over here.
Did you pack all the right things?
Ruth: I definitely wish I had brought ear drops and also less snacks. I brought lots of them, in case you wanted something in the middle of the night before going on a shift. I got an ear infection after four days so I needed the ear drops.

Karen: There was a trip to town every Friday, and we went to the supermarkets so we were able to pick up snacks there. They told us to bring lots of snacks with us, but we didnít really need them as there were snacks provided which we were able to help ourselves to. I also wish that I had packed a camera charger that actually worked! Once my camera ran out of charge I couldnít use it anymore and no one else had the same one. I would also say that our mosquito net came in very handy; there were no mosquitoes but there were other small bugs. We also had a friendly gecko in our cabina who would crawl on the roof and then poo. So that stopped it falling on our heads!
How many people were there altogether on the project?
Karen: Each week there were five or six of us volunteering, and about eight members of the permanent staff there. Just after we were leaving there were two ladies in their 70s turning up Ė it would have been amazing to have met them.
Who was the most interesting local person whom you will always remember?
Karen: Probably Marbeth, who cooked for us and who liked to make it really special for everybody. She also made a birthday tea for Ruth at her house one night. She had been quizzing Ruth and trying to find out what she liked, then she did this really special dinner, with a birthday cake too. It was just so lovely and a wonderful thing to remember.
So what were your best memories of the trip?
Ruth: Seeing all the turtles, but also swimming in the lagoon with everyone.

Karen: Probably seeing the arribada on the beach next to us where there isnít a hatchery. It is very rare apparently. Thousands of turtles come to the beach all at once to lay their eggs Ė this continued for a few days. Seeing everything in daylight was such an experience. They were all just coming up the beach, digging their holes, laying their eggs, other eggs were flying everywhere, and the little hatchlings were trying to get to the sea, it was amazing just to be so close. We were walking amongst them trying not to tread on anything.
Would you like to go back and do it again or would you like to go and volunteer on another project?
Ruth: I would like to go on a different animal project next, maybe with monkeys or elephants.

Karen: Yes we are hoping to do that, and just need to work out which one works best with school vacations.
If you could change anything about the ways in which people travel, what would it be?
Ruth: Make people more adventurous. So like, where we live, people need to get out of Whitby and get their hands a bit dirty.

Karen: Same for me really. If you go to a different country, donít just stay by the pool and not go anywhere Ė do things that really make you experience that country. Even when we have done all inclusive vacations we always get out and explore the history and the culture, but some people just donít leave the hotel. So I would change that if I could.
More about Family volunteering