Family volunteering with monkeys in South Africa
It's your first day in South Africa, and someone has just placed a baby monkey in your arms. Its eyes are cartoonishly large and dark. Its fingers immediately curl around your hand. And for the next 24 hours, it is entirely your responsibility.

The center is run by volunteers, and this could not happen without them

"It doesn't matter if you're only eight, you're going to get a baby monkey given to you," Anne Smellie, from our experts in volunteering projects, Oyster Worldwide, explains. "The owners very much embrace the volunteers on the project. But they don't do any build-up – so people don't get the chance to get nervous."
Our Family volunteering Vacations
Your new charge
It doesn't really get much more hands-on than this. Caring for baby monkeys is full-time. And it's not very glamorous. "It's hard work. The center is run by volunteers, and this could not happen without volunteers. You'll be poo'ed on, wee'd on, you might get woken up at 6am," Anne says.
It's very unusual to find a volunteering vacation where you get to interact with primates in this way. Most responsible wildlife volunteering does not involve being 'hands on' with the animals, no touching, let alone cuddling, allowed. This sanctuary for baby monkeys is a rare, and adorable, exception to the rule.
The most common creatures you'll work with on a
vacation volunteering with primates
are vervet monkeys and chacma baboons. Both species care for their young very diligently – a baton that's passed on to you, willing volunteer.
After 24 hours with your baby monkey at your side, you'll rotate your charge with someone else. "It stops the monkeys forming attachments to certain volunteers."
This is why volunteers of all ages are vital at the primate center. They have 400 monkeys and baboons in their care, many of them infants. For the first six months of their life the monkeys need lots of attention, but they cannot get used to the same people, else they may not rehabilitate into the w
Release the monkeys!
The center has been around for over 20 years and in that time more than 18 monkey troops have successfully graduated into the wild, along with nine baboon troops. Adult monkeys are taught to disassociate from humans in a long four year process, in which they move to bigger and bigger cages and are fed without human intervention. Releases need to be done carefully, so that monkeys do not associate humans with food – an attitude that can get them killed in the real world.
Friend or foe
Local monkey-human relations are not great. To South African farmers, monkeys and baboons are pests who pinch their maize and fruit crops. Anne says that the two biggest reasons they get monkey and baboon orphans into the sanctuary are human-led: "Their mum has been shot, or knocked down in a car accident." There are also a lot of ex-pets, who have stopped being cute and started to show their true, wild natures.

Hunting is legal in South Africa, and monkeys are often shot. They can be killed for sport, too. The hunting permit for bagging a baboon is only a few rand, compared to far higher prices for plains game. Primates' lives are cheap, and they're worth a pot shot. There isn't much local interest in primate protection – and there isn't much money for it either.

But the monkey sanctuary is changing attitudes. Witness the farmers who now come to the doors to donate their unsellable fruit. When Anne first visited the sanctuary in 2012, this attitude would be unheard of. And your family might see changes too. "Lots of families come back and their kids are suddenly involved in doing talks at Brownies," says Anne, "Or they've founded a recycling club at school." It's so much more than a vacation, "It's an investment in their children's worldliness."
Worth protecting
Both vervet monkeys and chacma baboons have a conservation status of 'least concern'. Chacma baboons are found throughout southern Africa and vervets are spread throughout Africa. Their current situation might not be as secure as their conservation status suggests. According to the Vervet Monkey Foundation, vervets have seen their
troop sizes diminish
over the last century, from 120 to 25 per troop, because of pressures on their food sources and habitat. What's more, many monkeys and baboons are injured by cars and people every year.
Our top Family volunteering Vacation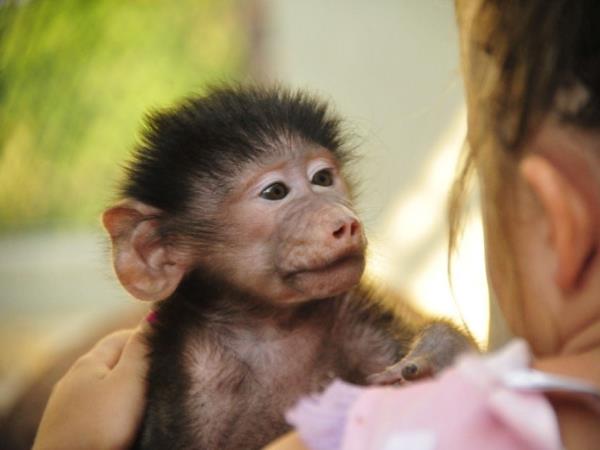 Family volunteering with baboons in South Africa
From
£

767
7 days
ex flights
Tailor made:
This trip can be tailor made throughout the year to suit your requirements
If you'd like to chat about Family volunteering or need help finding a vacation to suit you we're very happy to help.

What does this trip entail?
A week on a family volunteer project at a primate sanctuary can make a big difference. There's every chance you could be given a baby monkey to care for straight away, so you really hit the ground running. You also work full days and stay on site.

There will be some periods when you're needed for 24 hours at a time – to care for a really young monkey through the night, when you'll need to wake up for night feeds. Other tasks include food preparation (400 omnivore frugivores get through a lot of fruit) and cleaning cages. It's all messy, but fulfilling work. You might want to book a few days extra off to explore some of the country and unwind after the trip. A safari in Kruger National Park, for instance, might add the 'Big Five' to your 'cheeky 400'. It's good to go to a sanctuary that has been accredited by the government – this doesn't necessarily mean that the venture will actually get any money from the government though, so your help is very much needed.

Do not wear glasses, the monkeys love them!

- Pagona Roussi booked for her family to go volunteering with monkeys in South Africa
Family volunteering tasks
Baby monkeys adore people, making this trip perfect for animal-loving kids. There's no task on the sanctuary in which your children can't get involved – there are mountains of fruit to sort, heaps of cages to clean, and lots of monkeys, clamouring to use you as a human climbing frame. There's a swimming pool on site – your kids might be in for a surprise when the baboons dive in for a dip along with everyone else!

"It's fully immersive – anything an adult can do a kid can do as well. Families really enjoy this – grass roots conservation, their eight year old could be working alongside a 15 year-old, a 49 year-old and an 81 year-old. People comment how their kids get along with others of different ages and nationalities," Anne says.
What age is this project best for?
Children as young as eight come to volunteer with primates on a regular basis, and the project can be suited to children who are even younger, if their parents think they have a particular interest. "You have to really, really, really love monkeys," Anne adds.
When is the best time to go?
Baboons are a bit like people, and breed throughout the year, so whenever you arrive, there'll be cheeky juvenile chacma baboons. If you want to witness a full-on baby boom, go between November and March, when monkeys are born – coincidentally, when the weather in South Africa is at its warmest and most pleasant. Going in the winter vacations with your family is a good idea, but trips do run throughout the year; you could equally go in the summer or in a half term.
More about Family volunteering