Family volunteering advice
Advice on choosing a placement
Ellie Petrie, from our supplier Pod Volunteer, shares her volunteer travel advice:
"Think about whether you want a structured placement with a stricter timetable. We often find that with animal placements, you wake up at six, you do a feeding, you're cleaning at ten, then there's another job to do. Our placements with less structure might suit a more confident person who wants to take it by the horns and get really involved in it. If we think the volunteer is not suitable, then it's beneficial to tell them at the application stage and recommend they join a different project – maybe one where there is a team that might be more suited to them."
Our Family volunteering Vacations
Adjusting to new cultures
Anne Smellie, from our family volunteering vacation expert, Oyster Worldwide:
"Have a bit of a grasp of the basics of local language, because you are always going to be working with local people. So, just having the 'hello', 'thank you', 'goodbye' and 'that was delicious' if your food is being prepared for you, is brilliant."

"If your kids are keen on certain snacks, take them with you as you won't be getting burger and chips anywhere. It is usually delicious, but be ready for rice-based meals. It is also quite hard to access things that are gluten or dairy free, so you just need to bring those things with you."
Work & play
Anne Smellie, from our supplier Oyster Worldwide:
"Be prepared to get stuck in and work. You aren't there to lie on a beach, but to get actively involved in the project – all of you. But at other times it is good to be proactive too, For example, we have had families organise a sports day in a local school in Costa Rica before. Setting up football games, beach volleyball, that sort of thing. So just get stuck into local life really is a good thing. Or bring an instrument with you if you play one, so everyone can have a sing song. Just think of things that can be bonding experiences that transcend language, such as sports, music and games."
Why volunteer organisations charge fees
Jon Arnold, from our supplier Oyster Worldwide:
"We were very thankful after the Nepal earthquake as we made contact with everyone within two hours of the earthquake hitting. Thankfully everyone was safe and in different places, we got them all out within about a week or so but there was no rush – they were fine. People often say, 'why have I got to pay for this?' And that's the nub of it – hopefully you're never going to need the support that you're paying for, but it is there just in case. We have representatives or project coordinators in each of the destinations that we send people to, and it is their job to liaise with us and be there as a friend for the participants."
Should we take gifts?
Anne Smellie from our supplier, Oyster Worldwide:
"Take sensible things out for kids in the place you are visiting. Don't take sweets, or a new bike – take things that are practical for the kids there and that are preferably conservation based. Books for children written in English that deal with a conservation theme are great. All of our vacations are about conserving a species or a habitat, and the children that they are going to meet there are the guardians of that habitat and creatures. So from a really young age they need to become proud of the place they live in, what it stands for, the animals and the biodiversity. Learning English is a sought-after thing in most of the places we volunteer too, such as Borneo and Costa Rica, where community ties are very close to the work we do. One person we know took a pram out as a gift to Costa Rica – it is still sitting there, I'm afraid as people work out what to do with it. Just not very useful in the dirt track of the rainforest."
Where you'll be living on wildlife conservation vacations
Erin Sparks, from our supplier, Pod Volunteer:
"If anything we describe the accommodation as more basic than it is. It's very difficult because everyone has different expectations; all accommodation is of a very livable standard, just remember that if you are working with animals, often in earthy and wet environments, it is impossible to keep living spaces pristine. Some are dorms, others you share with between two and four people – it varies and volunteers are responsible for keeping their area clean and tidy. You're there to slot in and help out as opposed to be waited on hand and foot."
Our top Family volunteering Vacation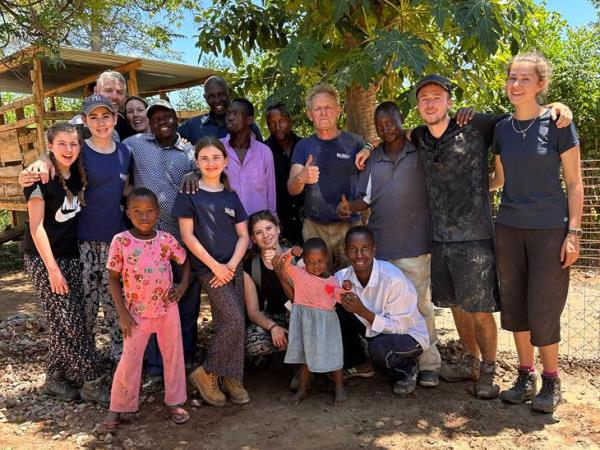 Memorable family vacation which makes a difference
From
£

500
14 days
ex flights
Tailor made:
This trip can be tailor made throughout the year to suit your requirements
If you'd like to chat about Family volunteering or need help finding a vacation to suit you we're very happy to help.

Health & safety for family volunteers
HEALTH
Visit your GP at least two months before traveling to ensure you get any necessary vaccinations in time. Your GP will also be able to tell you if malaria is present in the region you are visiting, but also make sure to tell them you are working with wildlife or working in a rural community.
The NHS Fit for Travel website has up to date health information for all countries in the world, and worth keeping an eye on in case of any recent disease outbreaks.
Buy comprehensive travel insurance which must include emergency repatriation and medical evacuation, particularly if you are staying in a remote part of the world where hospitals or clinics are thin on the ground. Do be honest with your insurance company and don't just opt for the cheapest policy. You may need bespoke insurance for this trip. Your tour operator will also be able to advise you on this.
Pack a first aid kit including sterile dressings and hypodermic syringes in case of emergencies when you are unsure of local facilities. And having an EpiPen is also a very good thing, even if you don't have known allergies.
Bring plenty of your own medication if you take something regularly. If traveling off the beaten track, and with an ongoing medical condition, it is a good idea to have a letter translated into the local language explaining the condition, in case of a hospital emergency.
Always read your trip notes properly and pack accordingly, with hats for sun protection or thermal layers if necessary. The climate isn't always what you expect.
And as always with children, if traveling to hot climates, ensure you have plenty of sunscreen with you, ideally an environmentally friendly one with full protection.
SAFETY
When traveling with a responsible volunteering organisation, they will be very au fait with health and safety standards in the country you are visiting. And also experience of traveling in this country with children. They will always put your and your family's safety first. Any volunteers working with animals – whether captive or wild – must be given detailed safety briefings from volunteer organisations, with instructions on how to approach the animals, and how to stay safe in their presence. One sure way to stay safe is always have an expert present, especially when working with dangerous animals. You should always feel in safe hands. Safety briefings and detailed instructions must also be given regarding tools or project work, be it using saws to cut down invasive shrubs or lighting fires. And remember, you don't have to do anything you are not comfortable with. Always discuss your concerns especially if you are nervous about your children's abilities or fears. These are volunteering organisations that welcome families, and so your concerns are always their concerns. Organisations should require anyone working with children or vulnerable adults to have a DBS (formerly CRB) check or local equivalent to ensure that people are not put at risk. Don't be afraid to ask if the organisation you are working with has these in place. It is not trivial. It is vital and, for an organisation claiming to be responsible, should be the norm.
Family volunteering advice from our travelers
At Responsible Travel, we think the best people to advise our travelers are often... other travelers. They always return from our tours with packing tips, weather reports, ideas about what to do - and opinions about what not to.

We have selected some of the most useful family volunteering travel advice that our guests have provided over the years to help you make the very most of your placement.

The most memorable part was watching the giant leatherback turtles come ashore and lay their eggs under a starry sky with our family.

"Take a trip to a charity shop before you leave to buy shirts/tshirts etc as part of the fun is getting wet and dirty when cleaning and playing with the monkeys. Leaving things behind when you depart helps other volunteers. Take a pack of rubber gloves and leave behind what you don't use." - Sara Lee, Volunteer with monkeys in South Africa

"It was a great experience, but don't go in expecting the comforts of home. It's rustic, there are lots of insects, and it's hot. If you can get past this, then it's a must see. While volunteering we felt like we were supporting the center and we loved seeing the elephants interact with one another in a natural environment." - Simi Behal booked family volunteering with elephants in Sri Lanka.

"Make time for a bit of relaxation before the project and after as the traveling is very tiring and we would have liked to have had more time to spend in India. Make sure you read all the helpful teaching tips that are sent beforehand so that you are properly prepared." - Rayner McKenzie booked a family vacation with volunteering in India.

It does get messy... old clothes, good boots and some quality gloves that still allow you dexterity but are also washable.

More about Family volunteering