Best time for a family to go to Finland

A Finn family vacation means outdoor fun in any season – from lake paddling in summer to husky sledding in winter

Finland's is a climate of extreme contrasts. The best time to visit Finland for Aurora and snow activities is Nov-Apr, with Lapland snowy at Easter. Catch Santa on his sleigh during the Christmas vacation, but remember Dec days are very short; Jan-end Mar are preferable, so Feb half term is perfect, just expect lows of -18°C. Summer is best for a self drive break, hiking, kayaking and gorging on berries throughout the country, and it can reach 30°C. It's also incredibly light. In Lapland a single summer day lasts over two months. In the south, a few hours of twilight stands in for night; bedtime routines may suffer.
Our Finland family Vacations
When to go to Finland on a family vacation
Christmas in Lapland promises Santa and idyllically snowy landscapes, but winter's at its deepest and darkest now with the sun nudging above the horizon for just a few twilit hours each day, so you'll be limited as to how much you can actually do. If December is your preferred time for a Lapland break but the kids are too old for Father Christmas, don't worry, small group tours exist that sidestep Santa. For a super festive urban alternative, spend some time in Helsinki, which twinkles with lights and has a great Christmas market. Mid January, February and March are still snowy, but with much longer days – making Finland great for a Feb half term break. You're most likely to spot the Northern Lights around the equinox (21st March). Down south, there's snowy winter activities to enjoy and it's also slightly milder here than in Lapland, so kids can stay outdoors for longer. The dog sledding season starts in December and ends in early April, so you may be able to try it on an Easter break, but for this and other winter activities, February and March are the best times as there's more daylight. Springtime varies wildly from north to south. Snow lingers into April in the north, while wildflowers are emerging in the balmier south. During May half term it's pleasant, with the days lengthening significantly, beckoning in the eternal daylight of the June solstice. Mosquitoes don't just live in the tropics; July sees swarms of the critters in Lapland. This is not the best time to visit Finland unless you fancy getting bitten, or stocking up on bug repellent. July is also the time when Finns go on vacation, so prices take a hike along with the populace and many places are busier. It's warm and sunny though, just be sure to book well in advance if traveling now. Crowds ease off later in August, coinciding with the school summer vacations. You can graze on seasonal lingonberries in September and photographers may enjoy snapping the autumnal colours through into October. Prices will be lower now, but many tours and attractions are closed or have reduced hours as this is low season. Summer's warmth has ceased but the snow has not yet fallen, so this in between season, which coincides with autumn half term break, is not the best time to visit Finland. You may glimpse the Aurora in September, though, but skies are often cloudy, spoiling chances of a sighting. Snow arrives in November, producing perfectly pristine winter landscapes. Warm up in a sauna after dog sledding or snow shoeing, and keep an eye out for the aurora once the long hours of darkness begin.
Our top Finland family Vacation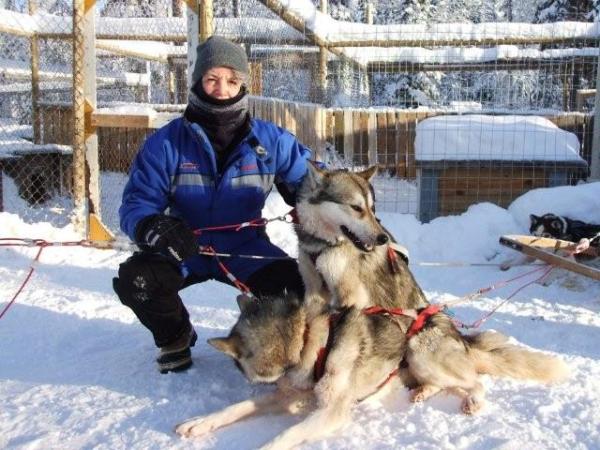 Winter Cottage vacations, Finnish Lapland.
From £2095 to £2895 8 days inc UK flights
Small group travel:

If you'd like to chat about Finland family or need help finding a vacation to suit you we're very happy to help.

WHAT HAPPENS WHEN IN FINLAND
What happens when in Finland
Riitta Kiukas founded our specialist Finland vacation supplier, Skafur-Tour, in 2013. She recommends when to visit Finnish Lapland:
"For families, the best time to travel to Lapland is end of November, early December, March or April. The weather is at those times very good for outdoor activities. Finnish families with small children always get to Lapland before or after Easter. My favourite time is end of summer and early autumn, because our forests are full of berries and mushrooms, which I love to pick and eat."
More about Finland family