Family vacations in Finland FAQs
Finland is friendly, safe and well set up for families, but planning a vacation here will still provoke plenty of questions, from sauna etiquette to weather worries. So here are a few of our most common family questions from travelers thinking about a vacation to Finland, which we hope will help iron out any anxieties and ensure your Finnish trip suits your tribe to a tee.
If we travel in winter, will we get cold?
You know the phrase: there's no such thing as bad weather, only bad clothing. It's certainly true in Finnish Lapland, where temperatures drop to -10°C by day. Happily, most activity vacations provide appropriate outdoor clothing, included in the price – no need to invest in gear you're rarely going to wear. Of course, bring lots of layers and some thermals, too, to guarantee comfort. Family vacations tend to keep outdoor activities short and sweet, with full days snow shoeing or cross country skiing and overnight husky safaris only suitable for families with older teens.
a good destination for really young children?
Is Finland a good destination for really young children?
Children aged four to 12 usually get a discounted rate on organised small group and tailor made vacations, and often even younger kids are welcome to join, but may not be able to take part in all the activities. Winter vacations that focus primarily on arduous activities, such as cross country skiing and snow shoeing may carry a minimum age, for instance 12 years, but on specialist family vacations, it's usually possible to try these activities for a half day or few hours. In the summer, family vacations might include short hikes and canoe trips, animal tracking, reindeer farms and a ride on a husky cart. You can meet Santa all year round just outside Rovaniemi and the Angry Birds Activity Park in Vuokatti is always a hit, too.
Juha-Pekka Tuominen from Activities Abroad on the absence of age restrictions on travel to Lapland:
"Finns have babies too so there is no reason why young children should not travel to Finland. However, some destinations cater better than others by having short duration activities so that children are not in the cold climate too long. Children younger than two are not usually able to take part in activities so we would advise to wait until at least that age, although ideally four years plus gives them more opportunity to really maximise the activities they can enjoy."
Are mozzies an issue in summer?
Are mozzies an issue in summer?
Mosquitoes in late June and July are vicious. Keep little ones well covered if traveling during this time. Although they're fairly easy to avoid, they can be extremely annoying. Repellents, loose cotton clothing and steering clear of bogs and riverbanks all help keep bugs at bay. After a couple of days, everyone is less likely to react to bites, which can be reassuring to know, and saunas also help to alleviate an itch or two.
Can kids go in a sauna?
Yes. Only newborn babies and people with serious conditions like heart problems should keep out. Forget the dodgy associations that sometimes go with saunas; in Finland they are for everyone, a place for mental and physical cleansing, and somewhere to relax and socialise. Traditionally, children were taught to behave in the sauna as they would in church, so this isn't a place for messing about. If they do, the saunatonttu – sauna elf – might get angry and burn it down. Elf or no elf, you'll want to make sure kids keep away from the hot coals. In groups, women and men go to sauna separately, but parents go with their children, although teenagers tend to use the sauna alone, or with friends. As you'll all be sweating, make sure everyone drinks plenty of water.
Our Finland family Vacations
Is the food child friendly?
Is the food child friendly?
The words "simple" and "hearty" seem to come up a lot in relation to Finnish food, not "exotic" or "spicy", so generally it suits juvenile palettes. In Lapland, Sámi food is super fresh and local, rotating around reindeer, fish, berries and game. Try creamy salmon soup, or sautéed reindeer with Lappish potatoes and lingonberries. In summer and early autumn, it's easy to eat a really healthy diet, with fresh veggies and seasonal fruits, herbs, mushrooms and fish always available, and a sausage cooked in foil on the sauna, followed by hot chocolate, usually hits the spot, too. Picking your own wild bilberries might even encourage picky kids to get their five a day. If not, most towns have pizza and burger restaurants, and some hotels offer international dishes, so it's pretty easy to find something to suit fussy eaters.
Juha-Pekka Tuominen from Activities Abroad on whether visiting kids get on with Finnish food:
"Some yes and some no. The Finns tend to eat a lot of fish such as Arctic char and salmon and most British children are only fans of fish in the fried or finger shape variety! However, the meatballs are a firm favourite and many of our lodges offer a plain pasta and tomato sauce option for children on their buffets."
What's the traveling like?
What's the traveling like?
Flights to Helsinki from the UK are plentiful and often well priced and if you're heading to Lapland, you can now fly direct to Ivalo, Rovaniemi and Kittilä from London. In the winter, once here, you'll be relying not so much on horsepower as dog and reindeer power. As well as being brilliant fun, husky safaris are an ecological way to move around the wilderness, reaching further than any car could manage. Many family friendly Lapland vacations are based in resort towns, with good amenities within walking distance or handy services like free shuttle buses between the center and hotels. Summertime self drive vacations are a great option for families, too, giving you the flexibility to stop and start as you please, but with the security of an organised itinerary and all accommodation and activities booked for you.
Urpo Heikkinen, from our Finnish supplier Upitrek, sings the praises of self drive vacations in Finland:
"The benefit of hiring a car in Finland is that roads are rather quiet, there's not much traffic, and they're in good condition. Signs, however, are only in Finnish but quite straightforward to follow. Distances can be long, especially in northern Finland, but you can easily achieve 100km over the course of an hour most of the time. One final thing about self driving – watch out for reindeers in Lapland!"
How safe are winter activities?
How safe are winter activities?
All winter activities on tailor made and small group family vacations are guided, so you won't be left to snow shoe out into the wilderness alone or be expected to pick up cross country skiing without some friendly tuition first. The extreme cold of Lapland in winter is obviously a potential danger, too, but vacation companies will include technical all weather gear for everyone as part of the trip. Excursions and activities are kept to a child friendly duration, too, to avoid little ones getting cold or bored. For that reason, overnight husky safaris are only generally available to families with children 12 years and older
Juha-Pekka Tuominen from Activities Abroad has this advice on snowmobiling:
"The Finns take safety during activities very seriously, the most dangerous activity is probably snowmobiling and there are strict laws that need to be adhered to. To drive a snowmobile you must be over 18 years of age and hold a full driver's licence. Protective clothing must be worn including a helmet, even for those riding pillion. Most children will be required to travel in a sleigh behind the guard; however older children (usually 12 years plus) can ride pillion but this depends on their height and weight. Different activity providers have different rules."
Our top Finland family Vacation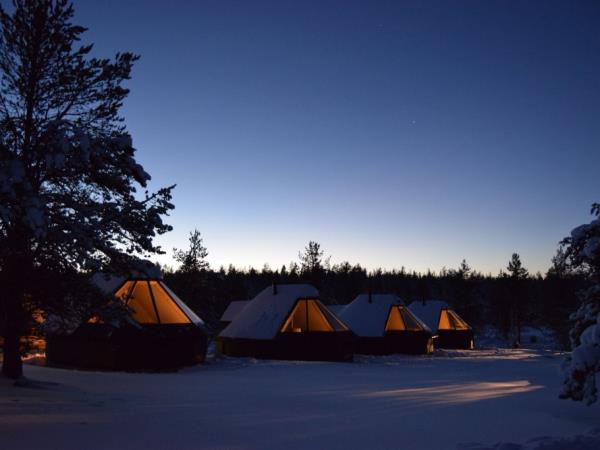 A mix of Lapland family activities and a relaxing Spa hotel
From
£

1225

to

£

2250
4 days
inc UK flights
Tailor made:
This trip can be tailor made to suit your requirements
If you'd like to chat about Finland family or need help finding a vacation to suit you we're very happy to help.

What is accommodation like?
What is family accommodation like in Finland?
There is a great mix of accommodation throughout the country, from family friendly hotels with large rooms, swimming pools and restaurants, to cosy cottages and cabins that sleep six. Some accommodation may include a small kitchen, giving you the flexibility to prepare snacks and easy meals for little ones at any time.
How are Finns with same sex couples?
How are Finns with hosting non traditional nuclear families, such as same sex couples or single parents?
Finland has a liberal, progressive attitude to relationships and relaxed attitude to all families, and same sex parents and single parents should feel happily at home here. When it comes to LGBT rights, Finland is one of the most progressive countries in the world. Same sex sexual activity was legalised back in 1971; same sex marriage and joint adoption by same sex couples was approved by the Finnish parliament in 2014 and IVF was legalised for lesbian couples in 2007.
Riitta Kiukas, founder of specialist Finland vacation supplier, Skafur-Tour:
"Finnish people are very liberal and have no prejudices against any family formats as this is not a very religious country. Single parents can well travel to Lapland as all the activities take place in small groups so children will soon find friends as they have no language barriers."
How accessible is Finland?
How accessible or inclusive is Finland for families with special needs?
Juha-Pekka Tuominen from Activities Abroad:
"Finland has made a conscious effort to include people with special needs. The country takes a lot of care of people in the community with good funding available and this then passes into the vacation areas. Hotels and lodges are required by Finnish law to have at least 10 percent of their accommodation accessible to those in wheelchairs. The hotels and lodges also seem to take this very seriously in ensuring people are able to do the activities and the larger ski resorts have ski instructors that are trained in teaching people with special needs."
More about Finland family