Educational aspects of Finland
Donít be thinking that Finlandís just about Santa and snow in winter, lakes and light nights in summer. While those ingredients are undeniably great, Finlandís epic geography, its egalitarianism and its unique approach to life, the universe and everything can prove an exciting lesson for visiting kids. From meeting Europeís only indigenous people, to tapping into some trademark Finnish sisu, children in Finland get way more than just a vacation while on vacation.
Our Finland family Vacations
History
Finland feels culturally and linguistically unique Ė neither Scandinavian, Russian nor Baltic Ė so itís slightly surprising to discover that it only gained independence from Russia a century ago, in 1917. Before that, from the 13th century to 1809, the Swedes ruled the roost, establishing Swedish law and social systems. They could never rub out the essential Finnishness of this region, though. Swedish was the dominant language until the start of the 20th century, but only one in seven Finns spoke it and during the 19th century, as an autonomous Grand Duchy of Russia, Finnish nationalism began to blossom. With that came signs of the inspiring, egalitarian nation that now exists. Finnish women were the first in Europe to gain the right to vote in parliamentary elections, back in 1906. A year later, the first female members of parliament in the world were elected in Finland. Since then, Finland has relied on creativity, ingenuity and solidarity to compete in the global economy, with no room for inequality or segregation.
Geography
Finlandís not lacking when it comes to open spaces. Itís 70 percent forest, with 40 national parks and 187,888 lakes. Epic stretches of unspoiled wilderness are only rivalled in downright awesomeness by the winter Aurora that twitches across the dark northern skies. The country features distinct geographical regions: the Arctic reaches of northern Lapland, the central pine forests, the Wild Taiga terrain to the east near the Russian border, the Lakeland region in the southeast, and the expansive archipelagos of the southwest.
Finnish Lapland lies so far north that summer days are endless and winter a time of eerie but magical darkness, but Finns donít let sub zero temperatures or disorientating daylight prevent them from enjoying all this rich geography. Finnish families often visit Lapland around Easter, and babies will be tucked into covered toboggans and pulled behind their cross country skiing parents. Finnish kids learn to ice fish and ski from the age of two. In summer, the bliss of endless days sees families binning the bedtime regime in favour of midnight hikes and lakeside picnics. Screen obsessed teens and fairweather tots can learn a lesson while here from their hardy Finnish counterparts.
Our top Finland family Vacation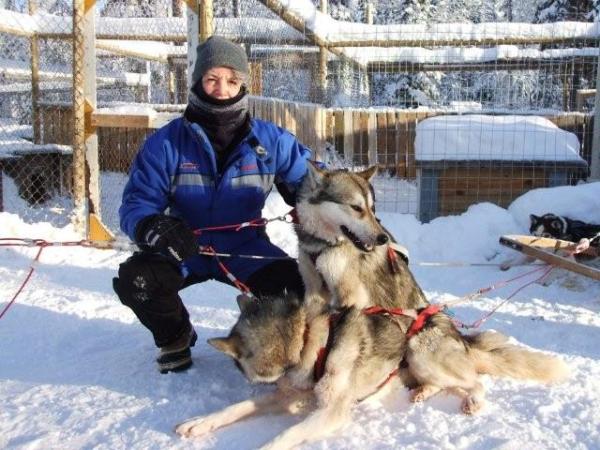 Winter Cottage vacations, Finnish Lapland.
From
£

2410

to

£

2445
8 days
inc UK flights
Small group travel:
2024: 7 Jan, 14 Jan, 21 Jan, 28 Jan, 4 Feb, 11 Feb, 18 Feb, 25 Feb, 3 Mar, 10 Mar, 17 Mar
If you'd like to chat about Finland family or need help finding a vacation to suit you we're very happy to help.

Society, economy & cultural identity
Society, economy & cultural identity
Google ďFinlandĒ and ďhappyĒ and some impressive stats pop up. The country has topped the European Happiness Equality Index compiled by think tank the Happiness Research Institute, and Helsinki regularly rates as one of the safest cities in the world, with some of the happiest residents. The countryís excellent standard of education, social support and healthcare, all financed by the state, and the quality of the environment feed into this positivity. It has one of the lowest child poverty rates in Europe and also places second on the global Good Country Index, published for the first time in June 2014, which tries to measure how much each country on earth contributes to the planet and to the human race. Itís impressive stuff, all backed up by the concept of sisu Ė guts and resilience Ė which is the backbone of the Finnish identity (and probably explains how they cope with 120-day winters).
Education
Any parent whoís ever questioned the value of teaching to the test, streaming or SATs, will go moist eyed when they hear about the Finnish education system, with its emphasis on laying down a creative, early years foundation based on learning through play. Finlandís stellar educational ranking in the world is well publicised, and chatting to Finnish families and having your kids share playtime with theirs is a great way to learn more about this nationís inspiring approach to education.
It all starts late in Finland, with no formal education until the age of seven. At preschool, the emphasis is simply on building happy and responsible children; itís where kids develop good social habits and communication, enjoying at least 90 minutes of outdoor play a day. Itís also open to all. Every child has a legal right to high quality preschool care, because the idea that equality is vital to economic success and societal wellbeing runs through Finlandís education system. Thereís no school selection, formal examinations (until the age of 18) or streaming; vacations are long and school hours short. The result is not only high achieving kids but happy ones, too, markedly less stressed than their British contemporaries. Finland, we salute you.
More about Finland family