Finnish Lapland travel guide
---
2 MINUTE SUMMARY
There is a good reason why we can't pin down where Lapland actually is, and it has nothing to do with Santa Claus. It's because these are homelands of the semi nomadic Sámi people for whom borders have long been as fluid as the melting snow. This region, stretching across Northern Finland, Sweden and Norway, is called Sápmi in the Sámi language, translated as Lapland, although the term Lapp or Lappish is considered derogatory these days. In Finnish Lapland the Sámi languages became official in 1991 with three main ones, Northern, Skolt and Inari. There are 9.300 Sámi people in Finnish Lapland and their culture, lifestyles and spiritual connection with wilderness is what life is all about here. So don't thank Santa for vast forests, remote lakes and traditional cabins with transparent roofs that look up to the Aurora. Thank the Sámi who have been the real stewards for generations. The Sámi word for 'thank you,' by the way, is giitu (pronounced 'kiihtu').
Finnish Lapland is...
highly protected in terms of national parks and the
important living and cultural heritage of the Sámi.
Finnish Lapland is not...
a Christmas shop with elves at every turn.
It is packed with presents, peace and joy however. And not just at Christmas.
Finnish Lapland map & highlights
---
MAKE THE MOST OF YOUR TIME
Thankfully much of Finnish Lapland's wilderness has been protected. You can zip through the boreal beauty of Pallas-Yllästunturi National Park on a
husky safari
, or see the
Northern Lights
from the remote dark skies of Urho-Kekkonen National Park where there are superb snow shoeing and cross country trails, such as the circular 40km Nuortti Hiking Trail. Lemmenjoki National Park has immense
Sámi heritage
and is a wonderful spot to go on reindeer safaris, with reindeer herding an important Sámi tradition. This is a region that feels as if it goes on forever. And when the skies light up, you never want it to end.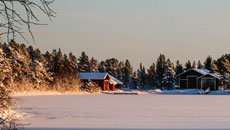 Lake Inari
Finland's third largest lake is a top spot for learning about Sámi culture, particularly at the new Siida Sámi Museum. Adventure also awaits, with cross country skiing around the lake, or snow shoeing through silent, snow laden pine forests. And then a moment of magic, when both the water and the gaps between the trees are illuminated by nature's greatest light show. Lake Inari: lights, camera, action.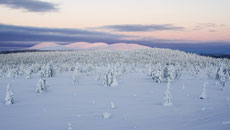 Pallas-Yllästunturi National Park
With over 1,000km2 of boreal forest, high fells and a web of hiking trails, this is one of the most stunning national parks for winter wanderings. This is some of the country's most untouched wilderness, and being whisked across white plains or frozen lakes by your own team of huskies is Finnish fun at its finest. Nearby Menesjärvi Lake is similarly mesmeric.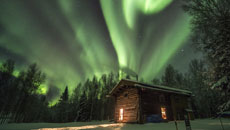 Urho-Kekkonen National Park
With super dark skies, this wilderness is a dreamy spot for Northern Lights seekers who want to see the illuminated skies for as far as possible. Indeed, this park stretches from Saariselkä all the way to the Russian border. The park has special Aurora cabins with large glass sloping roofs for ultimate viewing. This region is particularly stunning as the leaves make their own autumnal colour show too.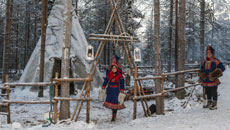 Lemmenjoki National Park
There are two important sources in this park. The natural one is the River Lemmenjoki and the cultural one is the homelands of the Sámi. Take a river trip through the valley between Njurkulahti and Kultasatama, visit the Ravadas Falls, or hike across the wild and wonderful Joenkielinen fell. An area once sought after by gold panners, there are still some seeking glistening rewards here today.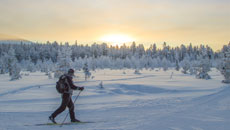 Luosto
People choose to get married here, arriving at an ice chapel in a reindeer driven sleigh. And although this sounds like Las Vegas à la Lapland, it isn't. It's just all about enjoying the outdoors and, in particular, snow. From husky safaris or ice fishing to snow shoeing or cross country skiing, as well as the annual Luosto Classic Festival all held in natural amphitheatres of forests and fells. The latter in summer, of course.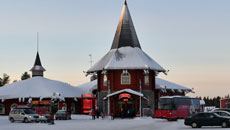 Rovaniemi
The capital of Finnish Lapland place where letters addressed simply 'Santa, Lapland' end up. It also has an airport so it's the starting point of many a foray into Finnish Lapland. The town was virtually wiped out by the Nazis at the end of WW11, which is why it has a modern feel, but it is a very young city packed with educational institutions. It is also accessible by sleeper train from Helsinki.