Flight free vacations to Portugal
One of the most pleasing aspects of going the long way round is that the journeys stick in your memory. I've probably flown several dozen times in my life but, apart from the one flight where I was sat behind English cricketer Ian Botham, they all tend to blur into one. However, ask me about vacations I've taken by road or rail, and I can remember precise details as though they had happened yesterday: waking up to snowy mountains on the overnight sleeper from London to Aviemore; my first time driving onto Le Shuttle for a family vacation in France; and a two-week road-trip from London to Lisbon back in 2016.

We boarded the Eurostar to Paris, then a long, hot train to Biarritz, arriving in time for a wander along the beach at sunset. The next day, we took the bus over the border to San Sebastian in Spain and dined on delicious pinxtos for lunch, before hiring a car and driving through Northern Spain via the Guggenheim Museum and more pinxtos in Bilbao, and the misty Asturias. After a few days of beach-hopping around the gorgeous Cíes islands, we ditched the car in Vigo and took another swelteringly hot train to Porto, and finally a third to get us to our final destination with the in-laws in Lisbon.

Nothing momentously exciting happened – at least nothing compared to the thrill of staring at the back of Ian Botham's head for three hours while he watched The Matrix Reloaded on his laptop. But I'd put it down as one of the most memorable and fun vacations of my life, and I think that's down to a sense of always being on the move, seeing new places, landscapes and people every day.
We took our own sweet time getting to Portugal from the UK, but you could get there in two days at a comfortably relaxed pace. Headwater, our specialists for cycling and walking vacations across Europe, are confident that if you're taking the ferry or train to mainland Europe from the UK, they can get you the rest of the way to your destination in Portugal without the need to set foot in an airport.
"Taking the train on vacation is something that's increasingly on my own radar because it's more sustainable," says Christian Locke, Headwater's Head of Product. "We're in the process of assembling a collection of 25 or so trips that minimise your carbon footprint. These will be single center vacations where you can get to your destination easily without flying, and you can walk or cycle directly from the hotel, or by using public transport."
Headwater and its sister company Exodus Travels take sustainable travel so seriously that they've declared a climate emergency and committed to making their plans on how to reduce their carbon footprint public. These actions form a key pillar of their Exodus Travels Foundation, which is committed to community empowerment and conservation.
Our Flight free Vacations
How to get to Portugal without flying
You can get from London to Portugal by train within 24 hours, the route starting, as so many European rail adventures must, with an early morning Eurostar from London to Paris. From the French capital, you then take a high-speed TGV to Irun on the Spanish border, where you can connect with the Sud Express which will take you on to Lisbon overnight – along with sleeping cars, a restaurant and bar. You can branch off to Porto at Coimbra, or from the capital you can easily continue down to Alentejo or the Algarve.
Another way would be to go by car, so that you have it at your disposal throughout your vacation. You could take the ferry to Northern Spain from England, or drive through France from Calais and continue from there. Remember that now the UK has left the EU, driving in many European countries just got a little bit more complicated.
You can even get to Madeira, the Portuguese island off the coast of Africa, without flying. Between early July and late September there is an overnight ferry from Portimao in the Algarve. Granted, it would take you 24 hours and you've got to get to Portimao first, but it's not expensive and the point is that it can be done.
Our top Flight free Vacation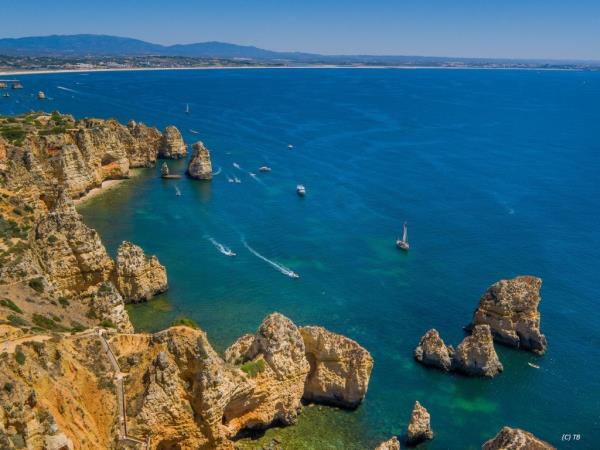 Western Algarve self guided cycling vacation
From
£

1729

to

£

1869
7 days
inc UK flights
Tailor made:
Departures every two days between early October & the end of June
If you'd like to chat about Flight free or need help finding a vacation to suit you we're very happy to help.

Christian Locke believes the Algarve is a great destination for most of the year, not just summer: "We're seeing more and more interest in Portugal among walkers and cyclists. We tend to not offer peak summer dates due to traffic on the roads which can slow you down, so instead we look at September to May which are a lot quieter. In Sagres, the winds really pick up in August anyway making cycling harder."
If you're staying in family-owned accommodation and eating in independent restaurants, you'll be providing valuable out-of-season income to communities that are heavily dependent on the June to August crowd.
Once you've got to Lisbon, there's a superb range of Portugal vacations available to you: walking in the Sintra-Cascais Natural Park just outside the capital; tackling a stretch of the Portugal Way Camino route; or cycling in the beautiful Peneda-Gerês National Park north of Porto.
Headwater sends many of its Portugal travelers to the Algarve region, best-known for its golf courses and family-friendly golden beaches – but also where you can find a fantastic range of self guided
walking
and
cycling vacations
.
"We try to avoid the busier coastal resorts and focus instead on the far south-western tip near Sagres," says Christian. "It's quieter and there are some lovely beaches and headlands along the Atlantic and Mediterranean coasts, as well as the famous Rota Vincentia and Fishermen's Trail that have beautiful scenery."
These are tailor made trips, so you can pick and choose your travel dates, the type of accommodation you want, and the level of challenge you want from your routes. You'll be provided with maps and comprehensive route notes that fill you in on everything from nearby points of interest to the best places to eat nearby, and what wildlife to look out for where. Naturally, you'll have 24/7 support should you need it, and your luggage will be driven from accommodation to accommodation ahead of you. Come in the autumn for cooler weather but still long days, spectacular bird migrations, and roads that are far less busy compared to August.