Top 10 flight free vacations
Our best flight free vacations allow you to really explore Europe, Asia and Africa rather than whizzing over the top of them. Yes, you can fly to the start point of each trip if you want to. However, with the help of our vacation partners, we'll give you every opportunity to ditch the plane and travel by train, bus and boat instead. From long-distance train travel to luxurious cruises, this is where we can start to free ourselves from flying. Keep reading to discover our top 10 flight free vacations.
Our Flight free Vacations
1. London to Cairo by land & sea
Crossing over land and ocean between the continents of Europe and Africa is the stuff of traveling dreams. From London to Geneva, Milan to Naples, and Jerusalem to Tel Aviv, this epic tour finally arrives in Egypt just two weeks after starting out. This is exactly what flight free vacations are all about, with a combination of trains, ships, buses and private cars providing a variety of transport to take you from one exciting encounter to the next. Overnight ferries and city center hotels offer opportunities to rest and explore, so all you have to do is pack your bags and get ready for an epic adventure.
2. Cruising in Croatia
With the help of our flight free Croatia specialists, you can travel overland to Split before swapping road and rail for the comfort and luxury of a small cruise ship. It's lots of travel, followed by lots of relaxation. From Split, you'll embark on a week of cruising as you sail between the Adriatic islands of Bol, Hvar, Korcula and Mljet before finally docking at Dubrovnik. Experiencing Croatia's coastline by small ship (40 passengers maximum) allows you to anchor at lesser-known seaside towns that larger vessels rarely reach. You'll also have plenty of chances to enjoy island restaurants and family-run café-kitchens without the scrum for tables.
Our top trips:
Southern Croatia cruise in comfort
and
Split to Dubrovnik luxury cruise
All our trips:
Croatia small ship cruises
Read more:
Croatia cruising travel guide
3. Walking in southern Italy
Traveling overland to Naples in Italy is just the start of the adventure before you swap rail for your own two feet and set off on a walking vacation overlooking the Amalfi Coast. This is an opportunity to spend time in the lesser-known village of Bomerano as you explore around the Agerola Plain and take in Mediterranean vistas and undulating hillside tracks. You can also travel by bus to the Bay of Naples, hike to Ravello and set sail to the cosmopolitan island of Capri.
Our top trip:
Amalfi Coast walking vacation
All our trips:
Italy walking vacations
Read more:
Amalfi Coast travel guide
Our top Flight free Vacation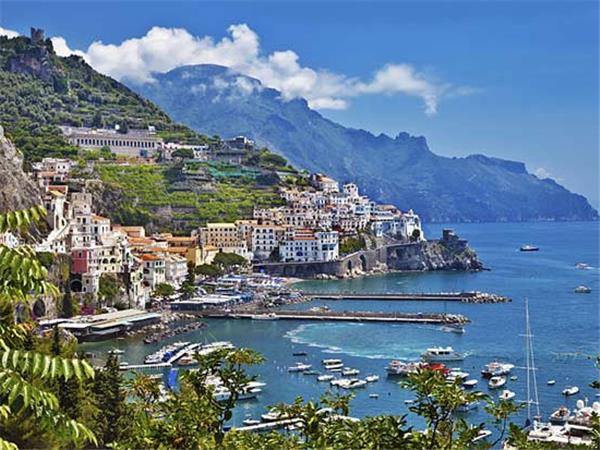 One of Europe's most dramatic stretches of coastline
From
US $

1949

to

US $

2349
8 days
ex flights
Small group travel:
2021: 6 Nov, 23 Dec, 30 Dec
2022: 12 Mar, 26 Mar, 2 Apr, 9 Apr, 16 Apr, 23 Apr, 30 Apr, 7 May, 14 May, 21 May, 28 May, 4 Jun, 11 Jun, 18 Jun, 25 Jun, 2 Jul, 9 Jul, 16 Jul, 6 Aug, 3 Sep, 10 Sep, 17 Sep, 24 Sep, 1 Oct, 8 Oct, 15 Oct, 22 Oct, 5 Nov, 24 Dec, 31 Dec
If you'd like to chat about Flight free or need help finding a vacation to suit you we're very happy to help.

4. London to Vietnam by rail
Follow in the footsteps of explorers past as you cross from Europe to Asia onboard the Trans Siberian Express train. This legendary railway journey takes you from Austria to Romania to Russia, before you reach Beijing and continue your travels south to the capital of Vietnam, Hanoi. You get to witness landscapes, cultures and people changing from one day to the next – the joy of traveling by train, rather than flying. Numerous stops along the way, including time in Brasov, Moscow and Irkutsk, allow you to really enjoy the experience rather than rushing through.
5. Yoga vacations in Spain
Traveling to Alicante in south-east Spain can be a real experience, especially if you've tackled the trip on overnight trains and sleeper buses. And there's only one type of vacation that's going to ease you out of any aches and pains: a yoga retreat. Flight free yoga vacations in Spain give you the freedom to explore overland before inviting you to explore your mind, body and soul in sublime Spanish sunshine. The combination of daily yoga and meditation classes combined with healthy eating and mountain air is ideal for slow travel lovers.
Our top trip:
Yoga retreat in Valencia
All our trips:
Wellness vacations in Spain
Read more:
Valencia travel guide
6. Family adventure in the French Alps
Traveling overland to the French Alps might not be everyone's ideal start to a family vacation in France. However, if you've got kids who are keen to have an adventure, then this is an exciting start to a week of outdoor activities. From wild swimming and high ropes courses to rock climbing and a two-day hike into the mountains – this is how you keep the family entertained in France without flying.
Our top trip:
Family adventure vacation to France
All our trips:
France family vacations
Read more:
France family travel guide
7. Cross country skiing & snowshoeing in Italy
Winter vacations in Italy don't have to start and end at the ski slopes. You also don't have to fly here – you can arrive by rail or a combination of rail and road. Cross country skiing and snowshoeing have little impact on the environment and allow you to explore snow-covered areas that the ski buses can't reach. Discover the alpine village of Dobbiaco, as well as the snowshoe and cross country ski trails of the Dolomites. The pizza, pasta and hot chocolate are out of this world.
8. Exploring Sintra-Cascais Natural Park, Portugal
This lovely B&B in Sintra-Cascais Natural Park provides a warm welcome and cosy rooms on your arrival – as well as a shuttle service from the train station. All you have to do is get to Lisbon by rail, before taking an hour's train ride into the national park. From the guesthouse, you can explore the mountains, beaches and forests of Sintra-Cascais Natural Park on foot, bike or by bus. There are also loads of opportunities for massages, cooking classes and vineyard tours.
Our top trip:
Sintra Natural Park accommodation in Portugal
All our trips:
Sintra Natural Park vacations
Read more:
Sintra Natural Park travel guide
9. Around the world without flying
An epic tribute to Phineas Fogg, this 11-week adventure replaces the steam ships and hot air balloons of Jules Verne's novel with comfortable long-distance trains and modern cargo ships. The trip can broadly be split into three parts: London to Central Asia and the legendary cities of the Silk Road, by train; China; and after a two-week crossing of the Pacific, a journey around North America, after which you sail back to the UK across the Atlantic.
Our top trip:
Around the world vacation without flying
All our trips:
Flight-free vacations
10. Balkans tour
Traveling overland to Tirana is just the start of this flight free tour of the Balkans. From the Albanian capital, you can drive north to Kosovo before heading south to Albania via Macedonia. Traveling by road is the best way to experience every lump and bump of the Balkans – in some cases, quite literally. You'll learn about the history of the region and visit some of Europe's lesser-known treasures, including Rozafa Castle, Peja monastery and Et'hem Bey Mosque. You'll also cross Koman Lake by boat, tour vineyards in Rahovec on foot, and follow the Radika River as it meanders past Macedonia's most important ecclesiastical architecture.