FRANCE FAMILY HOLIDAYS GUIDE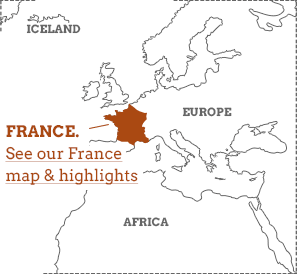 Open your mind to a world of possibilities as you gently unwind and rewild in the Alpine meadows and along the riverbanks of southern France. Our family vacations here encourage active adventures in the Ardèche and the Alps as well as extolling the benefits of donkey walking in Mercantour National Park. We invite you to disappear into the Dordogne where lazy, off grid days by lakes turn kids into real life Swallows and Amazons. Or if you prefer to pedal in your own private peloton then our tailor made family cycling tours along the towpaths of the Rhône and Isère rivers are perfect for keeping to your own pace.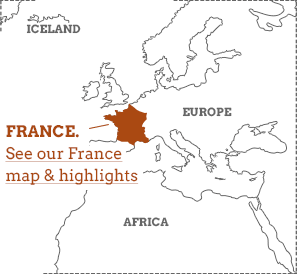 There's nothing like joining a small group of other like-minded families to get kids up and at 'em but then walking with a donkey can also work wonders for otherwise reticent ramblers.

Our France family vacations guide aims to get you off the autoroutes and into the river valleys and shaded pine forests of the south. Although the Alps in the Easter vacations are awesome – and expensive, and crowded – there's something far more serene about the slopes in summer. Find out how to make the most of your family vacation in France, and when to go to avoid the crowds converging on the coast.
WHAT DOES A FAMILY HOLIDAY IN FRANCE ENTAIL?
Active adventures, cultural encounters, relaxing by rural rivers or beside a lake; if you're wondering what a hassle free family vacation in France entails, right here is where you sign up for sunshine. We like to think that family vacations in France should be less long distance driving and more everyone enjoying each and every day in their own way. School term dates will impact on when you can get away but if you're longing for an old school family vacation, don't forget France when it comes to getting the balance right.
Small group family vacations
Our small group vacations are perfect for families looking to keep active outdoors. You'll join other families with children aged from seven to 15; depending on the activity they'll need to be old enough to wear safety equipment and follow instructions. Group sizes are usually a maximum of 12 to 16 people. Small group activity vacations tend to take place from May to the end of August, coinciding with spring and summer school vacations as well as warmer temperatures for wild swimming, kayaking and white water rafting.
Professional and passionate instructors will help everyone learn the ropes – sometimes literally – and a group leader or host will be on hand to welcome you and ensure everyone knows what's going on. Our small group family vacations in France are center based, perhaps in a luxury eco lodge or a five bedroom chalet in the Alpine village of Samoëns. Activity sites are just a short transfer away. All meals are included and there's loads of indoor and outdoor space. It's all very communal and everyone gets plenty of time to socialise with new pals and spend time together, as a family.
You can also book your own accommodation in the Ardèche and join other families, just for activities. Although there's a set week's itinerary you can pick and choose what you want to do. This is a great idea for families looking to make new friends as well as exploring on their own and enjoying their own space.
Tailor made family vacations
Our
tailor made family vacations in France
are for families looking to take things at their own pace. You can choose when you want to go, depending on school vacations, and decide on the type of activities that you'd like to do – perhaps with a guide, or on your own with detailed notes. We find walking vacations are a firm favourite for families looking to explore rural France. Your luggage will be transferred between accommodations each day, and detailed route information and emergency assistance add peace of mind.
Mercantour National Park
and the Rhône Valley, in the Alps, offer exceptional scenery as well as the opportunity to walk with a VIP, well a VID – a Very Important Donkey!
Alternativley, why not opt for two wheels instead of four legs? Cycling as a family between the lakes of Geneva, Bourget and Annecy takes you along the flat towpaths and shaded cycle routes beside the Rhône and Isère Rivers. Each night you'll stay in a different, family owned hotel where a warm welcome, and your luggage, will be awaiting your arrival.
Alternatively, if you're the type of family who love to really get to know the local patisseries or want to disappear into the Dordogne for a week then
self catering or B&B accommodation in France
is ideal. Cabins in the woods, chalets in the mountains, B&Bs with balconies in Provence, or a baby-friendly cottage in the Loire Valley; our accommodation only vacations are just right for families looking for la belle vie.
Our top trip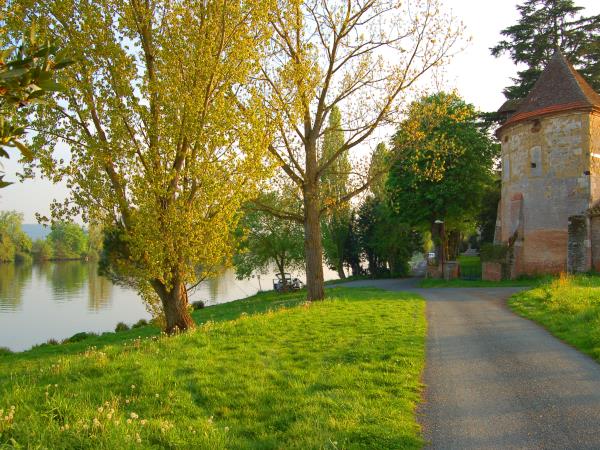 A historical biking family vacation in France at river's side
From
€

715

to

€

1170
7 days
ex flights
Tailor made:
This trip can be tailor made throughout the year to suit your requirements
If you'd like to chat about France family or need help finding a vacation to suit you we're very happy to help.

BEST TIME TO GO ON A FAMILY HOLIDAY IN FRANCE
The Christmas vacations are too soon for snow-in the Alps, while February half term sees slopes covered in crowds, so we reckon the best way to avoid the crowds is to head to Geneva, the Ardèche or the Dordogne during the Easter or summer vacations. Summer is when many French families head to the coast which leaves the mountains blissfully crowd free. Although temperatures in southeast France do soar in July and August, especially in the valleys, there are plenty of shaded pine forests, wild rivers, and luscious lakes in Mercantour National Park, for instance, to let kids, and parents, keep cool.
"We were early in the season, this meant the weather was variable (fine in the mornings, clouds gathered at lunchtime, thunderstorms by mid-afternoon). However, the mountain scenery and alpine flowers were incredible." – John Tyler, in a review of his family vacation in France
FRANCE FAMILY HOLIDAYS, MONTH BY MONTH
Chamonix doesn't always get snow around Christmas vacations, so December and January aren't the best for winter family vacations. February half term and the March or April Easter break most definitely are. As the thaw kicks in for May half term, activity loving families find the Ardèche River running fast for white water rafting and kayaking adventures alongside wild swimming in lakes and waterfalls with a tad more bite. Tailor made walking and cycling vacations are much better in the milder months. May and October half terms allow families to really find their feet, and pedals. The French Alps are relatively crowd free in July and August as everyone's gone to the beach – keep your eyes peeled on mountain paths for marmots and ibex. If you have preschoolers and fancy a family vacation in a lakeside cabin in the Dordogne then September is a month to cherish, as lakes are warm, the sun's still out and family foraging expeditions are yours to behold. Early October is still pleasant, though November can be a tad too dark and wet.
More France family articles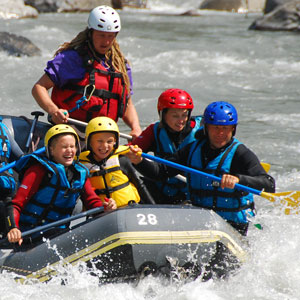 Here's where to go to escape the hordes heading from Calais to the Cote d'Azur.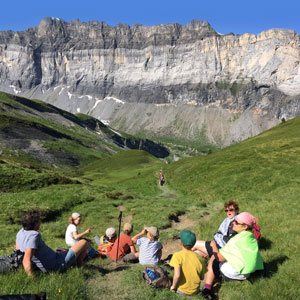 You and the kids can rock climb, raft and help with rewilding, all day long.