FAMILY ACTIVITY HOLIDAYS IN THE FRENCH ALPS
School summer vacations are when French families tend to take to the coast, leaving the rivers, lakes and valleys of the Alps blissfully free from crowds. Our family activity vacations in the French Alps encourage kids to enjoy the freedom of being outdoors. Everyone gets the chance to try something new or just relax with new friends after a day of rock climbing, white water rafting or hiking. You don't have to be super fit to take part, although a healthy sense of adventure never goes amiss. Perhaps the bravest moment is saying "yes" to taking your family on an activity vacation. After all, you never know what you'll unleash after a week of rewilding in the Alpine air, and that's just the parents.
Our France family Vacations
Become part of a big family
Joining a small group of families for a week of activities in the French Alps is the best way to kick start kids into action. It's amazing how a bit of subtle peer pressure can turn a couch potato into an active adventurer in the space of a few short introductions. Guides and instructors aren't just activity experts; they're also adept at ice breaking and ensuring everyone is enjoying the Alps without feeling pressured to do so.

Group leaders are friendly and fun. They 'get' kids and can encourage them to join in where parents might not achieve the same success. Once a day of activities is over then it's all back to base for food, a spot of wild swimming or just relaxing with the gang. Downtime is just as important as all out action. Where else will your kids get to gossip about whose dad screamed the loudest at the waterfall or which mum held on for the longest at the high ropes course?

Single parent families often opt for small group activity vacations as it gives them a chance to hang out with their own children and meet new people without the hassle of having to do everything on their own.
Saskia Anley-McCallum from our family travel experts, Source Vacations:
"Kids and teens love swimming under waterfalls and in lakes, white water rafting, ropes courses, rock climbing, hiking... the secret is to find new friends, as children who hate walking become bionic when they are with a gaggle of new mates!"
Tailor made family activity vacations
Tailor made vacations allow active families to experience the Alps in spring and autumn. This is an ideal option for families who are keen cyclists. It's far preferable to pedal in comfortable temperatures outside of summer, and you'll get to see more of the region rather than staying in one place. Also, before you worry about your kids attempting crazy cols, there's a really nice river route between the lakes of Geneva, Bourget and Annecy that's actually rather flat.

Luggage transfers, route information and assistance is included so all you have to do is pedal, picnic, pedal, picnic, and maybe take a plunge in a lake or two.
What can we do?
Family activity vacations in the Alps will usually include at least four full days of activities each week. Activities can be tailored to suit the interests and ages of the group as a whole or you can pick and choose which activities you want to take part in. All instruction and equipment will be included.

High ropes will test your head for heights as you swing from platform to platform, scramble up cargo nets and go hand over hand amongst the pines. Safety harnesses encourage fun over fear. White water rafting will be faster and colder in May so bear this in mind if you've got plans to paddle. Magnificent waterfalls swell the Giffre River to make this one of the Alps' top spots for white water rafting. Mountain biking can be an all day exercise as part of a guided group or you can borrow or hire bikes and just take off on any number of Alpine trails. Maps, route cards and local advice are always available. Group hiking might not be every kid's activity of choice but you just wait until you get them into a gang of new pals. That former moaner and groaner suddenly becomes a bionic Julie Andrews! Rock climbing with a guide is about as safe as you can get. Helmet, harness and safety instructions are all included so all you have to do is watch them go. Then it's your turn. "Come on Dad, it's not that high!"
Our top France family Vacation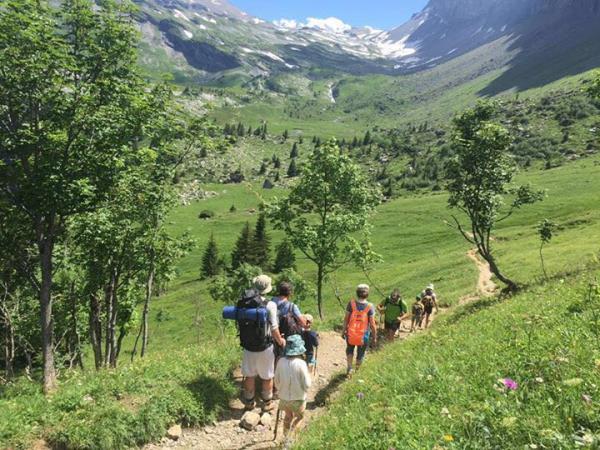 Life enhancing family adventure & yoga in the French Alps
From
£

995
8 days
ex flights
Small group travel:
2024: 20 Jul, 27 Jul
If you'd like to chat about France family or need help finding a vacation to suit you we're very happy to help.

How old do my children need to be?
Small group activity vacations usually work better with children over nine years old, through to mid-teens. However, you know your children. If you've got a particularly active seven or eight year old that would enjoy walking or rafting, and can follow safety instructions, then why not?
Do we need to be super fit?
Hey, there's going to be a fair amount of outdoor action, it's an activity vacation after all, but if you're willing to put your trust in the instructors, try something new and smile then why not give it a go? There really is nothing to worry about if you're not in tip top condition. Also, let's face it: everyone looks a little bit silly in a wetsuit.

From myself, an unfit 40 year old, to my 12 year old son, we were looked after and made to feel welcome. All the activities were conducted with the highest safety standards. What a fabulous group of people who did their best to ensure my family had the best adventure ever!

- Andrew Riley in a review of his family activity vacation in the French Alps
When is the best time to go?
School summer vacations are the best time to visit the Alps if you're looking for sunshine and warm evenings spent outdoors. Wild swimming is much more enjoyable when the weather's fine, although glacial mountain rivers can still be extremely 'refreshing' even at the height of summer. May or June half term can also be a great time to undertake activities in the Alps. Mountain biking and hiking are both much more comfortable in cooler temperatures and there's nothing like a spot of white water rafting in May to make the heart beat that little bit faster. We double dare you to dunk your head in a waterfall!
More about France family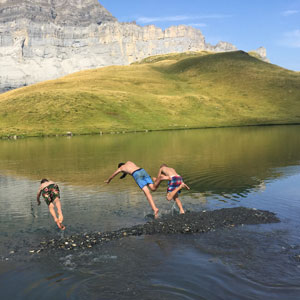 Our France family vacations guide helps to gently nudge travelers in the direction of the Dordogne, the Ardèche and the French Alps, a bit like when a donkey subtly indicates it needs another carrot.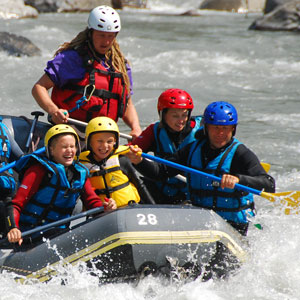 If you're interested in escaping the hordes heading from Calais to the Cote d'Azur or you fancy experiencing the Alps without the snow, we'll help you decide where to go on a family vacation in France.