WHERE TO GO ON A FAMILY HOLIDAY IN FRANCE
The Alps are an undulating adventure playground where the River Rhône rushes down to feed Lake Geneva, and river tributaries, such as the Ardèche, support many of the south-central region's most attractive villages and towns. Mercantour National Park, in the Alpes-de-Haute-Provence, boasts more than 600km of walking trails – don't forget your donkey – whilst keen cyclists will find the tour from Geneva to Lake Annecy perfect for plane pedalling. South of the Alps the Côte d'Azur is accessible from the pastures of Provence whilst in southwestern France, the Dordogne conjures cosy woodland cabins for families looking to get off-grid down by the lake.
1. The Alps
There's a real sense of peace in the French Alps during the summer. Alpine regions are blissfully bereft of crowds, and sand, with waterfalls and lakes providing ample opportunities to keep cool. High ropes courses, white water rafting and rock climbing in the fresh Alpine air work wonders for tearing transfixed teens from tech. Trails are really well signposted and you may even spot a marmot or an ibex – just not many people.
2. The Ardèche
Take a two-day expedition down the Ardèche River and discover why this region of France fills families with great expectations. Of course, abseiling and climbing in Chassezac Gorge also takes some beating, as does a day on the high ropes in the pine forests of Villefort. If you're looking for outdoor activities to keep kids (aged seven up) and parents cool in the school summer vacations then it's all about the awesome Ardèche.
3. The Dordogne
Dragonflies dance around lakeside shallows whilst pine martens and red squirrels peer from lofty woodland vantage points; discovering the Dordogne, as a family, definitely delivers on getting back to basics. Pick up a bottle of Bergerac at the vineyard, walnut cheese at the market and a suntan on a cycle ride before barbecuing saucisses as the kids take to the lake and the adults make the most of being blissfully off grid.
4. The Lakes
There are some lovely lakes in southeast France and if your family are into cycling then why not consider pedalling past Geneva, Bourget and Annecy on a tailor made tour? Towpaths and well marked routes along the Rhône and Isère Rivers are fabulously flat with loads of opportunities for picnics, swimming and even thermal baths at Aix-les-Bains. Pedal in the morning before settling in and exploring in the afternoon.
5. Mercantour National Park
Pick up the 'Postman's Trail' from St Martin to Val Pelens and get in step with the French folk who've made their way through the valleys and into the villages using a 600km network of well-tramped mountain paths. Although kids and walking vacations haven't always got along, there's a local guide that we recommend using on a self guided week in Mercantour National Park that definitely does the trick – eyore eyore!
6. Provence
If you can picture your family in a traditional French village, such as St Jeannet, with access to water mills, wineries and walking trails in the countryside, then perhaps Provence, for a week, is for you. With the clamour of the Côte d'Azur just 15km away, and climbing, canyoning and cooking classes right on your doorstep, this is the French Riviera at a snail's pace – just right for taking it easy in the summer vacations.
If you'd like to chat about France family or need help finding a vacation to suit you we're very happy to help.

FRANCE FAMILY HOLIDAYS TRAVEL ADVICE
Saskia Anley-McCallum runs one of our France family travel companies, Source Vacations. She set up the first ecolodge in the Alps in 2007 and has been hosting sustainable family vacations ever since:
Secrets of success
"Kids and teens love swimming under waterfalls and in lakes, white water rafting, ropes courses, rock climbing, hiking... The secret is to find new friends, as children who hate walking become bionic when they are with a gaggle of new mates!"
Location, location, location
"We are based in the most stunning place we could find in the Alps: Samoëns. Within an hour you can visit beautiful Lac Annecy, Yvoire on Lac Leman, Chamonix to see the glaciers as well as countless mountain towns such as Morzine and Les Gets, Saint Gervais, etc. A car is useful and if you drive from the UK it's a good idea to stay over in Troyes, a stunning medieval village."
Caroline Peeters from our tailor made family vacation company, Safrantours, explains how to put the fun into family walking vacations in France:
Carrot not stick
"The benefits of walking with a donkey are especially for the children. They love the contact with the donkey and it motivates them to do a walking tour. Kids from four years old, weighing a maximum of 35kg, can even ride on the donkey from time to time. Families walking in the Ardèche also love the forests and the fabulous views over the Rhône Valley and the distant Alps."
Donkey days
"Our donkey-walking families stay in three different guesthouses, in a family room with private bathroom. Dinner is served by the guesthouses and eaten together with other guests around a large table. Each guesthouse has a small park and at the end of every walk the family puts the donkey in the park. The children brush the donkey and give him water and hay."
TIPS FROM OUR HOLIDAY REVIEWS
At Responsible Travel, we think the best people to advise our travelers are often other travelers. They always return from our tours with packing tips, weather reports, ideas about what to do, and opinions about what not to.

We have selected some of the most useful France family vacation travel tips that our guests have provided over the years to help you make the very most of your vacation, and the space inside your suitcase.

when we finally reached the refuge, we were rewarded with sunshine, cold beer, plenty of food and a cosy place to sleep. It was one of the best vacations we've had as a family.

"We were completely looked after and have had a real family vacation. None of the activities (hiking, yoga, white water rafting, canyoning) could have been as enjoyable and organised as efficiently without Saskia and fuelled by Jess's amazing food. Special highlights for us included secret local lakes to swim in and hiking/sleeping in the refuge. This vacation allowed us to each find our own source for life again and we have such treasured memories that will last as long as our lives." – Elspeth Lorriman

"Our 6 year old and 4 year old loved leading "Leonidas" our donkey through the French Alps. We slept in a beautiful yurt in an alpine meadow, and felt like we'd done something completely different to the typical "bucket and spade" type of vacation. We expected our young children to grumble about the hiking but in fact they exceeded all expectations and walked 5 steep miles per day for 3 days in a row. It's easy to under-estimate what your kids (and you) can do. Mercantour National Park is very beautiful and the trip felt like it had low impact on the environment." – Alison Godfrey

"Our family highlights were white water rafting and climbing to a mountain retreat. Huge achievement and bonding by all. All our vegetarian food was sourced locally and the children adored the trip to the next door farm to get fresh milk. Open your mind and your heart and be touched by the experience." – Donna Fleming



Our 6 year old and 4 year old loved leading "Leonidas" our donkey through the French Alps. We slept in a beautiful yurt in an alpine meadow, and felt like we'd done something completely different to the typical "bucket and spade" type of vacation.

"The chalet in Samoens is lovely, with stunning scenery all around. As a single parent I was slightly apprehensive. I needn't have been. Saskia is a fabulous host and my daughter loved the company of the other kids (and it was great for me to have adult company too). By coincidence we were all single parents that week. The group activities were fantastic – white water rafting being a particular highlight." – Amanda Myerscough

"The hike to the mountain refuge was an extraordinary experience. It was quite a challenging walk, but absolutely worth it. Along the route we were treated to stunning views and a river to swim in. And when we finally reached the refuge, we were rewarded with sunshine, cold beer, plenty of food and a cosy place to sleep. It was one of the best vacations we've had as a family." – Richard Davidson

"Our children would say Kaia, our donkey, was the highlight of the vacation. For me, it was the emptiness and the views. The donkey treks are a creative way to bring people to Mercantour National Park with minimal impact on the environment but lots of benefit to locals. We loved it. We want to visit the area again – and preferably with a donkey." – Rob Booth

"We stayed at the house in Provence with our teenage boys and we were so happy we did. Corinne and Benoit make you feel welcome as soon as you arrive. Breakfasts out on the terrace with homemade jams and yoghurt were delicious! Saint Jeannet is a quaint little town only about 22km from Nice so very easy to get to all the sightseeing spots! We did the cooking class with Corinne the one morning and we had great fun! If you like hiking, the mountain track is just behind the village! Also book a room with a balcony so you have a magnificent view all the way down to Nice!" – Jenny Lincoln
More France family articles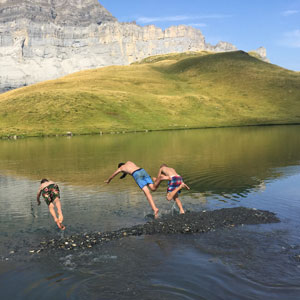 Look to Dordogne, the Ardèche and the French Alps for your next trip, and start making memories together.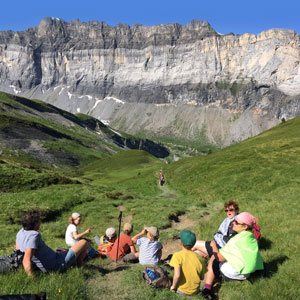 You and the kids can rock climb, raft and help with rewilding, all day long.