Flight free vacations to Sweden
Swedish climate activist Greta Thunberg has been one of the most influential people of the last decade. She is a figurehead of a growing movement that wants to see concrete and immediate steps towards addressing the climate crisis, and among their key demands is that governments around the world take action to discourage people from flying.
Greta has helped popularise the flight free movement, notably with her carbon neutral voyage across the Atlantic by racing yacht. But before she began making headlines, two other Swedes – Lotta Hammar and Maja Rosen – had already begun using social media to ask people to pledge to go a year without flying with their flygfritt movement.
Shifting a national mindset takes time, as Helena Hjort from our Sweden kayaking partner Do the North points out: "We're pretty good in Sweden, environmentally speaking. But with flying there's still a long way to go; a lot of people are still unwilling to fly less. And I think that people that are conscious about the problem tend to concentrate more on offsetting or finding airlines that use biofuels. There is definitely a discussion, but I think flying will be one of the last things we change."
But the Swedish term flygskam, or flight shame, has been joined by another: tågskryt, the train brag. Rail travel in Sweden rocketed in 2018 as domestic aviation decreased; in 2019 Swedes flew four percent less than they had the year before.
Our Flight free Vacations
Sweden vacations by train
Do the North, our Sweden vacations partner, have pioneered adventurous sea kayaking vacations in the Saint Anna Archipelago, a labyrinth of some 6,000 islands off the Baltic coast. Getting back to nature has been one of their key inspirations, and preserving the environment has led to them encouraging their clients to get to the city of Norrköping by train, where they can be picked up for their expeditions.

"A few years ago, many sleeper trains disappeared in favour of air travel which makes it harder, but there is talk of them coming back," says Helena Hjort, from Do the North. "Attitudes will change when the incentives are there. It's like how we used to download movies, but now everyone can stream their films legally so they're happy to pay. Make it easier for people to travel overland and there will be progress."

And what about when travelers have arrived in Sweden? "The train network here is great," says Helena. "We have high-speed trains from Stockholm to Gothenburg. If it's local, then it's very inexpensive. It takes a long time to drive around such a large country, so a lot of people do choose to go by rail."
It takes around 20 hours to get from London to Stockholm by rail, with an overnight in Hamburg – although it's thought that night trains may start making a welcome return in the next few years. And Do the North estimates that your journey's carbon emissions would be around 75 percent less than if you flew. They suggest the following, easy to assemble itinerary that offers plenty of opportunities for interesting layovers:
London – Brussels: 2 hours direct Brussels – Hamburg: 6.5-8 hours (1-2 changes) Hamburg – Copenhagen: 4.5-5.5 hours (0-1 changes) Copenhagen – Norrköping: 4 hours (0-1 changes)
Trainline
is your best bet to start looking for departures, and from Copenhagen to Sweden you can also use SJ. You can also use responsible operators such as our European Interrailing partner Euroventure, that can create tailor made journeys for you.
Our top Flight free Vacation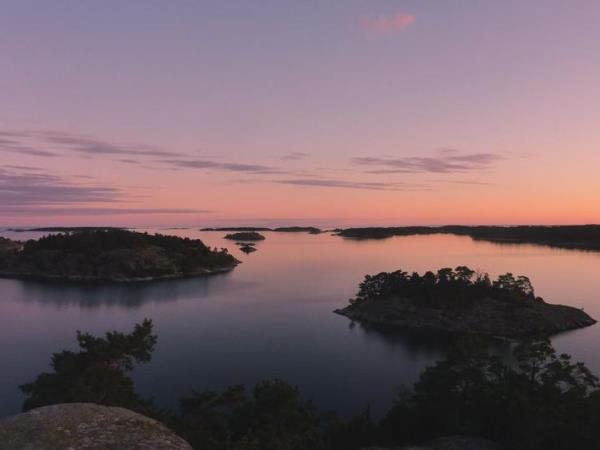 Solo travelers! Explore the Swedish Archipelago by kayak.
From
€

1070
5 days
ex flights
Small group travel:

But how you get to your vacation is only half the story. The best way to keep your trip's carbon footprint to a minimum is to eat locally produced food as much as possible. Swedish cuisine is diverse and delectable. The traditional dish is meatballs; you'll recognise them from IKEA, but they taste much better 'in the wild'. They're often served with lingonberry jam and – be warned – they're addictive.
Helena is the chef on Do the North's
kayaking and foraging trip
, and sources as many of her ingredients as locally as possible, from lamb and freshly caught fish to herbs dug up on the islands. She says: "Kayaking is a fantastic way to explore the archipelago's culture and cuisine. You'll pass a lot of uninhabited islands, but also historic fishing villages where the houses are red with white trimming in the classic style. You can buy smoked fish from the local fishermen and stop at the bakery for fresh buns. It's a very interesting culture, and you can visit museums that show how people live there."
Flight free vacation ideas in Sweden
If you can get to Sweden by train then getting from place to place afterwards is easy. You can enjoy a week of hiking, canoeing and cycling around the Stockholm countryside if you don't want to go far, or take the train down to the Sörmland province, where you can take a self guided cycling vacation. Two hours south of Stockholm by hire car brings you to Bergslagen Forest, where you can track beavers, moose and wolves. In winter, hop on a night train to Luleå for Lapland activity vacations and the chance to see the Northern Lights.
If sea kayaking is your thing, you'll love the range of kayaking and wild camping trips that Do the North have put together in the Saint Anna Archipelago. There are no tides to worry about, and the sea is very calm due to the number of islands and islets breaking up the waves. It's perfect for beginner kayakers and lovers of the outdoors.
"At Do the North we like to say that we're not selling package vacations, we're selling freedom. There are very few places in the world like the Saint Anna Archipelago, where you can choose wherever you like to set up a wild camp and be truly alone amid such beautiful nature."
If you'd like to chat about Flight free or need help finding a vacation to suit you we're very happy to help.