Great Ocean Road wildlife and Aboriginal culture
Australia is a land like no other. Existing in splendid isolation for many years, the continent went on its own evolutionary journey and developed a unique wildlife away from the rest of the world. Australia's animals can seem like alien lifeforms, so distinct are they from any other species on the planet and no trip here is complete without an encounter with these fascinating natives.
Aboriginal culture
And it's not just the animals who lived undisturbed for all those years, the Aboriginal people also developed a rich and distinctive culture which is totally unique. Victoria offers visitors the chance to learn about these fascinating people and animals all in one place at Tower Hill State Reserve, a wildlife haven housed in a dormant volcano. Here, you'll find koalas, emus, kangaroos and wallabies in numbers large enough that sightings are fairly easy, as well as a visitor center run by the local
Worn Gundidj Aboriginal Cooperative
which houses Aboriginal cultural displays which explain the culture of the people native to this area.
Having lived on this land for centuries the local Aboriginal community have a deep understanding of the wildlife and can take visitors straight to where the animals are at any time of day. Take a guided interactive walk with an experienced guide for an in-depth and highly educational encounter with native animals including emus, sugar gliders, koalas, kangaroos, reptiles and birdlife, or strike off on one of the four self-guided walks for the chance to encounter these same species one on one.
Kangaroos & koalas
Kangaroos and koalas are commonly seen along the Great Ocean Walk and there are places further along the coast where sightings are most likely. At Kennett River, halfway between Lorne and Apollo Bay, the Kennett River Koala Walk provides almost-certain sightings of koalas as you wind your way along the
Grey River Road
passing through blue gum forest (a koala favourite). Bring binoculars and look high up in the trees for the best chance of sighting them – in the spring you may even see mothers with their babies.
For an almost guaranteed sighting of a relaxed troop of kangaroos, head further east to Anglesea Golf Club. Unlikely it may seem, but a large number of kangaroos have made the course their home and are so used to people that they don't mind you getting fairly close to them.
Visit at sunset for stunning pictures of the 'roos grazing in front of the eucalyptus trees. Please avoid walking across or along the fairways as golfers may not see you and are not liable for any damage their wayward balls might cause!
Find out more about the
flora & fauna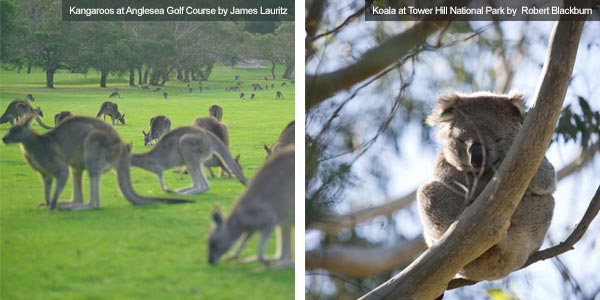 The platypus
Koalas and kangaroos may be the best-known Australian animals but they represent just the tip of an endlessly fascinating iceberg. The platypus is a semi-aquatic mammal endemic to eastern Australia and one of only five extant species of monotremes, or mammals which lay eggs. These shy creatures are difficult to see without forward planning so join a Paddle with the Platypus canoe tour to be sure of sighting them. These guided canoe tours leave at dawn and dusk from the small town of Forrest, located inland between Lorne and Apollo Bay, and offer a 95% success rate.
The glow worm
Perhaps even more strange is the glow worm, a creature which is not actually a worm at all but the larvae of a fly-like insect called the fungus gnat. During the nine-month larval stage they live in damp, dark places throughout the Otways, including Melba Gully where they can be found in the soil banks and overhanging ledges along the walking tracks. Visit at night to enjoy the spectacle of thousands of tiny beads of light twinkling in the otherwise pitch-black forest. Bring a torch but don't shine it directly at them – they'll turn out their lights if you do.
Responsible Travel would like to thank Tourism Victoria for their sponsorship of this guide
Back to the top
Convert currencies