Great Ocean Road travel information
Where is Victoria?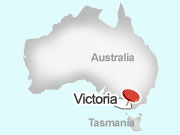 Hugging the south-eastern corner of Australia, Victoria is Australia's second-smallest state, covering 227,600 square kilometres – roughly the size of the British Isles.
Packed into such a compact area is a wealth of diverse regions and attractions, from sweeping coastline and pristine beaches to national parks and forests teeming with wildlife, to wineries, lakes and mountains offering skiing, climbing and hiking. Best of all, many of Victoria's unique and varied landscapes are easily accessible as day trips from the vibrant city of Melbourne, Victoria's capital.
Melbourne sits on the Yarra River and around the shores of Port Phillip Bay. Lauded for its sense of style and elegance, the city boasts glamorous festivals and events, Australia's best shopping, a lively passion for eating and drinking, and a flourishing arts scene. Restored and preserved nineteenth-century architecture, built following the discovery of gold, provides a heady reminder of a prosperous age, while beautifully tended parks and gardens present a therapeutic respite from the pace of city life.
Distances
| | | |
| --- | --- | --- |
| Town | Km from Melbourne | Hours from Melbourne |
| Torquay | 103 km | 1 hr 26 mins |
| Apollo Bay | 195 km | 1 hr 39 mins |
| Forrest | 159 km | 2 hr 6 mins |
| Otway Fly Treetop Walk | 197 km | 2 hr 36 mins |
| Otway National Park | 215 km | 3 hrs |
| Princetown | 234 km | 3 hrs 3 mins |
| Warrnambool | 264 km | 3 hrs 29 mins |
| Port Fairy | 289 km | 3 hrs 55 mins |
| Portland | 360 km | 4 hrs 50 mins |
Getting there
By air: Melbourne Airport is serviced by 23 international airlines, including Qantas who fly direct from London Heathrow – the journey takes around 20 hours. As well as Qantas, domestic carriers Virgin Blue, Jetstar and Tiger operate flights around Australia and are housed within the main terminal. The airlines operate regular services throughout the day from Australia's major cities, with flights leaving every 15 minutes in busy periods.
Alternatively you could avoid Melbourne altogether, flying in from Sydney or Brisbane to Avalon Airport, 20 kilometres from Geelong and around an hour's drive from Torquay and the start of the Great Ocean Road. These flights are operated by Jetstar and there are also flights to and from Portland with Sharp Airlines.
By bus: The airport is 22 kilometres from the city and approximately a 25-minute drive from the center. Six car rental companies have offices on-site and the SkyBus express bus service departs for the city every ten minutes 24 hours a day, dropping passengers off at the centrally located Southern Cross Station, part of the metropolitan train system's underground city loop service.
By train: Trains from around Australia also arrive at Southern Cross Station. The Overland train service from Adelaide, operated by Great Southern Railway Limited, takes between nine and 12 hours depending on the scheduled stops, while the CountryLink XPT train service from Sydney takes around 10 or 11 hours.
By car: If you're planning to drive to Melbourne, allow at least nine hours from Adelaide, 10 hours from Sydney, 20 hours from Brisbane and up to two days from Perth. If you've got a little extra time, the coastal roads are highly recommended for their scenic beauty and quaint towns.
By boat: Melbourne is also becoming an increasingly popular port for some of the world's most prestigious cruise liners. Just 4km from the city center, Station Pier is the city's port and permanent home of the Spirit of Tasmania I and II, the ferry service between Melbourne and Devonport, Tasmania. The Skybus shuttle service operates pick-ups from the wharf and a tram service to the city runs directly from the pier.
Getting around
By train and bus: Overland trains offer a comfortable way to explore the state's diverse and dramatic landscapes. Trains servicing country Victoria (as well as all interstate routes) arrive at Southern Cross Station, and some lines also schedule passenger collection points at limited metropolitan train stations including Dandenong, North Melbourne and Caulfield.
Almost all major cities and tourist centers in Victoria are serviced by V/LINE, who run both train and bus services. Generally less expensive than trains, buses are one of the best ways to see more of Melbourne and Victoria and V/LINE run more than 600 coach services each week. Well equipped and with modern fleets, these offer a broader range of destinations and itineraries than the train network.
By air: For airline travel within Victoria you can choose from several regional airlines, such as Qantas Link and REX (Regional Express), which fly to Melbourne and larger regional centers including Mildura, Portland, Traralgon and Mount Hotham. Smaller airlines also operate out of these regional centers.
By car: Victoria's compact size and diversity of landscapes make it ideal for touring. The major roads between cities and country towns are well signposted and generally of a high standard. Melbourne and larger regional centers have plenty of local and international car rental firms, offering a variety of vehicles and deals.
The minimum age to rent a car in Victoria is generally 25 and the main rental companies are Avis, Budget, Europcar, Hertz and Thrifty.
Season and climate
Despite its small size, the Victorian climate varies across the state, with the north being much drier and warmer than the south. Australia's seasons are the reverse of those in the northern hemisphere – when it's summer in Europe, it's winter in Victoria. The climate can be characterised as warm to hot in summer (December to February), mild in autumn (March to May), cold and damp in winter (June to August) and cool in spring (September to November).
Find out more about the
Great Ocean Road weather & climate
Public vacations
New Years Day – January 1
Australia Day – January 26
Labour Day – March 8
Good Friday – March/April (varies)
Easter Monday – March/April (varies)
ANZAC Day – April 25
Queen's Birthday – June 14
Melbourne Cup Day – First Tuesday in November
Christmas Day – December 25
Boxing Day – December 26
Time zone
Victoria operates on Australian Eastern Standard Time for most of the year, which is based on Greenwich Mean Time plus 10 hours. Daylight saving applies from the last Sunday in October until the last Sunday in March. Clocks are advanced one hour during this period.
Currency
Australia has a decimal system with 100 cents to the dollar. There are six coins: 5, 10, 20 and 50 cents and one and two dollars. The five notes are: 5, 10, 20, 50 and 100 dollars.
Dialling code
0061
Emergency contact numbers
000 for Police/Fire/Ambulance
Responsible Travel would like to thank Tourism Victoria for their sponsorship of this guide
Photo credits:
[Page banner:
Diliff
]
Back to the top
Convert currencies