Guatemala travel guide
---
2 minute guide
Guatemala's physical beauty is what first strikes many travelers. A nation whose landscapes have been carved up by volcanoes, many of which are still active; there is no lack of dramatic backdrops for photographs. Sacred lakes sparkle at the volcanoes' bases, giving way to dense tropical forest which is reclaiming ancient Mayan cities and temples. In the temperate highlands, tranquil, colonial beauties such as Antigua belie a tumultuous past – of Mayan-Spanish conflicts, and of devastating earthquakes and volcanic eruptions, believed by the devout conquistadores to be divine punishment.
But as our Guatemala travel guide explains, the Maya were never truly conquered, despite conflicts that raged even through the 20th century, as over 80 percent of Guatemalans still identify as Maya or mestizo. They permeate these stunning landscapes with their rainbow coloured textiles, indigenous dishes, vibrant markets and peaceful villages, just as their ancient cities and pyramids still rise up through jungle canopies, wrapped in vines. Resplendent, indeed.
Guatemala is...
hugely diverse, with wetlands,
Pacific and Caribbean coasts, volcanoes, rainforests and lakes.
Guatemala isn't...
quite over its tumultous past.
Drug conflicts have replaced the civil war which ended in 1996.
WHAT WE RATE & WHAT WE DON'T
---
OUR BEST & WORST OF GUATEMALA HOLIDAYS
Underrated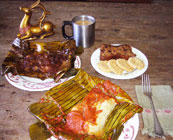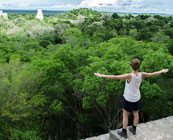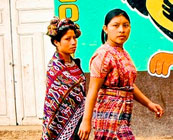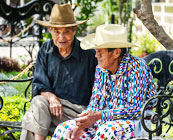 Food
Guatemalan food is simple yet heavy. While Mexico has the taco, Guatemala has the tamal – a heavy maize dough wrapped in a banana leaf. Tamales can have many fillings, including chicken, pork, beef, olives or roasted peppers. Sweet tamales contain chocolate, nuts and dried fruit. In the Garifuna villages of the Caribbean coast, African flavours seep in, with tapado – coconut fish soup – a delicious specialty.
Family vacations
There is plenty to excite young explorers in Guatemala: indigenous villages, kayaking on lakes and rivers, listening out for howler monkeys in the jungle, and seeing the epic ruins at Tikal – along with a perpetual backdrop of still-smoking volcanoes. Combine with a few days in neighbouring Belize for the perfect Caribbean beach break – a relaxing end to a family adventure.
Human Rights
Guatemala has taken great steps in recent years to improve its human rights record, with attempts made to prosecute those who committed violent crimes, including rape and murder, during its brutal, 36-year civil war. But there is still a long way to go, as former high ranking officials have literally got away with murder, and those who campaign against it are risking their lives to do so.
Homestays
The villages around Lake Atitlán are some of the best places to experience modern Mayan life – and one of the most immersive ways to do so is with a homestay. Rooms are clean and simple with shared bathrooms – but the cultural experience is five star, as you share tasty meals cooked by your host family and learn about daily routines. Ask your tour leader for a few words in the local language to help break the ice.
Rated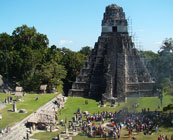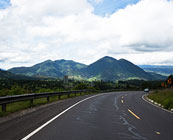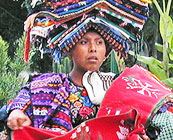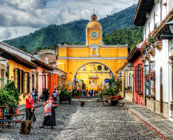 La Ruta Maya
Guatemala sits squarely on the so-called Ruta Maya. The archaeological site of Tikal shows the power of the Mayan civilisation. A sprawling city that stretched through many kilometres of jungle, much of which is still being excavated, there are five temples to climb for panoramic views over the site. Less well known is Iximché, capital of an ancient kingdom, with pyramids, temples and evidence of human sacrifice.
Overland tours
Make the most of Central America's tightly clustered borders and cross over into Mexico's Yucatán Peninsula for more Mayan exploration as well as a dip in a cenote. Travel overland to Belize, where you can relax on paradise cays, snorkel or scuba, and discover a Mayan "underworld" in the incredible ATM cave. A longer tour can even take you all the way along the isthmus to the Panama Canal.
Textiles
If guilt-free shopping is your Holy Grail, then leave plenty of space in your suitcase in Guatemala. Across the country, women's cooperatives produce stunning traditional textiles – from blouses and scarves to pillowcases and bags – and the profits are ploughed back into the communities. One of the best places to source handwoven textiles is in San Juan La Laguna, on Lake Atitlán.
Antigua
Possibly the most beautiful spot in all of Guatemala, the colonial capital Antigua was almost destroyed during a volcanic eruption in 1773. Happily, its multicoloured, tile-roofed buildings have been beautifully restored, and this UNESCO site is a great place to lose yourself for a couple of days as you explore markets, meet Mayan women in traditional dress, visit ornate churches and enjoy the fresh, highland air.
Overrated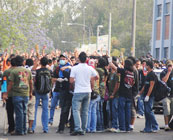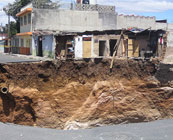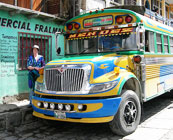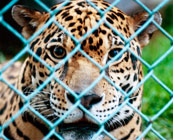 Ignoring the warnings
You're unlikely to get into any trouble on your Guatemala vacation – as long as you travel sensibly. Guatemala was in the throes of civil war until 1996, and while today the Mayan villages and glassy lakes present a picture of peace, Guatemala City's shocking crime rate tells another story. Drugs and gangs still blight the capital, and walking around the city alone, or at night, is not advised.
Guatemala City
While the 90m-deep sinkhole that appeared in the capital in 2010 may have given many people the heebie-jeebies, the real risks here are on a far more human scale. This is, sadly, one of the world's most violent cities, and while we always try and keep a sense of perspective, we're not convinced it's worth the risk of spending time here. The largely gang related crime has created no go zones, made the city unsafe after dark, and put public transport out of bounds. Sorry.
Chicken buses
For generations of backpackers, "chicken buses" – old US school buses revamped and painted in gaudy colours – were the way to travel around Central America. However, safety standards are pretty appalling and accidents are common. Worse still, rising crime means the buses can be hijacked, resulting in violent muggings and worse – especially in the capital. The buses may be fun and characteristic – but we sadly don't recommend them anymore.
Zoos
Central America has a wealth of wonderful wildlife – which doesn't include lions, hippos or zebras. Unfortunately, all of these creatures – and more – can be seen in Guatemala's zoos, horrifically depressing places with – in our opinion – zero conservation or educational value. Stick to the jungles for the howler and spider monkeys, and superb bird watching – including resplendent quetzals, toucans and dozens of species of hummingbird.
FOOD, SHOPPING & PEOPLE
---
TRAVEL LIKE A LOCAL ON YOUR GUATEMALA HOLIDAY
Eating & drinking in Guatemala
---
Guatemala's cuisine combines indigenous ingredients – such as corn and chilli – with influences from Spain and Mexico.
In the damp, chilly highlands you'll appreciate the warming caldo (literally – broth), made with pollo (chicken) or res/carne (beef) and pumpkin-type vegetables. Along the Caribbean coast, the Garifuna people prepare tapado – a delicious coconut and fish stew.
Licuados are tasty fresh fruit milkshakes.
Guatemala has over 30 volcanoes –
three of them are active
. The appropriately named Fuego, in particular, is almost constantly spewing lava, ash and smoke.
PEOPLE & LANGUAGE
---
It may be Latin American, but only around 60 percent of Guatemala's population speaks Spanish as their first language. This deeply indigenous nation – with 40 percent of people belonging to one of the many Mayan groups – has 23 recognised Amerindian languages, including Ki'che', Cakchiquel and Kekchi. Another ethnic group is the Garifuna. Descended from African slaves and indigenous Arawak Caribbeans, they live along the remote Caribbean coast, with their cultural influences still visible in their dance, cooking and percussion.

"Guatemalteco/a" – "Guatemalan" (m/f) in Spanish
"Saqarik" – "Good morning" in Ki'che'
"Maltiox" – "Thank you" in Ki'che'
"Buiti binafi" – "Hello" in Garifuna
GIFTS & SHOPPING
---
Guatemalan crafts – or artesanías – are very localised, with designs varying from village to village. In San Juan La Laguna many weavers' cooperatives use traditional backstrap looms and promote the use of natural rather than chemical dyes.
Chichicastenango is a renowned artisan village; visit on Thursday or Sunday for the local market. In Antigua, head to the sprawling Nim Po't, or the market (Mon, Thurs, Sat) which attracts rural artisans from across the region.
If crafts aren't your thing – leave space in your suitcase for a bottle of 23-year-old Zacapa rum – renowned for its smoothness.
Chocolate originated in this region. However, few people today would recognise the original bitter, chilli-infused concoction as chocolate. In fact,
the Mayan word 'xocolatl' means 'bitter water'
.
HOW MUCH DOES IT COST?
---
Elote (grilled corn on the cob with salsa) on the street: 95p
Street taco: 75p
Entry to Tikal National Park: £16 (£26 for a pre-6am sunrise tour)
Litre bottle of Ron Zacapa Centenario: £30
Brief History of Guatemala
---
Most "histories of Guatemala" begin in the early 16th century, when the conquistadores arrived in Mesoamerica and claimed this land as their own, converting, "pacifying" and slaughtering the native Maya over the next two centuries. However, to ignore the preceding 3,500 years and the incredible civilisations and independent kingdoms that were established in this region is to ignore the true history of Central America. It also fails to create an understanding of modern Guatemala, where 40 percent of the population is indigenous Maya, and these influences are still woven into the country's rich cuisine, art, textiles and rural culture.
Read more ▼