Iceland walking highlights
There are many Iceland walking highlights, but the most important one is the fact that these volcanic voyages take you well off the beaten track. Away from the crowds that pack into the island's Golden Circle and into the wilds. Past the glistening glacier at the foot of the notorious Eyjafjallajokull volcano, along the remote black beaches of the Eastfjords region, across the beshevelled-by-beauty Hornstrandir Nature Reserve , as well as fjord after fjord. You can also go for the Icelandic Full Monty and do the whole circuit by foot. It's cold out there though. So, 'you can leave your hat on.'
Our Iceland walking Vacations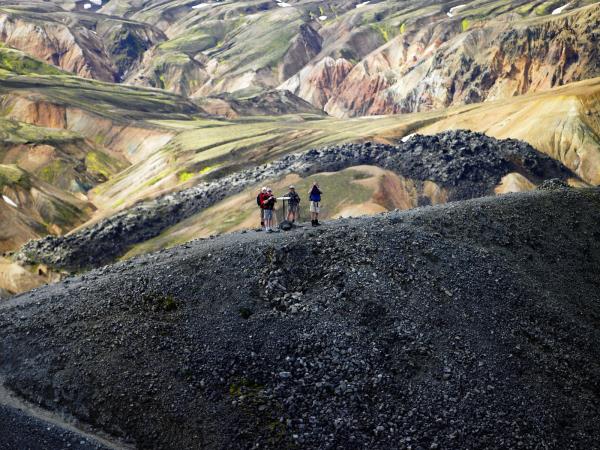 Few trekking routes can match the striking vistas on offer here
From
US $

3999

to

US $

4349
7 days
ex flights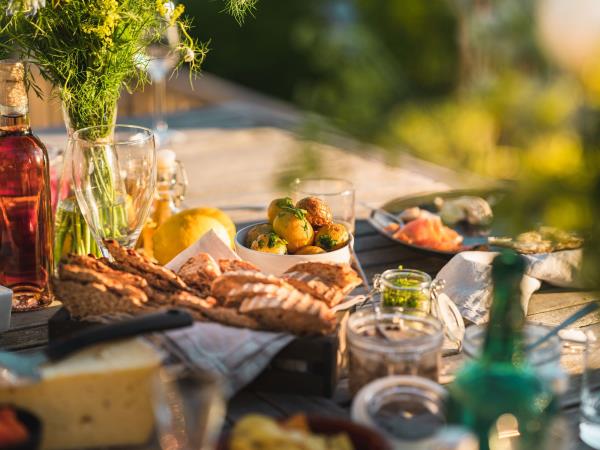 Hiking and riding in the breathtaking Icelandic Highlands
From
£

2419
6 days
ex flights
1. Akureyri & Lake Myvatn
Akureyri is the hub of northern hiking, which may also take you out along the wild volcanic terrain around Lake Myvatn, with an obligatory wondrous waterfall such as Dettifoss en route. Witness the geological wonders of the Mount Krafla caldera, 10km of active awesomeness, or the Leirhnjúkur's steaming, multi-coloured lava fields. Iceland is a country that is so not grim up north. It will always be hot in fact.
2. Eastfjords
Do a week of walking in this region alone, starting in the bohemian town of Seydisfjördur and hiking to Borgarfjördur Eystri, with sea and mountains inspiring you along the way. Hike hut to hut with local expert guides who lead you through terrain ranging from fjords to peaks to deserted beaches, but also know the folkore of this "Elvish Realm." As well as the fauna, including deer, arctic fox and myriad birdlife.
3. Fjallabak Nature Reserve
An alternative long distance walking route to Laugavegur, which can get busy in summer months. This really is isolated Iceland, where you can follow the ancient horse trails, hike across black deserts, experience hot springs and warm geothermally heated rivers. Walk from hut to hut and wake up to the light and shades of the volcanic rhyolite mountains, the centerpiece being Torfajökul Volcano.
4. Full circuit
Spend two weeks circumnavigating Iceland on foot, with the help of 4X4 transfers, and camp in the most remote landscapes. These include craters at the foot of Eyjafjallajokul Volcano and the stunning Vatnajokull Ice Cap in Skaftafell National Park. Fjords are a-plenty, with lava fields and lunar-like lakes, such as Myvatn, all simply wondrous sights. Walking in explosive Iceland will blow your mind.
5. Laugavegur hiking trail
You'd be wrong to think that Iceland's terrain is all the same. This
long distance trail
takes you through colourful Landmannalaugar Mountains, past white glistening glaciers such as the one at the foot of Eyjafjallajokull Volcano, through yellow and orange rocky Jökultungur Valley and up to crater lakes. Sleep in tents or huts and have bags transferred to enjoy these 55km of magnificence from dawn until dusk.
Westfjords and Hornstrandir Nature Reserve
6. Westfjords and Hornstrandir Nature Reserve
Like giant pincers keeping the Arctic at bay, this is one of the wildest parts of Iceland, with hiking trails in Hornstrandir Nature Reserve that will keep your toes on turf for a week. Uninhabited, this is walking and wild camping territory using local expert guides to share their pride of place, be it basalt mountains, exquisite lakes, dramatic fjords or scary Atlantic cliffs. It's like a stressbusting camp, Icelandic style.
Our top Iceland walking Vacation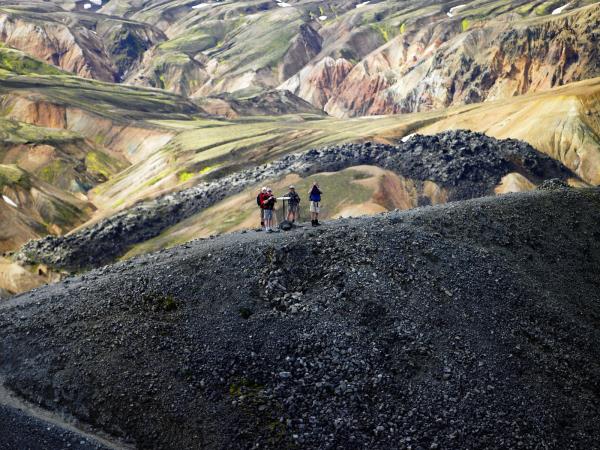 Few trekking routes can match the striking vistas on offer here
From
US $

3999

to

US $

4349
7 days
ex flights
Small group travel:
2023: 2 Jul, 23 Jul, 13 Aug
2024: 7 Jul, 21 Jul, 11 Aug
If you'd like to chat about Iceland walking or need help finding a vacation to suit you we're very happy to help.

Iceland walking vacations travel advice
When to go
Emmanuelle Bluman from our supplier Equipe Alkemia offers insights into the best time to visit Iceland on a walking vacation:
"Iceland is unpredictable for its weather so there is no good or bad time. In winter you have the Northern Lights – but there is likely to be snow on the road. In summer, there's midnight sun and the temperature gets a little hotter! But if you want to hike, the best season is July and August."
Traveling in winter
Tom Wilkinson from our supplier Exodus Travels speaks up for winter as the best time to visit Iceland for a walking vacation:
"The weather in Iceland is fickle throughout the year. Midsummer for 24 hour daylight is an experience, but the drama of a snow-covered volcano or a waterfall encased in ice makes winter pretty special too. There are also far fewer tourists in winter so the main sites are less crowded."
Natural connections
Emmanuelle Bluman from our supplier Equipe Alkemia offers some Iceland walking vacation tips for connecting with the island's unique landscape:
"Most of what you'll experience you won't have anywhere else because Iceland is a volcanic land almost on the Arctic Circle. In winter, you have the Northern Lights; in summer the midnight sun. You have geysers, smoke, solfatares [aka fumaroles – geothermal openings in the Earth's crust that emit gases from inside the planet], places where basically the ground is boiling under your feet! Untouched and wild places like none that exist in the rest of Europe – no houses, just hiking paths... And not forgetting bathing in natural hot water pools!"
Trekking tips
Tom Wilkinson from our supplier Exodus:
"Exploring Iceland properly does require you to get out of a bus and amongst the rocks, lava fields, volcanic beaches, glaciers and waterfalls. With the right guide and itinerary it is very safe, even in winter, and taps into that feeling of otherworldliness, when you're away from the tourist spots."
Toasty dips
Tom Wilkinson from our supplier Exodus Travels sings the praises of hot dips in his Iceland walking vacation travel tips:
"Thermal baths are a key part of Icelandic culture – a very social thing to do, where friends meet, chat and unwind. Where else would you be floating about in 30 degree water, face covered in therapeutic mud, in an outdoor pool with little flecks of snow settling on your nose and ice in your hair?!"
More about Iceland walking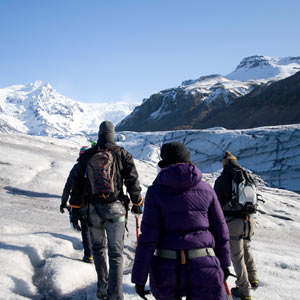 This is one beautiful terrain, rich in trekking trails, mountain huts and wild camping spots. From Westfjords or Eastfjords to the full island circuit...
At Responsible Travel, we think the best people to advise our travelers are often... other travelers. They always return from our tours with packing tips, weather reports, ideas about what to do - and opinions about what not to.

We have selected some of the most useful tips on Iceland's walking highlights that our guests have provided over the years to help you make the very most of your vacation.

you need good equipment to photograph the Northern Lights

"Each season in Iceland brings a different set of wonders. A one-off vacation, such as this one (which was run, unusually, at the end of winter) gives an opportunity to see an astonishing country at a time when it is more-or-less free of tourists. Coping with the spectacularly changeable weather is worth it for the sense of isolation and seeing an amazing landscape in all of its wildest glory" – Kerry Bateman on our Iceland well being vacation

"Travel light as you are moving around. I wore my walking boots all the time and didn't really need another pair of shoes. And no need to take a skirt or dress – just spare trousers and layers." – Gillian Girling

"Prepare real winter clothes to protect yourself not only just the cold weather but also the wind. I thought that I brought enough but next time I will bring more wind-proof jackets and pants." – Chada Ruangtoowagoon

"Most of the walking is not flat or easy (rock piles, sand, pebbles, very deep moss, up/down). I am not complaining – it was great." – Ardath Walcott

"Be aware that you need good equipment to photograph the Northern Lights, but it is still a memorable event without photos – and others will share photos with you." – Valerie Oakley

seeing an amazing landscape in all of its wildest glory