Walking in Italy travel guide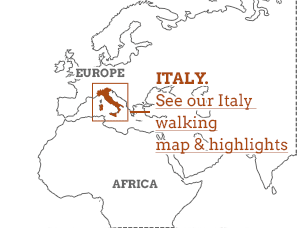 Passionate, food loving, fiery, elegant, religious and beautiful. These clichés about Italians pretty much fit the picture of walking vacations in Italy. For passionate, the Amalfi Coast has inspired poets for years, sometimes described as the place where poets go to die. For foodies, hiking in Tuscany is interspersed with one trattoria treat after another.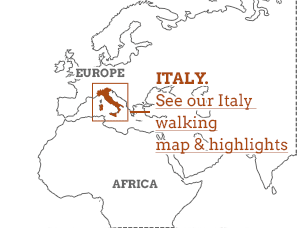 Every national park and ancient walking trail has an ancient chapel or dramatic duomo en route for a spiritual lift in nature.

For fiery, go walking along Sicily's volcanic trails or traipse through the Umbrian countryside in autumn when olive pickers are agitating trees and wild boar are rustling leaves. Elegance has to be Lake Como or Capri, although you can escape the chic brigade easily to a sub-Alpine meadow or a secret cove, respectively. And for beautiful? Well, la via è bella in Italy. Always bella. Get the most out of your adventure with our Walking vacations in Italy guide.
Is walking in Italy for you?
Do go walking in Italy if...
… you want to explore ancient history en route.
… you enjoy the company of an expert guide. Not all walking vacations are guided, but good ones take you, and your vacation, to another level.
… you want to get to know the Alps that are hidden under the ski resorts.
… you want to discover exquisite coastlines away from the coachloads.
Don't go walking in Italy if...
... you don't want to learn any Italian. Often hiking in remote spots, being able to say more than a cursory 'ciao' is the decent thing to do. ... you are a fastidious time keeper. Walking vacations are for taking your watch off and switching off. ... you are on a diet. The food en route, be it Amalfi or the Alps, will fill those hollow legs. And some. And then there's the gelato. ... you think it's all rolling hills of Tuscany. Mamma mia, Italy definitely does mountains.
Our Italy walking Vacations
If you'd like to chat about Italy walking or need help finding a vacation to suit you we're very happy to help.

What does walking in Italy entail?
Choosing a walking vacation in Italy can feel a bit like when you go to buy a pair of hiking boots. There are so many choose from, to suit different budgets, different terrains and different seasons. So this Walking vacations in Italy guide aims to help guide you through some of the different odyssey options for you.
Guided or self-guided?
Walking vacations in Italy may possibly be as varied as an Italian gelato menu – and each just as tempting. Some have expert local guides, some more qualified International Mountain Leaders, and others are self-guided. Guided trips are usually in small groups, which is the norm on more strenuous walking vacations. However, if you prefer to walk independently, and not be tied to timetables or fixed itineraries, an organised self-guided walking vacation in Italy takes all the other work out of it for you, providing maps, copious notes, accommodation, luggage transfers and, in most cases, food. So all you have to do is walk. It depends on the walk but, in general, no previous experience is needed, although an ability to read a map does help.
How tough are they?
We have categorised our walking vacations on Responsible Travel just to make your search a little easier. On most walking vacations in Italy, a basic level of fitness is required but there are many different options available.

If you are just stepping out for the first time, you will want an introductory walking vacation, such as River Po valley in Bergamo, where you can escape into luscious hill walking along the ancient trade tracks of the Via Mercatorum, starting just 10 minutes from the airport. If you have pushed yourself up a few hills of a Sunday, then a moderate walking vacation will push you just a bit more, with 5-8 hours walking per day, and some days stretching those calves more than others, but leaving you a bit of rest in between, so you can take in the sights. Such as taking on a section of the Tour de Mont Blanc, or climbing some of Sardinia's Gennargentu Range, dipping down into gorges with river pools to cool off in.

If you are a well-seasoned walker then take a look at our strenuous walking vacations, such as taking on the Mont Blanc circuit in a week rather than the usual two weeks or climbing Sicily's volcanoes, the most famous of which is Mount Etna. Even tougher, and falling into our challenging trekking vacations is the Via Ferrata or 'Iron Way' in Italian, which refers to a system of cables that cling to the side of the Dolomite Mountains, enabling you to summit the domain of serious climbers.
Centre based or nomadic?
It is a mark of just how good and prolific Italy's hiking routes are, that there is such a wide array of walking vacations you can take on. You can walk hotel to hotel, or mountain refuge to mountain refuge while circumnavigating the mother massif, Mont Blanc. Or you can walk for days in other regions of the Italian Alps, or in the Cinque Terre National Park, stay in one gorgeous hotel and do different treks every day, coming back to your same room, hosts and homely environs every night.

If you want to cover distance in, for example, the Dolomites or Tuscany, then hiking from one bed to another is usually your best option, with your bags being transferred for you. However, if you want to take on hearty hikes in Umbria or Sardinia, and take your time to enjoy gastronomic gorgeousness along the way, a center based vacation might suit you best.
Hut or high end?
You could probably sleep anywhere after an eight-hour hike; however, there are lots of different accommodations available on walking vacations in Italy, to suit your budget or, simply, if you are walking from one bed to another every night, to fit in with your route. The high trekking routes of Mont Blanc have a network of hostels called mountain refuges or mountain huts. Built originally for hunters and hikers, today they are run like most hostels: there is a community atmosphere, an eco-ethos, with shared dorms, meals at fixed times, and clearing up done together. Sleeping bags and pillows are provided, but you should bring a sleeping sheet or sleeping bag liner with you.

Family-run chalet style hotels and agriturismo farms are also a feature of walking vacations in Italy, with local experts as hosts, who will probably have crafted a series of idyllic itineraries for you during your stay, as well as plenty of fine fare to fill those hollow legs when you get back. Some even have pools or hot tubs to ease the mountain muscles. And for the full on white robes and spa treatment after a day on the hills, there are hotel to hotel walking vacations in the likes of Tuscany or the Amalfi Coast where, surrounded by medieval castles or millionaires, one expects some sort of mansion to mosey into at the end of the day.