Italy walking vacation highlights & map
With international prowess in Ferraris, fashion and food, Italy hides its luscious landscapes under a bushel. Because let's not forget, Italy also does opera, and its walking vacations are up there on the world stage. Tuscany and Umbria are luxuriously legato, hiking along the Amalfi Coast is like one beautiful aria after another, and the drammatico impact of the Dolomites is one you will never forget.

Once you have discovered our Italy walking vacation highlights, you will see why people go back for encore after encore.
Our Italy walking Vacations
1. Amalfi Coast
A 50km stretch of coastline dominating Italy's Sorrentine peninsula. It is glamorous and chic, but just step metres off the red carpet to discover a world of orchid- filled meadows, ancient lemon groves, tiny fishing villages and remote shepherds' paths. Which is why hiking is the best way to discover it. From the Path of the Gods to the island of Capri, Amalfi is just stupidly beautiful.
2. Bergamo
The hillwalking in this lesser known northern region, around valleys dipping to the River Po, is just exquisite. It's not too challenging walking wise or travel wise, as you hit the hills just 10 mins from Bergamo airport. Walk up to heights of 1,150m following the ancient Via Mercatorum trade route, through rich woodland, sporadic villages and rolling farmland. Agriturismo accommodation abounds.
Cinque Terre National Park
3. Cinque Terre National Park
A coastal gem that is up there with Amalfi but not as well known internationally. Although Italians have it sussed in summer, so it gets crowded. With five (cinque) clifftop villages, hiking its coastal "Via dell'Amore" allows you dip in and out of coves. There are also trails into the rocky foothills of the Ligurian Maritime Alps. The Spezia-Levanto rail line that follows the coast is great way to get around.
4. Colli Euganei
Sometimes referred to as Venetia, this stunning hillwalking territory is just 40 mins by train from Venice. A panoply of conical hills, this quirky scenery was once an archipelago of volcanic islands. Walk through eclectic ecosystems from oak and maple woodland, orchid and poppy filled meadows to burgeoning vineyards and orchards. Medieval villages, castles and towns delight, such as Este, with Venetian canals et al.
5. Dolomites
There are higher, remoter and more pyrotechnic ranges but few rival the sheer beauty of the jagged rose-tinted Dolomites – peaks that dazzle poets and hikers alike. Several national parks highlight stunning wilderness, alpine meadows and bucolic valleys dotted by wooden houses and vineyards. And feel the vibrant cultural mix of Italy and Austria in charming Bolzano and Merano.
6. Italian Alps
"High life" in the Italian Alps often refers to chic as much to altitude, thanks to A-list ski resorts like Courmayeur. But the area is a walker's wonderland too. Take cable cars up to the high mountain regions in Orobie Bergamasche Park, overlooking the two Italian Alpine peaks of Monte Legnone and Pizzo Tre Signori, trek down valleys such as Valbiandino, and along ridges leading to glacially gorgeous lakes.
7. Lake Como
A family walking favourite with the drama of the Alps as a background, but without the extremities. Take on the sub-Alpine peaks of the Triangolo Lariano, or aim for the region's highest at San Primo enjoying rural 'Rifugi' mountain inns for rambles that are replete. And bask in luxurious lakeside towns such as Bellagio or the city of Como itself, with its walled center, dramatic duomo and people watching on lakeside passeggiata.
8. Mont Blanc
Mont Blanc is a tripartite triumph of nature, shared between Italy, France and Switzerland. The highest peak in Western Europe, it has seven main valleys feeding off it inviting some of the world's finest hiking. It's covered in snow and ice year round so, although ascent trips are available, most people hike the Tour de Mont Blanc, a 170km lower level circuit, the Italian gateway being Courmayeur.
9. Sardinia
Famous for its beaches, with one at the end of many a hike, this is also one of Europe's wildest walking islands. Base yourself in one of its maritime mountain mecca's small hotels, and explore ancient mule trails up to the likes of Monte Tului, or routes such as the Gorroppu Gorge , with river pools to dip into en route. Ancient culture such as Bronze Age ruins and cave villages abound too.
10. Sicily
Sicily has its own independent, slow, sumptuous ways and hiking here fits perfectly with that vibe. Walk through Moorish villages such as Scopello, or along the salt plains of Nubia, to gorgeous places like the historic port of Marsala. Inland hike through lemon and groves and vineyards. The ultimate experience here is trekking the volcanoes of the Aeolian archipelago, or snowshoe on Mt. Etna in winter. Fire and ice.
11. Tuscany
Forget the rolling hills of Tuscan period dramas; enter the drama unfolding between the Alpi Apuane and Apennine mountain ranges: a summit seeker's delight. In Orechiella Park, walk up mule trails through ancient villages to Pania di Corfino summit. Or trek high in the Alpi Apuane all the way to the imposing face of Monte Sumbra. For less challenging, enjoy the "Enchanted Forest" of Garfagnana.
12. Umbria
Umbria has the charms of Tuscany minus the throngs. Wine and olive country drapes hills rising to the snow-dusted Apennines and descending to the Adriatic. Often called the Green Heart, you can hike remote Etruscan paths and ancient Roman roads that lead to medieval towns such as Montefalco. Brilliant nature getaways await in Sibillini Mountains NP, famous for truffles and pork.
Our top Italy walking Vacation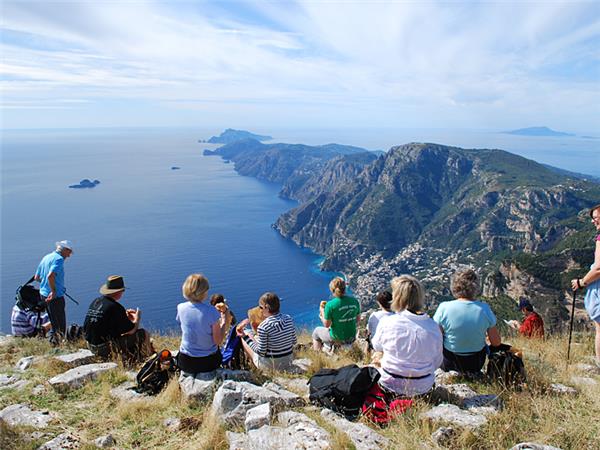 Walk in lemon groves and hillside villages
From
US $

1599

to

US $

2399
8 days
ex flights
Small group travel:
2022: 19 Feb, 26 Feb, 5 Mar, 12 Mar, 19 Mar, 26 Mar, 16 Apr, 14 May, 4 Jun, 11 Jun, 18 Jun, 25 Jun, 2 Jul, 9 Jul, 16 Jul, 23 Jul, 30 Jul, 6 Aug, 13 Aug, 20 Aug, 27 Aug, 3 Sep, 10 Sep, 17 Sep, 24 Sep, 1 Oct, 8 Oct, 15 Oct, 22 Oct, 29 Oct, 5 Nov, 12 Nov, 19 Nov, 24 Dec, 31 Dec
2023: 11 Feb, 18 Feb, 25 Feb, 4 Mar, 11 Mar, 18 Mar, 25 Mar, 1 Apr, 8 Apr, 15 Apr, 22 Apr, 29 Apr, 6 May, 13 May, 20 May, 27 May, 3 Jun, 10 Jun ...
If you'd like to chat about Italy walking or need help finding a vacation to suit you we're very happy to help.

Italy walking vacation highlights
Melanie McAnaw from our supplier Headwater discusses the timeless appeal of the Ligurian coast:
"I have to pick out hiking in Liguria and especially on the Cinque Terre – the five pastel coloured villages that tumble down the hillside to the sea. This area arguably offers some of the best coastal walking in the country. I will never forget walking through cultivated vine terraces, with sea views galore, down to Corniglia, one of the Cinque Terre. And of course finishing the walk with a fragrant bowl of tasty pesto trofie – the local pasta accompanied by the Ligurian world famous sauce."