Not quite as fast as a speeding bullet, but definitely fast enough, Japan's
shinkansen
train network is the easiest way to get around the must-see destinations.

Japan has four main islands, and Honshu, the largest, is where most vacations take place. It's here that you'll find key destinations including the capital, Tokyo, Osaka, Kyoto and Hiroshima as well as the national icon Mt. Fuji. Traveling by the reliably punctual bullet train network, you can conveniently get from city to city within a couple of hours, as well as into Japan's attractive but less-explored countryside. It's also worth mentioning that Japan is the far eastern point of the epic Trans Siberian Railway journey, so that you can continue by ferry from Vladivostok over the Sea of Japan to Honshu's westernmost city of Sakaiminato, and beyond, or vice versa.

Find out more in our Japan railway vacations highlights.
1. Hakone
A popular mountain resort in the Fuji-Hakone-Izu National Park, Hakone provides superb views of Mt. Fuji. Attractions here include taking a wander around a well-stocked open-air museum featuring works by the likes of Rodin and Picasso, boat cruises on Lake Ashi, and of course a pleasant dip in the bubbling, mineral-rich hot springs the area is known for.
2. Hiroshima
A living memorial to the destructive power of the atomic bomb, Hiroshima is today a bustling modern city and an easy day-trip from Osaka. The Peace Memorial Park commemorates the 1945 tragedy, a moving tribute to the victims of a bomb that destroyed virtually everything for miles around. You'll also see the Genbaku Dome, which was one of the few buildings to survive.
3. Kamikochi National Park
Jewel in the crown of the Japanese Alps, Kamikochi National Park is a superb venue for hiking either up mountains or along valley floors. Largely undeveloped, the park is closed during the winter months, but in summer offers both a tranquil alternative to city sightseeing, and an interesting taster of rural Japanese traditions.
4. Kyoto
The Japanese capital for 1000 years, Kyoto is home to some of the country's most exceptional Buddhist temples, shrines and imperial palaces. But besides the must-see landmarks, Kyoto is also a great city to experience classical Japan such as enjoying a tea ceremony and perhaps a musical performance with a geisha.
5. Mt. Fuji
One of Japan's Holy Mountains, Mt. Fuji is a snowcapped, dormant volcano that has inspired countless artworks from paintings to haikus, despite the fact it is often obscured by cloud. Visit Japan during July and August and you can climb Mt. Fuji, which takes around six hours. Do avoid Obon Week in mid-August though, when the queues to walk up are ridiculous.
6. Osaka
Crudely put: if Kyoto is where you go for temples, and Tokyo for futuristic glamour, then Osaka is where you go to really eat. More laidback than the capital, Osaka is renowned as one of Japan's top foodie destinations. You'll taste delicious street food all over Japan, but what you get here is out of this world. Don't skip the octopus balls and savoury pancakes.
7. Takayama
This beautiful mountain town boasts handsome wooden architecture, along with handicraft shops, sake breweries and markets. It's a scenic and tranquil place to wander around between cities, where you can stay in a traditional inn. If you're a fan of Japan's wagyu beef then the Hida from Takayama is reckoned some of the best in the country.
8. Tokyo
An intoxicating blend of ancient traditions and neon-lit ultra modernity, Tokyo is one of the world's most fascinating, futuristic, non-stop cities. Here are historic temples in the lee of gleaming skyscrapers, slurpy ramen cafes and noisy 'salaryman' restaurants competing with world-class sushi restaurants, the largest fish market on Earth, and the amazing spectacle of the Shibuya crossing.
Our Japan railway Vacations
If you'd like to chat about Japan railway or need help finding a vacation to suit you we're very happy to help.

Japan railway vacations advice
Vivienne Boyack from our travel specialists Inside Asia Tours on how to explore Japan by rail:
When to go
"Our trip runs between May and October only as one of the highlights is visiting Kamikochi, a beautiful area in the Japanese Alps which is only open half of the year. Personally my favourite time to travel to Japan is mid to late May. The weather is mild, gardens are in bloom and it's a great time for walking and hiking. There are lots of cultural events taking place too such as the geisha dances in Kyoto and the Tokyo sumo tournament but it's much less crowded than during the cherry blossom season."
Day tripping
"Japan's rail network is fantastic and it makes day trips very easy. The main train stations are very well set up for tourists with lots of English signage. On our own trip the main journeys will be with a tour leader showing the way and making it all straightforward. By the time it comes to a day trip, our clients are usually pretty confident with finding their own way. I highly recommend visiting Hiroshima on a day trip."
Memorable moments
"I absolutely loved staying in Kamikochi where you can spend the day hiking along the valley (or up the mountains if you are feeling adventurous) followed by a delicious Japanese dinner and a soak in the hot springs. Another highlight of any trip would be having afternoon tea with a trainee geisha in Kyoto - sipping sake and playing traditional games (and of course taking a few photos!)."
Country vs city
"The bright lights of Japan's big cities are a world away from the rural areas. In countryside areas we recommend spending a night or two staying at a local, family run minshuku guesthouse. Here the staff might not speak fluent English as the Tokyoites will but the staff will go out of their way to
Tips from our vacation reviews
At Responsible Travel, we think the best people to advise our travelers are often... other travelers. They always return from our tours with packing tips, weather reports, ideas about what to do – and opinions about what not to.

We have selected some of the most useful Japan railway vacations tips that our guests have provided over the years to help you make the very most of your vacation – and the space inside your backpack.

The most memorable was the stunning 'Japanese Alps' at Kamikochi.

"The most exciting elements were the cultural differences and beauty of Japan. The most memorable was the stunning 'Japanese Alps' at Kamikochi. Leave your preconceptions at home and leave yourself open to the new and sometimes confusing experiences. A great trip for experiencing and learning about Japan. Well planned and thought out itinerary to achieve the most at a reasonable pace. We would thoroughly recommend the operator." – John Harlow on a Japan small group vacation by bullet train

"The whole trip was fantastic, from the neon lights of Tokyo to the countryside around Takayama. Our tour leader was excellent, both organised and willing us to strike out on our own to experience and find what we each wanted to do and see. It's the first tour group I've ever been on and I feel very fortunate to have landed with such an excellent group and guide." – Catherine Atkinson on a Japan small group vacation by bullet train

The whole trip was fantastic, from the neon lights of Tokyo to the countryside around Takayama.

More about Japan railway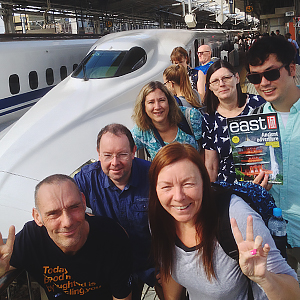 Our Japan railway vacations travel guide explains why getting between destinations such as Tokyo, Kyoto and the Japanese Alps by train is easy, fast and an experience not to be missed.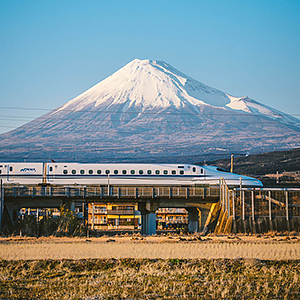 Japan's Shinkansen trains provide peace, safety and comfort for passengers traveling north, south and west.