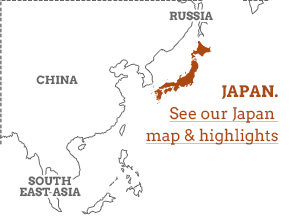 Our vacations to Japan start out in cities like Tokyo before taking you out to explore islands and countryside that give you a broader understanding of the country. Walk the Nakasendo Way, staying in locally run ryokan inns that serve seasonal home-cooked feasts. Cycle between gleaming rice paddies, shrines and little-visited villages in the satoyama alongside local guides who give real insight into this biodiverse landscape. One of the main joys of Japan vacations? Traveling by public transport, including the legendary bullet trains. They're not just one of the most environmentally sound ways of traveling – they're also the most fun.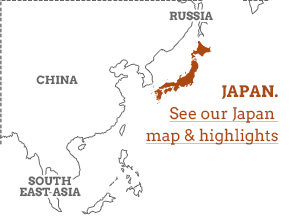 Our top Japan vacations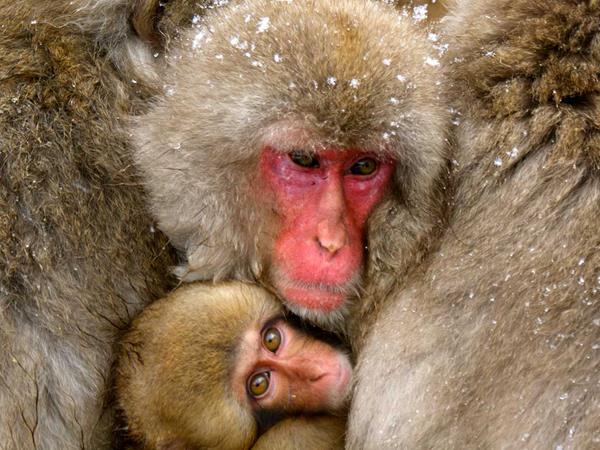 14 days
ex flights
Whistlestop Japan highlights with an expert tour leader
Small group
2022: 28 Feb, 25 Apr, 9 May, 27 Jun, 18 Jul, 22 Aug, 12 Sep, 26 Sep, 10 Oct, 24 Oct, 7 Nov, 21 Nov, 2023: 27 Feb, 3 Apr, 8 May, 5 Jun, 26 Jun, 24 Jul, 4 Sep, 9 Oct, 6 Nov, 27 Nov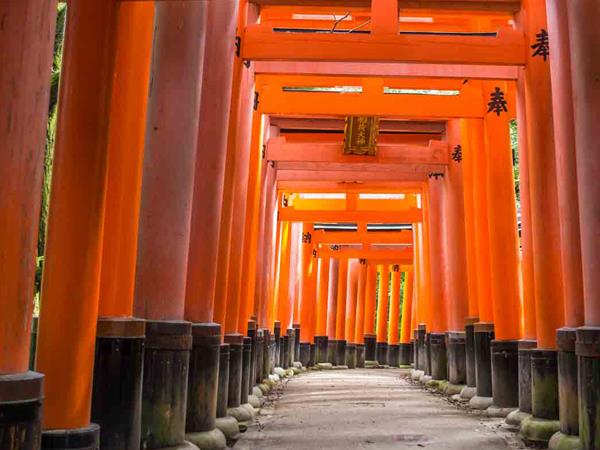 10 days
ex flights
9 night classic Japan trip: Tokyo, Fuji, Kyoto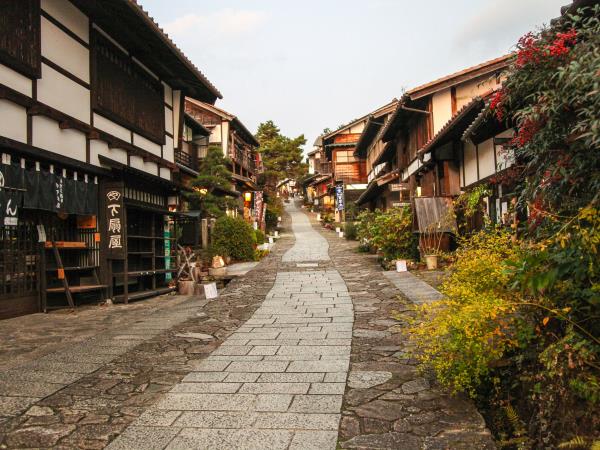 From
US $

1005

to

US $

1820
5 days
ex flights
Self-guided walking along Japan's ancient Nakasendo trail
Best time to go on vacation to Japan
It's a four season place to vacation, with nothing too extreme to deal with and so there isn't necessarily a best time to visit Japan. It is worth nothing however that the climate varies significantly from the mountainous north to the subtropical islands of the south. The gorgeous cherry blossoms dramatically take center stage in spring, but less well-known, the autumn leaf turning season is glorious in November. And, of course, winter snows bring visitors galore to play in the powder.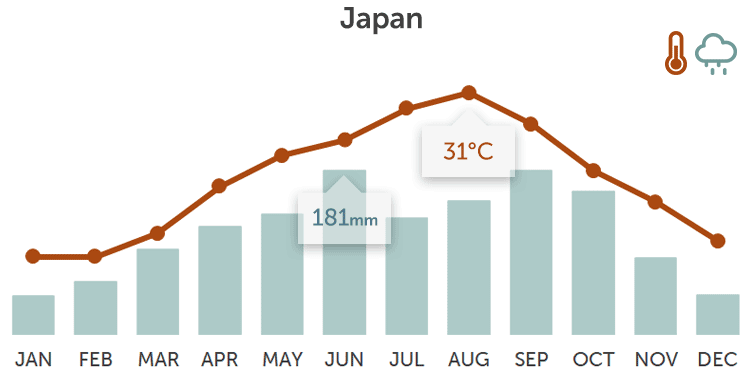 Map & highlights
As an introduction to Japan, Tokyo is a sensory experience like no other, a neon-lit blend of the ancient and the hyper-modern. Kyoto was the imperial capital until the 19th century, renowned shrines and temples bearing witness to a storied past, but don't overlook Nara just to the south, with a UNESCO-rated heritage of its own. And despite Hiroshima's tragic recent history, its present is both hopeful and thought-provoking. Take the shinkansen to the mountainous Hakone region for ryokan stays and Mount Fuji views, while the hiking is equally good around Nara, especially in the autumn when the foliage is kaleidoscopically beautiful.
1. Hakone
Hakone is the mountainous region west of Tokyo, accessible by
bullet train
to Odawara. A trip into the mountains is so easy in Japan, with a cable car up soaring over the blue waters of Lake Ashi, to the volcanic crater of Owakudani and, on a clear day, views to Mount Fuji. Hakone is the place to take an onsen hot spring bath too.
2. Hiroshima
A city with a tragic past but vibrant present. Totally obliterated by the 1945 atomic bomb, and 70,000 of its residents killed, its reconstruction into the merry metropolis that it is today became a symbol of Japan's post-war pacifism. Indeed, it is still central to the campaign to ban nuclear arms. There is a lot to take in here, but visits to the A-Bomb dome, Peace Park and Museum are extremely thought provoking.
3. Kyoto
Because it's the ancient capital, you expect to walk into a world of samurais and sentos. But Kyoto is a contemporary metropolis, grown organically out of a world of imperial palaces, fourteen UNESCO World Heritage Sites such as the Golden Temple of Kinkakuji and the historic district of Gion, with old wooden buildings squeezed into narrow streets, many now teahouses and restaurants. Kyoto is pure cultural chic.
4. Nara
A cultural gem often upstaged by Kyoto, despite having the highest number of buildings designated National Treasures in Japan. The ancient capital of the Kensai region, its beautiful central park is a suitable home for Daibutsu, the largest Buddha statue in Japan, located in one of the largest wooden buildings in the world too. The Nara Museum of Buddhist art is also a transcendental treat.
5. Nikko
Gateway to Nikko National Park and home to three historic temples of Toshogu, Rinnoji, and Futarasan. Toshogu is most famous for its carving of the Three Wise Monkeys, so merchandising abounds. As one of Japan's most sacred sites, Nikko can get very crowded, also drawn to its somewhat contrasting theme parks. But get away from it all on the hiking trails of the Nikko National Park.
6. Tokyo
Needs little introduction, as Japan's capital, with one of the largest urban populations in the world. Take it all in from above, with fab views from the landmark Skytree, or watch life go by in Hamarikyu Gardens city park. Culture vultures will fly straight to the imperial gardens of Chiyoda, or the boutique shops and markets of Asakusa. Suckers for a shopping spree head to Ginza and Ikebukuro.
Must-see: Japanese culture
The culture of Japan is a highlight of any visit; from the ancient art of the Japanese tea ceremony to sushi etiquette, and from Gion, Kyoto's geisha district, to enlightening walks along the Golden Route, following in the footsteps of samurai warriors. Other highlights of Japan's ever-intriguing culture include meditation, solitude and vegetarian cuisine at a mountain monastic retreat, and the pleasures of staying in a
ryokan
. These traditional country inns often have an
onsen
(hot spring bath) attached, and the intricate rituals involved in taking a dip could almost fill a guidebook on their own.
Must-see: Cherry blossom
Japan's iconic
sakura
(cherry blossom) bloom from south to north as the climate warms, draping parks and gardens the length of the archipelago in delightful shades of pink and white, and prompting
hanami
(cherry blossom-viewing parties) throughout the spring. The cherry blossoms have been revered in Japan for centuries, and have inspired the works of countless poets, artists and philosophers. Since different regions all-too-briefly come into bloom at different times, it pays to learn the
best time to see the cherry blossom in Japan
and how to avoid the crowds.
Walking in Japan
Walking in Japan is a unique combination of history, spirituality, and remote mountain landscapes.
Long distance routes
vein the islands, including the Nakasendo Trail along which samurai once escorted their masters between Kyoto and Tokyo. The Kumano Kodo Trail is a legendary pilgrimage route lined with ancient shrines, while walkers ticking off Buddhist temples on the Shikoku Pilgrimage are easily identifiable in their white robes. Both take you through spectacular alpine scenery. For those with less time, there are also many shorter
Japan walking vacations
across Honshu, the romantic Nikko National Park a sublime place to escape the Tokyo crowds.
Bullet trains
Not quite as fast as a speeding bullet but fast enough to acquire the nickname, Japan's famous
shinkansen
network spans the country, enabling you to get between cities comfortably, rapidly and cost-effectively too. Almost all Japan vacations will feature
travel by rail
, with some getting around entirely on the train, and tour operators should be able to assist you in organising a Japanese Rail Pass (unlimited travel for seven days). Watching as the scenery zips past the windows of these sleek, modern and accessible trains is as essential to vacations here as sushi and shopping.
Types of vacations & vacations in Japan
Exploring Japan as part of sociable
small group vacations
is a fun way to embrace the unique culture and traditions here, but there are also
tailor made tours
for those wanting more flexibility in their itinerary. And don't fall for the misconception that traveling in Japan is always expensive – it's never cheap but there are plenty of
budget Japan vacations
that are more forgiving on the bank account. A perfect example is
walking vacations
that tend to avoid cities, keeping to inns and restaurants in rural areas and offering fewer opportunities to blow your cash on gourmet sushi or high-spec gadgets.
Further reading
Our
Japan walking vacations guide
goes into greater detail on some of the classic long distance routes and pilgrimage trails that thread the archipelago. Japan is an unforgettable destination for
family vacations
, with Studio Ghibli a charming introduction to
anime
for the kids, ancient castles and samurai lore to uncover, and endless bowls of ramen to slurp through. Delicious Japanese cuisine is just one aspect of our
Japan cultural vacations guide
which also covers sumo stables, cherry blossoms and geishas. And for an introduction to getting around by bullet trains, our
Japan railway vacations travel guide
is an essential resource.