The common perception of Japan is one of high-tech cities steepled with skyscrapers, ancient temples and shrines, so
walking
through the mountains here can be quite a revelatory experience. It may surprise you to know that the Japanese are mad-keen hikers, and if you're on a well-known route around New Year or Golden Week (from 29 April) you'll receive plenty of friendly greetings along the way.
To be on the trail in Japan is a wonderful thing. You'll walk through pristine and at times awe-inspiring natural scenery: sacred mountain peaks dotted with historic shrines; paddy fields shrouded in the morning mist; forests that blaze with colour at the turn of the season; serene fishing villages, monasteries and timber-clad postal towns. In the evenings you'll relax in traditional
ryokans
, soothing tired limbs in
onsen hot spring baths
and you can follow routes that link thrilling metropolises, getting to and from the trailhead using Japan's superb
shinkansen
trains. It's a completely different side to the country, a galaxy apart from the teeming streets and constant noise of Tokyo or Osaka.
When you think of walking in Japan, perhaps your thoughts turn first to the snow-capped, volcanic Mount Fuji. But while mountain worship is a big deal here, Fuji is just a fraction of the options available to you. And of course as Ruth Hubbard from our specialist vacation operator InsideJapan explains, "You can only climb Mount Fuji in July and September due to snow at other times of year. Every night, there are thousands of people on the slopes during these months. But don't forget that 70% of the country is mountainous, so there are many more peaks to climb, such as in the Kamikochi Alps." Perhaps follow in the footsteps of Samurai warriors on the ancient
Nakasendo Trail
instead, join a procession of modern-day pilgrims on the
Kumano Kodo Trail
, or discover one of the tallest waterfalls in Japan and the historic spa town of Yumoto in
Nikko National Park
, just two hours north of Tokyo.
Dewa Sanzan
Around 70 percent of Japan's terrain is mountainous, so it's hardly surprising that mountains play a significant role in Japanese culture and spirituality. Dewa Sanzan is the collective name for three peaks: Mount Gassan, Mount Yudono and Mount Haguro, all in Yamagata, a prefecture in the northern reaches of Honshu. They are sacred in the Buddhist and Shinto religions, and also the mountain ascetic religion of Shugendō – each has its own shrine, and Haguro (the shortest of the three and the only one accessible year-round, with a two-hour ascent) has a handsome five-storey pagoda at its summit. You'll often encounter Yamabushi in Dewa Sanzan – ascetic mountain warrior priests that would have served as guides for important pilgrims – living in this environment makes them exceptionally fit and hardy.
Pilgrimage walks
Japan has a number of superb long-distance pilgrimage walks that will take you through some truly ravishing and pristine scenery. As Jeremy Spencer from our specialist tour operator Oku Japan puts it, "When I first walked the Kumano Kodo trail, I was amazed that something so remote-feeling, beautiful and undeveloped still existed on the main island of Honshu. I was utterly blown away by the experience the Kumano Kodo offered, and the fact that you have the whole overlay of the pilgrimage and religious angle is a terrific addition to the experience." The Kumano Kodo wends its way through the forest-covered Kii Mountains near Kyoto, passing three grand shrines, as well as many smaller ones, known as
oji
. The
Shikoku Pilgrimage
follows a loop around Japan's smallest major island from Mount Koya, the spiritual center of Shingon Buddhism. It takes between 30 and 60 days to complete so is rarely attempted in one go. Pilgrimage walks are ideal for tackling in stages, and another favourite is the Nakasendo Trail, a 500km journey between Kyoto and Tokyo, stopping at charming old post towns along the way.
Nikko and Yumoto Onsen
Two hours north of Tokyo and situated on Japan's 'Romantic Road', Nikko National Park houses the 15th-century, UNESCO-protected Toshogu Shrine, and is a focus of Buddhist and Shinto mountain worship. Wonderfully scenic, this is prime easy-going walking terrain, and also offers the chance to stay for a while in Yumoto, one of Japan's most lovely hot springs towns. A popular resort in summer too, when people come to escape the city heat, Yumoto is famed for the colours of its vegetation at the turns of the seasons, especially from summer to autumn.
Mt. Fuji
Due to its iconic status and a short climbing season, Mt. Fuji (140km west of Tokyo) is always a busy walk. Night time ascents are common in order to be at the top in time for dawn. Some trips meander through the less taxing foothills instead, and of course this is such a mountainous country that there are many alternatives that will give you equally attractive views and far clearer trails.
Our top Japan Vacation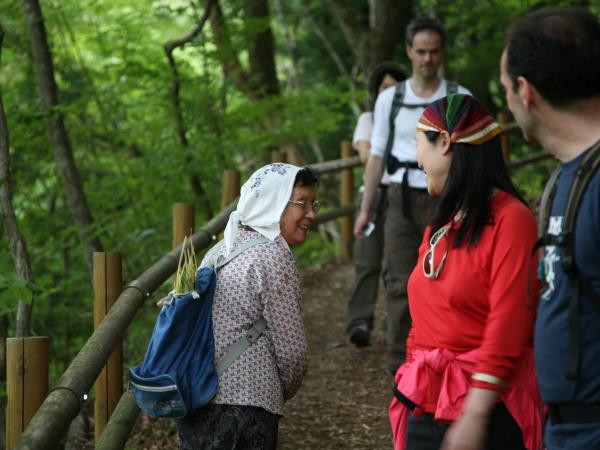 Village-to-village walking on the historic Nakasendo trail
From
US $

4420
12 days
ex flights
Small group travel:
2023: 12 Sep, 25 Sep, 3 Oct, 13 Oct, 29 Oct, 5 Nov, 12 Nov
If you'd like to chat about Japan or need help finding a vacation to suit you we're very happy to help.

Practicalities
You can walk either as part of a guided small group, or on a tailor made itinerary, self-guided. The latter should not be daunting in the slightest – Japan's public transport network getting you to and from the trailhead each day is amazingly efficient, and if you're on a well-established route you will have no difficulties finding your way, just follow everyone else. Yet there is much to be said for a guided trip – walking with a local who can explain the history, the culture, the nature of the area you're passing through makes it so much more enjoyable and rewarding. They also help with understanding customs and etiquette that are helpful to know when visiting temples, shrines or onsen.

Accommodation and food stops are plentiful, with the chance to stay in beautiful old inns, usually family-owned and operated, serving home-cooked meals, a major highlight. On the Nakasendo Trail you may even be able to stay overnight at a spartan but welcoming monastery. For the most part, walking in Japan is point to point, or 'nomadic' – your luggage will be transferred between accommodations for you. In terms of difficulty, all of these routes cover quite mountainous terrain so a good degree of physical fitness is required, but daily walks are realistic and factor in plenty of downtime too. Expect to be walking for between two and six hours each day.
When to go
You can walk in Japan at any time of year – wintery forests are beautiful if you're prepared for the cold weather, while the May to June rainy season isn't usually so wet as to be unpleasant. Note however that if you intend to scale Mount Fuji it can only be done between early July and early September due to snow levels. It takes around six hours to make the ascent but with some trips you stay in mountain huts, and set off for the summit before dawn to catch sunrise from the summit.
However, it's inarguable that the best (and correspondingly busiest) time for walking in Japan is spring or autumn: spring for the chance to see the delicately beauty of the
cherry blossom
, autumn to watch as the vegetation turns dramatic shades of yellow, orange and red.