Traveling in Japan with kids
---
What does Responsible Travel recommend?
Itís not the first place that comes to mind when traveling with kids but, in fact, this is a big growth area for family travel. Itís the four Sís that seal the deal. It is Safe, Straightforward, Speedy and Stunning. And because rail travel is so easy in Japan (and most kids love a cool train journey) nothing is too hard to access either. Japan is a great place for travel with teenagers. Its history appeals to an enquiring mind, and its fashions satisfy the search for cool. And of course, if your kids are into Anime, the massive trend for Japanese animations, try keeping them away.
Activities for families in Japan
---
What to do with little ones
Little monkeys
As if the fabulous hiking, biking and hot springs arenít enough, Matsumoto is home to snow monkeys, a breed of macaque that escape the icy mountains by coming down to bathe in the Yudanaka Onsen hot springs.
Sumo wrestling
Not always easy to time, as they donít happen regularly, it is worth trying to find a tournament on your travels as this is a top thing to do in Japan with kids.
Many ancient traditions have been preserved in sumo, such as having to grow their hair long enough to go in a knot, similar to the samurai warriors of the past.
Room at the inn
When you travel in Japan with kids, you will not only be given a royal welcome at their traditional inns, called ryokans, but children will also love the rituals of staying in one. Such as having to take off their shoes, sleeping in sparse rooms on futons, taking communal baths and taking tea. Itís like being given a mini Japan in a box.
Traveling in Japan with kids
---
responsible travel asks the experts
Andrew Straw, founder of our cycling vacation supplier, Saddle Skedaddle:
"For families, the tatami bedded rooms are great because you can all hunk down together, which works really well. In terms of food, the children might need to be ready to try new things, as there is plenty of that in Japan. Itís a country to change your perceptions about what looks bad also tastes bad, as this is not always the case here. And it really is the best food in the world."
Ruth Hubbard, Product Manager of one of our suppliers, Inside Japan Tours highly recommends visiting Japan with kids
"Families will love it because Japanese people love children, will treat them like celebrities and probably want to take lots of photos of them."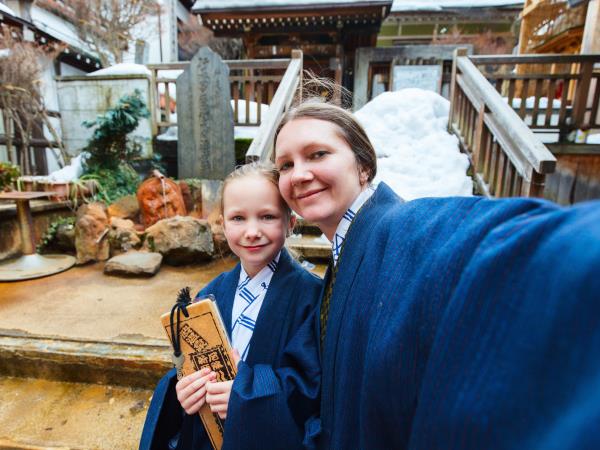 A family trip with amazing insights into Japanís traditions
From
US $

2735
8 Days
ex flights