Best time to visit Kenya & Tanzania

Wildlife, wonderful landscapes and Maasai culture await almost year-round – just take a waterproof from March to early May.

Kenya and Tanzania are year-round destinations. The rains come March-early May, but there's still wildlife around, particularly in the Ngorongoro, where the crater keeps animal in one place! You might bag a bargain now, too. Unlike in Kenya, the
Great Migration
can be seen most of the year somewhere in Tanzania, but to catch it at its most dramatic, the best time to go is late June-Sept, when animals cross the Mara River, with the weeks outside August school vacations quieter. The short rains Nov-Dec don't cause much disruption, while Jan and Feb is green and babies are born. Feb is hottest, at max 25°C, July is coolest, around 20°C.
Nairobi, Kenya Weather Chart
Our Kenya and Tanzania Vacations
Things to do in Kenya & Tanzania
Things to do in Kenya & Tanzania…
Game drives. Whether you're watching millions of wildebeest leaping across the Mara River or spotting black rhino in the Ngorongoro Crater, game drives are essential on a trip to Kenya and Tanzania. In both countries, game parks are characterised by unpaved roads, some of which are extremely rough – being bounced around is part of the adventure! Small group tours use purpose-built overland vehicles with open sides, while a tailor made trip will be just you with your own driver guide. Most vacations include several full- or half-day drives, but try to squeeze in a walking safari with local Maasai people or a nighttime game drive in a conservancy, too.
Cycle. The animal-filled wildernesses of northern Tanzania and southern Kenya may not be an obvious choice for a bike ride, but cycling vacations here are a brilliant way to see the area's famous wildlife and meet local tribespeople. Cycling covers more ground than walking safaris and makes a welcome break from a juddery jeep, bringing you thrillingly close to the landscape. Cycling trips are ideal for families with teens, too. Instead of passively sitting in a vehicle, they will be pedaling through national parks and fishing villages. These trips are fully guided and supported, with game drives included for when a tourist on two wheels would be too tempting to resident predators!
Things not to do in Kenya & Tanzania…
In your eagerness to spot wildlife, don't ignore the people and culture of this region. The Maasai live in southern Kenya and northern Tanzania and have a long relationship with tourism. Maasai-owned conservancies, camps and lodges offer walking safaris and craft, dance and warrior demonstrations. For most visitors, this can be a highlight of a trip to Kenya and Tanzania, while for the Maasai it provides vital income. Just be sure to travel with an ethical operator.
Rule out a family vacation. Traveling in Kenya and Tanzania with kids is perfectly doable. Kenya is on a par with South Africa for ease of travel and its established tourism industry has produced an excellent network of accommodation, from comfy campsites to luxe lodges with swimming pools. The Masai Mara is compact, reducing driving times, and the Great Migration's peak happily plays out during school vacations. Tanzania's northern circuit is a one-stop-shop for safari experiences, with lots of places to stop and ogle wildlife. Choose a small group family adventure or tailor-made trip, both of which will include guides skilled at engaging youngsters. Consider adding on a few days to relax on the coast or on Zanzibar, too.
View it all through a lens. When on a game drive or bushwalk, remember to put your camera down and soak up the experience!
Kenya & Tanzania travel advice
When to go to East Africa
Brad John-Davis, from our supplier Intrepid Travel, has tips on when to visit:
"East Africa is very lucky to be a year-round destination and game viewing is great all year. In any given month there will be the chance to see the migration at some point in the Mara/Serengeti/Ngorongoro ecosystem, and there aren't really any times of year where visitors are more or less likely to miss any of the most exciting sightings. April, May and November are the wetter months and usually the quietest, but the plus side to this is fewer crowds giving a more exclusive feel and slippery tracks in the game parks lending a real sense of adventure! A personal favourite of mine is February – a quieter month with great weather for European visitors, hot and dry!")
What to expect from a vacation in Kenya and Tanzania
Brad John-Davis, from our supplier Intrepid Travel:
"If delivered correctly, a great vacation to Kenya and Tanzania should be about city, countryside, wildlife, people, history, tribal life, landscapes and the beach – as long as you include a trip that features Zanzibar."
Viewing the Great Migration
Andrew Appleyard, from our supplier Exodus, explains why this is such an extraordinary spectacle: "For me, it is one of the top five wildlife sights in the world, it's quite unbelievable. You can see the migration from miles away as there's a huge spiral of vultures in the sky where the river crossings are. You've got the huge Nile crocodiles there which only actually eat twice a year – during the river crossings. They have one of the lowest metabolism rates of any animal. They'll bury the wildebeest or zebra in log jams in the river so they nicely soften up, then just tear the meat off. You can actually smell it from quite a long way off – all the carcasses on the river."
Unmissable sights
Brad John-Davis, from our supplier Intrepid Travel, on his favourite place:
"There's nothing quite like the view from the crater rim at Ngorongoro. It's one of the most fantastic views on the planet. Personally, I prefer the colder months of the year (July, August) where due to the elevation and the exposure, it can get seriously chilly. Not at all what one would expect in Africa!"
Our top Kenya and Tanzania Vacation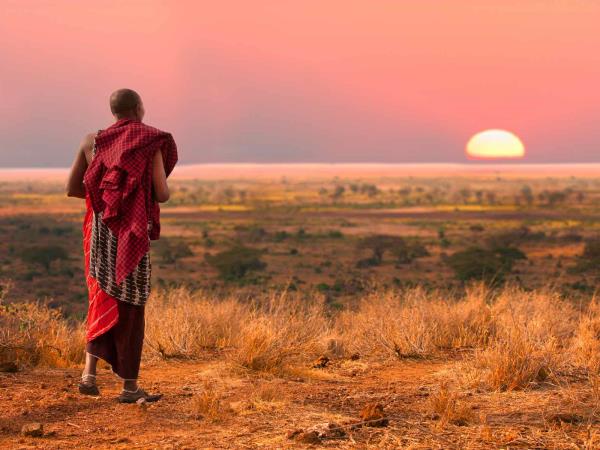 Safari in the Masai Mara & paradise beaches on Zanzibar
From £5450 13 days ex flights
Tailor made:
This trip can be tailor made throughout the year to suit your requirements
If you'd like to chat about Kenya and Tanzania or need help finding a vacation to suit you we're very happy to help.

Tips from our travelers in Kenya & Tanzania
At Responsible Travel, we think the best people to advise our travelers are often... other travelers. They always return from our tours with packing tips, weather reports, ideas about what to do – and opinions about what not to.

We have selected some of the most useful Kenya and Tanzania travel tips that our guests have provided over the years to help you make the very most of your vacation – and the space inside your suitcase.

Travel light, take a good camera. Be prepared for some long bumpy journeys, basic camping and facilities!

"Research, research, research and find the right safari for you. Get exact information/itineraries. Check all prices and facts. Safaris are expensive vacations and with so many variations to choose from, it is worth talking personally to operators, rather than relying on looking online." – Sally Moir

"Read the itinerary carefully and be prepared for long, dusty truck journeys, fondly referred to as having an 'African massage', as roads are very bumpy and have more craters than hard sections. Perhaps choose a vacation which centers at one place for 2-3 days and journey out from that center." – Lesley Halliday

"Don't forget your bug spray and put it on! Space in the truck is fairly limited but you don't need too many clothes, you'll have opportunities to wash clothes most days, one of the campsites even has dry cleaning. Remember to bring some warm clothes and a waterproof top." – Nick Walker

Bring something thoughtful to share with the school in Tanzania. It is such a special experience.

– Dan Cobley, on a family cycling vacation
"The safari camps are quite basic, so although camping means you get very much closer to nature –we had jackals and zebra actually come through our camps at night – and although the support team did a great job making us as comfortable as possible, some experience of camping is probably an advantage." – Marie Lenstrup

"Be in good condition, have a bit of biking practice beforehand and go for some uphills. Otherwise you will struggle a bit... Bring a camera with a decent zoom. If you want luxury this is not for you!" – Roman Holderbach on a biking vacation

"The environment is very fragile and visited by many tourists. Make sure to travel with agencies which you can be sure comply with the highest possible standards in terms of responsibility towards nature and the local community. Double check if possible any reference." – Tomas Gregersen
More about Kenya and Tanzania
Find out more about combining two East African countries in a single trip, in our Kenya and Tanzania travel guide, discovering double the wildlife and twice as many sights.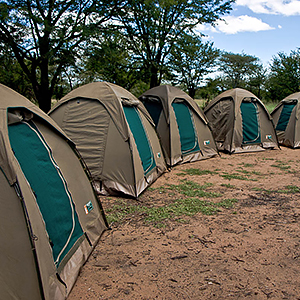 Combining Kenya and Tanzania on a budget makes a lot of sense.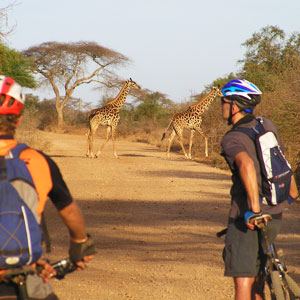 Cycling through Kenya and Tanzania feels like a voyage of discovery. On the quiet back roads, plains game (gazelle, zebra, other nervous herbivores) spills out of the national parks in front of your peloton. You'll never know what will cross your tracks next.