Kilimanjaro responsible tourism
---
DON'T KILL KILI
Kilimanjaro is a spiritual place for many people. Traditionally, for indigenous people, it was seen as a place of godliness – and today, for those who summit, most experience a deeply spiritual moment not only as they reach the top of the world, but also en route. Uhuru Peak, the highest point, means "freedom", and it is worth keeping this in mind as you reflect on all the issues relating to Kilimanjaro and its trekking community. Freedom from poverty is one of the biggest issues on Kili, with many of the surrounding areas trapped in extreme poverty. Breaking the cycle of poverty for people living around Kilimanjaro sometimes seems as far off as the summit itself. Tourism can be a means of breaking this cycle, but it can also be guilty of treating people very badly along the way.
People & culture
---
PORTERS RIGHTS & COMMUNITY TOURISM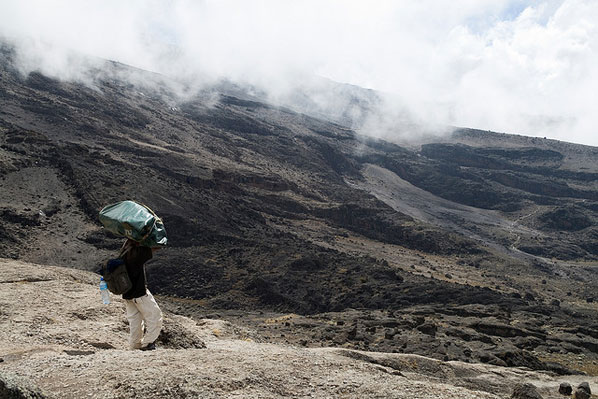 As they zip up and down the mountain that, for most travelers, presents the challenge of a lifetime, it's easy to view porters as having some kind of superhuman skill, undefeated by altitude, heavy luggage or the cold. But to do so is not just naïve, but dangerous. The lack of respect towards porters – who may be climbing Kilimanjaro in flip flops, carrying over 20kg of luggage, eating insufficient food and being paid a pittance – means that tourists who have paid thousands of pounds to enjoy this vacation may be climbing alongside people who are living on the edge of poverty. Ignoring porters' rights puts the porters at risk of injury, disease and even death – in the past they have succumbed to malaria and hypothermia – a high price to pay for someone else's dream vacation.
The good news is that there are guidelines in place for companies offering Kilimanjaro treks. The bad news is that these guidelines are not always enforced by a higher authority, leaving tour companies to decide themselves if they want to stick by these principles. Although recommended wages are just £3 per day, porters can be paid as little as half this amount, with no sick pay if they get ill or injured on the mountain, leaving them and their families with no income. Read more from the
Kilimanjaro Porters Assistance Project (KPAP)
about the poor treatment of porters. Many tour operators are members of this association and others have created their own initiatives that support and maintain fair treatment of people, respecting their very basic human rights. It is worth noting, however, that this abuse of people is not just historically from tour companies, but also from guides. Porters are always keen, sometimes desperate, to work with guides. But due to the guide-porter hierarchy, there are horror stories of guides taking advantage of porters' need for work, agreeing to let them come on a trek but, in exchange, demanding they work for them for no pay on their farm during the off season for example. Or they take a certain percentage of their tips. But KPAP has helped all of this, so make sure your tour operator is a member. It is shocking to see how many are not. Few tell it better than in this half hour documentary, Porters on the Stone of God. Please watch before you book and definitely before you go.
Porters on the Stone of God from Cheverus 319 Productions on Vimeo.
What you can do
Choosing a responsible Kilimanjaro tour operator is the most important thing you can do to improve the lives of porters. One that goes out of its way to respect the human rights and living conditions of porters. You can also keep the weight of your bag down, ensure your porter is properly dressed and give your tips directly to your porter – but this will only make a short-term difference if the porter is not being employed by an ethical company.
Our suppliers believe in porters' rights, and some have even set up their own initiatives, providing them with proper footwear and offering classes during the rainy season, when many are out of work. But there are other ways you can ensure your porters are being fairly treated, including sending sick or injured porters down the mountain for treatment, checking the porters have adequate shelter and decent sleeping bags, and, of course, reporting any maltreatment to KPAP, at info@kiliporters.org.
Andrew Appleyard, from our supplier Exodus, has led many Kilimanjaro expeditions – but explains why local tour leaders are now used:

"Kilimanjaro is a massive source of employment; a group of 16 has about 44 staff with them. But you still need to look at porter protection programmes and what the training is for the staff. Exodus has a school on the mountain, running classes in English, first aid, HIV awareness… we've invested heavily in staff over many years, and I think you need to do that.

We used to do trips with UK guides, but we've trained all our local guides now to run those trips, so no UK guides go out on Kili anymore. Some companies still use overseas guides – but to me, no one knows Kili like a local. We have Samuel, who's climbed it 542 times – you can't buy that experience. It doesn't matter if you have an International Mountain Leader or IML mountain guide flying in from Seattle and you're paying five grand for a week. That person will not know any more than the local who's done it over 100 times."


People & culture
---
The culture of mountain safety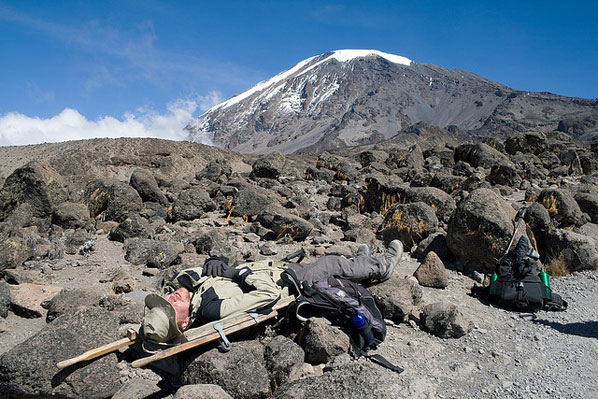 Safety is like a religion for people who live in and love the mountains. Especially on Kilimanjaro which, like all mountains, has seen its share of tragedies and fatalities. Tourists can be guilty of turning a blind eye to the harsh realities of walking and climbing on Kilimanjaro. Because it does not require people to have technical climbing skills, plus it has become popular with charity climbs and celebrity expeditions, it has entered the world of 'hey, let's give it a bash'. But you can't give Kili a bash, or it will bash you back. Listen to the experts, the tour operators who have climbed it who, in turn, respect the local guides, who in turn undergo three years of training by the national park authority. Because all these experts know the reality of unpredictable mountain landscapes.
All treks on Kilimanjaro must have a qualified local guide with them. It isn't just a case of being allocated a guide on the day either. Tour operators interview the guides themselves, work with the ones they know well, and create strong working relationships with them. Some tour operators insist on bringing a European or American International Mountain Leader or IML with them too, but the local guides are highly qualified in protecting people on their mountain.
Altitude sickness, or Acute Mountain Sickness (AMS), is the real danger on Kilimanjaro, and so it is very important to pick a tour that takes you up slowly and gradually. Read up on the 'trek high, sleep low' rule, which means that you can ascend gently during the day, but descend to sleep, as it puts a lot less pressure on your body that way. Ascending slowly is key to reducing your chances of feeling ill, but if you do, the best cure is to descend – even a couple of hundred metres can make a difference. Some companies insist on bringing super high tech oxygen equipment, but really, if you follow the rules, you should be fine. And if you aren't fine, the only other rule is to tell your guide. You might fear disappointment in not summiting, but it is the only responsible thing to do.
Exodus, our leading suppliers in Kilimanjaro treks: "Over 30,000 people attempt the climb of Kilimanjaro annually and there are, on average, two or three fatalities from Acute Mountain Sickness (AMS) every year. These fatalities are always the result of the failure to undertake a rapid descent quickly enough. Our guides have had formal training to recognise and deal quickly with the symptoms of AMS, whilst our medical box contains drugs to facilitate a rapid descent together with an evacuation plan from each campsite on Kilimanjaro".

What you can do
Try and do a trek to a peak of around 4,500m before you tackle Kili. This isn't always possible, as there isn't one in the UK for example. It should also be a peak where descent is straightforward, in the event of you not coping well. Better finding out there, than on the top of Kili. But if you can't manage that, don't worry. Just don't try and be macho or uber competitive and go for the quick, speedy route. It isn't big and it isn't funny.
Responsible tourism tips
---
TRAVEL BETTER ON KILIMANJARO
If you are thinking of doing a charity climb on Kilimanjaro, we recommend booking directly with a responsible tourism company and then donating afterwards to your chosen charity, thereby ensuring that you are avoid hidden charity administration fees. A typical scenario is that you might have to raise around £4,500 to do a typical charity climb on Kili. You set up a 'Just Giving' Page and when you have reached your target, the charity writes the cheque to the tour operator – but they also keep a balance of it to cover expenses etc. If you book directly and then donate, therefore, it's cleaner, more transparent and you can guarantee the use of a responsible tour operator for your trip. In addition, some of our responsible tourism suppliers run their own charity climbs – which is a win-win – without the additional middle man.
More importantly, if you are raising money, we recommend that you consider donating to a local charity, and seek advice on this from your responsible tour operator. It seems strange to be raise money on Kili and not support those in need in local communities.
Leave no Trace is vital. Loo roll is the biggest culprit so, if you'll excuse the pun, don't use Kili as a dump. Remind yourself of the Leave No Trace principles before you go. This organisation is the font of all knowledge and training when it comes to environmental protection and outdoor activities. It all seems like common sense and, in general, trekkers love the environment and are extremely protective of it. However, this doesn't explain the wasters who leave things behind like disposable barbeques, cigarette butts, banana skins, chewing gum, drinks bottles and even pop up tents. Leave no trace also means leaving nature as you find it, so don't pick wild plants either please.
To lessen your environmental footprint on habitats and ecosystems, walk single file in the middle of the trail, even when wet or muddy.
A responsible walker is an insured walker. Accidents do happen, even if they are just a badly sprained ankle, and you might need to be rescued. So make sure you are properly insured.
It is likely that you will go on safari in Tanzania during your stay, and so it is worth noting that one in three elephants poached in Africa is taken from Tanzania. In 2013 alone, it is estimated that 10,000 elephants were slaughtered here. Putting an end to poaching is like putting an end to drug trafficking – it is an enormous, global issue. One thing you can do is visit one of the lesser known game reserves – particularly Selous and Ruaha where a lack of income means fewer rangers to patrol the enormous landscapes – and less of an incentive to protect the wildlife. Your entry fee will contribute directly to conservation efforts. Read more in our Tanzania 2 Minute guide.
Tanzania's Hadzabe, also known as the Hadza tribe, are now becoming involved in tourism, and so if you are traveling further afield on your trip to the plains of northern Tanzania, it is worth taking into account some of the issues around this. 1,000-2,000 Hadzabe still live here and less than half of these have been able to maintain the nomadic hunter-gatherer lifestyle that they have practised for millennia. Their hunting knowledge, traditional dress and unusual click language – which isolates them from any other tribe – make them appealing to tourists, yet at a time when they have lost up to 90 percent of their traditional hunting and foraging grounds*, this also makes them open to easy exploitation. See our Tanzania 2 Minute Guide Responsible Tourism issues for more details.

* Source: Survival International