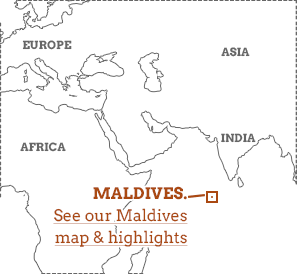 Philosophers have wrangled over what paradise means for centuries, with heavenly images that have us walking on clouds, through pearly gates or on streets paved with gold. The Maldives Islands, with atolls floating almost cloud like on turquoise waters, effervescent coral reefs and sand banks forming natural pearly gates into this magical island nation, fit the paradise picture perfectly for many – especially when you add in the golden sun paving the way for heat seekers.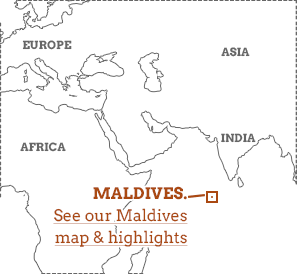 The Maldives are famous for their fragility. Being on a small boat, bobbing, sailing and floating, felt like the best way possible to respect and protect this.

And being on a boat invites total immersion into this picture. What small ship cruises in the Maldives also allow is a more in depth cultural experience, with skippers who steer away from private resort islands to smaller communities of what are known as 'local islands'. Our philosophy is that although you will glow in the presence of dolphins, fish of every hue, manta rays and whale sharks, you can't experience Maldivian paradise without meeting and understanding its people.
Read more in our Maldives cruising vacations travel guide.
Maldives small ship cruising vacations are...
on very small boats, sleeping fewer than 20 people.
Maldives small ship cruising vacations aren't...
all year round. The monsoon season is July to August
Go on a Maldives cruising vacation if…
… you want to go island hopping on this dreamy archipelago but don't want to do so with hundreds of other passengers. Small ship cruises sleep between eight and 14 passengers.
… you love marine wildlife. Dolphins, whale sharks, manta rays and school after school of tropical fish are Maldivian norms.
… you want to have outdoor adventures. Sea kayaking, stand up paddling, snorkelling and some basic scuba diving are usually on offer.
… you want to learn more about Maldivian culture. These cruises stop at the local islands, with real community life, Muslim traditions and fine local food. Local food is also the norm on board, too.
Don't go on a Maldives cruising vacation if...
… you don't worship the sun. There is little getting away from it out here among the sizzling atolls.
… you worship the King Cunards of the world. Instead of hundreds of people, small ship cruises offer hundreds of islands, inlets, coves and cetaceans.
… you aren't sociable. Being a close knit 'boatie' community is very much part of the vibe.
… you like a party boat. These are tranquil trips that aim to connect with nature: night skies, peace of the waves, bird watching at dawn. And this is a Muslim state, so although there are beers onboard, it is illegal to consume alcohol on land, except in the resorts that have licences.
Best time to go on a Maldives cruise

There are two monsoon seasons in the Maldives: the southwest monsoon which is wet and the northeast monsoon which is actually dry!

The skipper always knows the best time to go on a small ship cruise to the Maldives, and in most cases they certainly don't choose the southwest monsoon months in Jul-Sept to raise anchor. Hot, calm waters are typical from Dec-Mar, and marine wildlife loves this period too. Whale sharks are resident in South Ari Atoll all year round, but particularly visible elsewhere Jan-Apr. You will get showers between Apr-Nov, but there's nothing like swimming off the boat in a tropical shower. The best time for visibility, if you're snorkelling or diving, is Dec-Mar.
Maldives cruising, month by month
The southwest monsoon takes place from mid May until mid September, so not great for cruising or sailing. The best time for small ship cruising in the Maldives is, therefore, in December, January, February and March. Winds pick up in April, pre-monsoon, so visibility for snorkelling and diving can be affected. May to November is a long, off peak season when prices are lower, but you will risk brief spells of rainfall. It's always gloriously hot though. Remember that local people will be feasting and fasting during Ramadan, and some businesses will close, but this doesn't usually affect cruising vacations. For the years 2024 to 2027 Ramadan falls in February and March. Maldives National Day falls 24 January when there are local celebrations to celebrate independence from the Portuguese in the 16th century. Independence Day celebrations take place 26 July, remembering the end of British rule in 1965. A lovely event to recognise while on Maldivian waters if Fisherman's Day on 10 December with lots of different island events going on.
If you'd like to chat about Maldives cruising or need help finding a vacation to suit you we're very happy to help.

What does a Maldives small ship cruise entail?
How big is a "small" cruise ship?
Our cruise ships in the Maldives are small and beautifully formed, and as far from the world of 'cruise' mania as you can possibly imagine. Such as a traditional wooden fishing boat, with sails, accommodating no more than 14 passengers in seven ensuite cabins. Another option is a more contemporary catamaran, usually sleeping up to eight passengers. A wonderful option with these trips is to book the whole boat for you and your friends or family, in which case you can tailor make the itinerary to suit your party's interests.
What are the cabins like?
On traditional wooden boats there is usually a mix of twin and double rooms, en suite and with air conditioning (but always double check). On smaller catamarans, the norm is double cabins with a shared bathroom, and always with a view out onto the ocean, of course.
Can I travel solo?
If you are traveling alone and there are no single cabins, you usually have two choices: Pay around a £350 supplement for your own double cabin, or choose to share a twin cabin with someone of the same gender, at no extra cost. If the cruise is not fully booked, you may get lucky and end up with your own double cabin without paying a supplement, but there are no guarantees. Check with your cruise company to see if it is possible to reserve a specific cabin in advance.
What will the food be like?
Responsible, small ship cruises embrace local culture so local food is part of the experience. Not surprisingly, Maldivian food is based around fish, and in particular tuna, with plenty of chilli and coconut thrown into the mix. White rice and "roshi" flat breads are also omnipresent. As this is a Muslim country, pork is not allowed and the same goes for alcohol on land, or for local residents, although boats do have licences. If booze cruises are your thing, Maldives definitely won't be, however .
Can I travel with my children?
If you go on a tailor made trip then families are welcome, although depending on the activities you choose to include, the tour operator may recommend a minimum age of around 12. Being confident swimmers is always recommended of course, given that you are living on the water for the duration of the vacation. Small group tours that have an emphasis on diving or marine wildlife are often adults only. Ask the vacation company for details.
How are they responsible?
Small boat cruises in the Maldives stop off at various different islands which don't have a luxurious resort scene, and where you can really tap into the local community culture and support it economically. The skippers and crew should be Maldivian, and food sourced locally too. And if you take an excursion on land, they should be with someone with the Maldives Ministry of Tourism Guide qualification. See our
guide to keeping things local
in the Maldives for more information. These small cruises also have marine wildlife experts on board, committed to conservation and responsible diving. Although these aren't specific diving vacations, some may give the option to have a starter dive, for example. Read more about
responsible diving here.
Our small ship cruise operators are also extremely waste aware while traveling though these fragile marine environments.
Wildlife
Marine wildlife is what most people are hoping to see on a small ship cruise in the Maldives so do seek out a vacation that has a wildlife expert on board. Snorkellers, divers and marine biologists come to these islands to immerse themselves in a world of manta rays and stingrays, house reefs bursting with coral, schools of barracuda to butterfly fish, reef sharks to whale sharks. Birds creating the coastal cacophony include beauties such as great and lesser frigatebirds, egrets or grey herons and, with so many fish, there is also a year round carnival of cetaceans. These include bottlenose, striped and Risso's dolphins and also some whale species. It is well known internationally for its beaked whale populations.

Keen botanists might like to check out the book Maldives: Trees and Flowers of a Tropical Paradise (by Dittrich P., Galvan D.F. & Weisbauer Ali) which describes how plants grow and thrive in this archipelago which is, not surprisingly, hostile to plant growth.
More Maldives cruising articles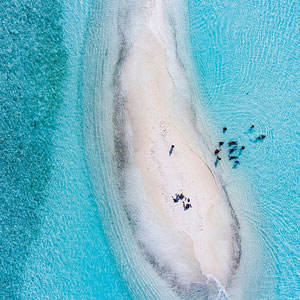 Discover the sorts of island idylls that almost bring tears to your eyes when you go cruising.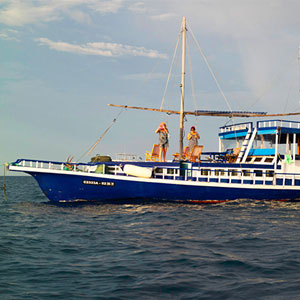 Take a traditional boat and a handful of inquisitive visitors and add hundreds of uninhabited islands.