The Maldives, a beautiful archipelago in the Indian Ocean, is among the world's most desirable luxury travel destinations. Over 130 high-end resorts spread across several atolls, allowing you to explore coral reefs, tropical forests and inviting blue lagoons. 'Local islands', meanwhile, offer a different take on Maldivian life, with calls to prayer as likely to raise you from your slumber as crowing cockerels or the cries of industrious fishermen.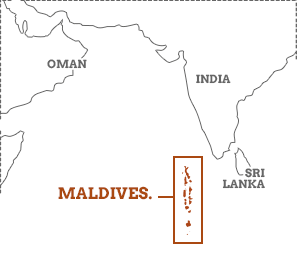 Privately owned resorts and locally run alternatives offer two very different perspectives of life in the Maldives.

Since 1972, this island nation has been welcoming those who can afford it with open arms. Yet tourism is a double-edged sword for the Maldives. While the economy is dependent on constant plane-loads of travelers arriving, air travel is a significant cause of climate change and the rising sea levels that threaten the existence of these low-lying islands. Respecting Maldivian culture and the environment are key to a mindful experience if you're looking to travel to the Maldives.

Find out more in our Maldives travel guide.
The Maldives is...
one of the world's most low-lying, and high-profile, victims of the climate crisis.
The Maldives isn't...
just luxury resorts. There's plenty going on away from the cocktail bar.
What we rate & what we don't in the Maldives
Local islands
Local islands such as Gan, Fulhadhoo and Guraidhoo were developed from 2009 onwards to spread the economic benefits of tourism beyond the usually foreign-owned luxury resorts. They follow stricter Islamic laws than the resorts and offer a richer take on Maldivian culture – as well as being far less expensive. You'll often be staying in family-run guest houses, and eating fish that's come straight off the line.
Positive mindsets
Creating artificial islands by dredging sand from lagoons, building high-rise apartment blocks and floating cities and even talking about buying land in other countries – all touted as potential solutions to the Maldives' existential crisis. It seems sadly inevitable that rising sea levels will eventually cover most of this low-lying island nation, but the Maldivian people are far from ready to give up.
Northern atolls
The 'deep north' is among Ruth Franklin's favourite under-the-radar places in the Maldives. Co-founder of our partner Secret Paradise, Ruth recommends these less-visited northerly atolls for their wildlife-rich waters, freshwater lakes and interesting cultural dimensions. One to visit is Utheemu, birthplace of Maldivian national hero Sultan Muhammad Thakurufaanu, who freed the country from Portuguese rule.
Diving & snorkelling
The Maldives is one of the best places in the world for diving and snorkelling, and there are dive centers scattered all around the archipelago. There are fully accredited PADI centers here as well as a wide range of dive options, plus eco-friendly liveaboard cruises that put the focus on sustainability rather than Instagrammable pampering. The coral reefs here are stunning but growing consumption of reef fish is putting them at risk.
Combining the Maldives with Sri Lanka
Given how close they are to each other, it makes perfect sense to combine a luxury vacation or honeymoon in the Maldives with a jaunt in Sri Lanka. While Sri Lanka is certainly no shirker when it comes to beautiful beaches, stays here tend to focus on the cultural and historic attractions of places such as Kandy, tea plantation touring, and tracking wildlife such as elephants and leopards.
Responsible marine tours
Visitors should ask questions of marine excursion providers, says Ruth Franklin: "Is the group size kept at no more than 20 or so? Do they follow a code of conduct issued by the appropriate marine life organisation or an NGO? Do they feed marine life? Do they follow
Green Fins' snorkel guidelines
?" Responsible wildlife watching is not always a given in the Maldives, but responsible travelers demanding better can help encourage improvements.
Shellfish behaviour
Between May and June, the Maldives plays host to several species of sea turtle which haul themselves up beaches to lay their precious eggs. But they face many hazards, from beachfront resorts and restaurants creating noise and light pollution, to waste on the sands, and people stepping on nests. If you're going to an island where sea turtles nest, find out how you can help them to successfully breed, and perhaps even volunteer with a conservation project.
Exploitative resorts
Luxury resorts in the Maldives are heavenly for guests, but in many cases the conditions for employees can get quite hellish. Working long seasons on an island, isolated from friends and family, is already difficult, and compounded by small accommodation and limited opportunities for socialising. In addition, resorts' profits often leave the country, with little benefit to the local economy. Ask your tour operator about how their accommodation takes care of their staff.
Reef fish
Since the 1980s Maldivian cuisine has moved away from tuna towards reef fish such as snapper and grouper. But due to slow reproductive rates, reef fish are more vulnerable to overfishing than tuna, and divers and snorkellers are finding that Maldives' reefs are starting to look distinctly under-populated, disrupting delicate ecosystems. Tourism has a massive role to play in keeping the Maldives' reefs healthy – don't catch reef fish while you're there but enjoy them through a mask instead. And wherever possible, avoid choosing them from the menu too.
If you'd like to chat about Maldives or need help finding a vacation to suit you we're very happy to help.