Off peak travel in Mongolia
Mongolia has long been thought of as a summer destination, with its vast, empty landscapes, nomadic culture and activities such as horse riding and herding best enjoyed in warmer temperatures. Peak tourist season here lasts a scant three months, as visitors rush in from June to August to make the most of the longer days, culminating in July's Nadaam festival.

The Mongolian winter is a bracing prospect for vacationmakers, with temperatures far below freezing, thick snow, and winds funnelling across the steppe, all without the comforts of hot water, central heating or a feather duvet. But there are many reasons to travel to Mongolia off peak; not least the extra attention you will receive from herders who are not as busy with their flocks, and the chance to spend quality time drinking tea in a ger tent as both you and your Mongolian hosts shelter from the chill. And of course, in this harsh season, Mongolians themselves are doubly in need of the extra income – ensuring an even warmer welcome.
Our Mongolia Vacations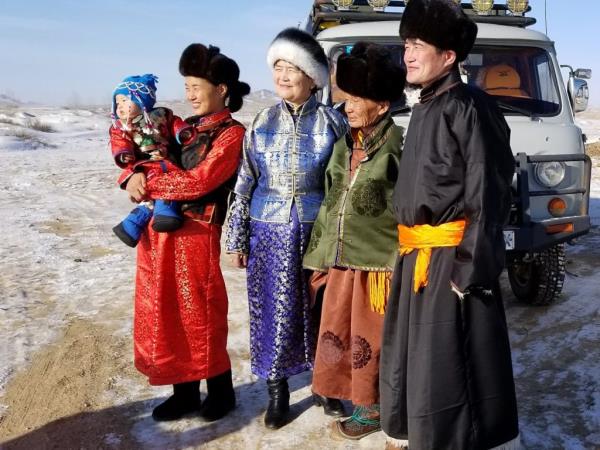 Authentic culture, warm hospitality & wild winter landscapes
From
US $

1245

to

US $

1685
9 days
ex flights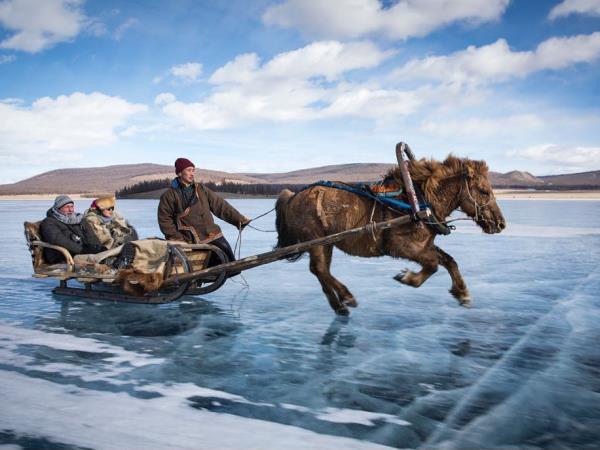 Winter discovery tour with ice festival in northern Mongolia
From
US $

2240
11 days
ex flights
Traditional festival experience - Mongolia's Lunar New Year
From
US $

1155

to

US $

1485
7 days
ex flights
Why visit Mongolia off peak?
Two of the biggest draws for travelers to Mongolia are the wide open landscapes and the rural culture, which are about as far from a busy, urban, Western lifestyle as you can imagine. Both the landscape and the herder lifestyle vary hugely with the seasons. Winter sees many regions blanketed in snow, and as the days grow shorter the sun dips in the sky, lengthening the shadows and making the vast steppe seem even more endless.
But one of the greatest bonuses for travelers in Mongolia during the winter season is an alternative look at Mongolian life. Although they are often called nomads, the rural Mongolians refer to themselves as herders. In summer, when pastures are lush and livestock must feed constantly to prepare themselves for the barren months ahead, the herders spend much of their day out with their flocks, far from the ger camps. You can share cups of tea and the odd meal, but the focus is very much on pastoral activity away from the camp.
In winter, however, with grass sparse, the animals graze close to home. Goats and sheep will spend the night in shelters and the cattle are corralled, protecting them from wolves. The biting cold keeps families inside the ger, as does the darkness, which arrives as early as 5pm in midwinter. Travelers at this time are treated to a unique insight into the herder lifestyle, as well as day to day family life. It's a real treat – and one experienced by very few outsiders.
In addition, without the need to constantly graze their livestock, the herders can devote more time to their guests. In summer, they are preoccupied and may come across as brusque; there is important work to do, and their livelihoods literally depend on it. In winter there is no such distraction. Herders are also happy to invite guests into their families in winter so that they can see what life is really like out on the steppe. Tourists who come in summer see the place at its warmest and most comfortable, with abundant food, pasture, warmth and daylight. In late autumn and winter, the realities of herder life kick in, and the herders are keen for outsiders to understand and share this, rather than always showing up when life is good!
And finally, as with everywhere in the world, off peak travel is cheaper, particularly when booking flights. You can also be that bit more spontaneous as things won't get booked up months in advance, as they do during Nadaam, for example.
Mongolia has four very distinct seasons. The dusty, windy spring lasts from March to April, and is characterised by low rainfall and a landscape finally emerging from the grips of a long, harsh winter. Livestock gives birth at this time, and cashmere is collected from the goats, so this is a busy time for the herders.
May is the transition period between spring and summer, which kicks in from June to August. The summer is warm in most regions, with temperatures in the low 20°Cs, but it is also the wettest season in Mongolia. The Gobi Desert remains dry, however, and can get very hot.

The short autumn falls in September and October, and is best known for the Eagle Festival in western Mongolia. The long, brutal winter starts in earnest in November, and temperatures regularly dip to -30°C or below.
In terms of tourism, peak season is from June to August, with July the most popular month. May along with September to mid October are the shoulder seasons, with autumn definitely becoming more popular due to the great weather, cheaper flights and the Eagle Festival. Late October to early May is low season, with March and April the lowest season of all, due to the wind.
Our top Mongolia Vacation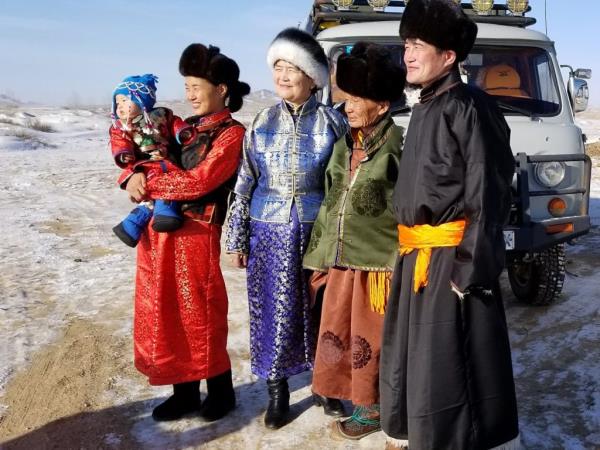 Authentic culture, warm hospitality & wild winter landscapes
From
US $

1245

to

US $

1685
9 days
ex flights
Tailor made:
This trip can be tailor made throughout the winter months to suit your requirements
If you'd like to chat about Mongolia or need help finding a vacation to suit you we're very happy to help.

For Mongolians themselves, there are plenty of benefits of encouraging tourists to visit in low season. Along with mining and agriculture, tourism is one of the main sources of income for the country, and with a peak tourist season of barely three months, many Mongolians struggle to make ends meet. While some guides are teachers or university students working through the summer vacations, many others involved in tourism – particularly the drivers – have little other work. Huge numbers of drivers are required in July and August, and there is simply not enough work for the rest of the year to keep them all employed.
In addition, winter is a costly time in Mongolia. Families will need to buy serious clothing, as well as food and coal, which is expensive. Hosting visitors for a few weeks can really ease the stresses of winter, and takes the pressure off earning a year's worth of money in the short summer season. The best way to ensure your money goes further – and reaches those who need it most – is to stay directly with a family or community, and take tours with local guides and drivers. They may not necessarily be herders, as not all rural families are, but all will appreciate the extra income at this difficult and otherwise quiet time.
What are the disadvantages of visiting Mongolia off peak?
You must be prepared for the cold, of course, but your vacation company will give you plenty of advice on what to bring. The ger tents are kept relatively warm, and there are handmade goatskin blankets to throw over your sleeping bag if you get chilly, which will see you through even the coldest of nights.
The main thing to remember if visiting Mongolia off peak is to be extra flexible. Mongolia is an unpredictable destination at the best of times, but the extreme weather can make things just that little bit trickier. Storms can cut off roads, journey times can be longer than planned, and even if you travel by plane – such as to the winter Eagle Hunting Festival in Western Mongolia – flights can be impacted by weather conditions.
Traveling with a local vacation company, or one which works very closely with local operators, is by far the best way to travel, as they will have networks of contacts across the country able to offer up to date information on weather conditions, road closures and alternative routes. Traveling to Mongolia off peak may seem like a serious adventure, but once here, it's the simple, cosy pleasures that will make this vacation so rewarding.