Mongolia travel guide
---
2 minute summary
One of life's great freedoms is adventure, a privilege most of us take for granted and that isn't always compatible with our organised, routine lives. A trip to Mongolia represents the ultimate adventure and a chance to experience true wilderness. People might misconceive Mongolia's wilderness for desolate wasteland; it isn't. Instead, it is an entire country of undiscovered beauty – a sea of rolling steppe, unimpeded but for the shadow of clouds for miles; a collision of mountains, forest and snow-capped peaks; and a vast golden desert of towering sand dunes and camps below the stars. There are more horses than people in Mongolia, and five times as many sheep and goats; it has almost nothing man-made to attract tourists and is an outdoor country with a strong personality, a traditional heritage that's still very much alive, and a gentle and friendly people – exactly why everyone who visits it is instantly captivated.
Mongolia is...
a true
wilderness experience
Mongolia isn't...
about
WiFi
, webcams
and
staying connected
What we rate & what we don't
---
Our best & worst of Mongolia vacations
Underrated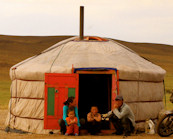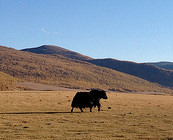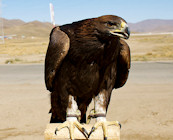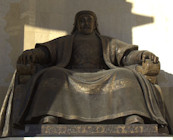 Mongolian hospitality
Historically, the Mongolians are a very welcoming people and their hospitality is like nowhere else in the world; nomadic culture dictates that even during his absence, a herder will leave his ger unlocked so that weary passers by can rest there. You will be greeted warmly with a nod and a smile then swiftly offered airag ('vodka'), all manner of dairy products and probably some snuff too.
The Great Outdoors
Picture your ideal 'great outdoors' scene, now remove any hedges, fences, even people that may have found their way in - Mongolia is truly an opportunity to immerse yourself in nature at its wildest. Herds roam across its wide-open grasslands; horses gallop freely, even the yaks look happy. Fishing, trekking, horse riding, you can do it all, and then flop, fulfilled, under the stars.
Western Mongolia
You cannot get more rugged and remote than Western Mongolia, a truly untouched land of mountains swathed in glaciers and iridescent salt lakes all held together by a patchwork of nomadic tribespeople including the melodic Myangads, known for their traditional khoomii throat singing, and the Kazakhs, who still practice the ancient art of hunting with golden eagles.
Warrior training
Come on, who doesn't want to be a Mongol warrior? Led by Genghis Khan, the medieval equivalent of Bruce Willis, the Mongols are the strongest and most stealth military force in history and you can be one, if only for a few days. Try your hand at archery and lassoing, pick up riding skills and learn the secrets behind their battle strategies, all the while dressed in traditional 'deel' clothing.
Rated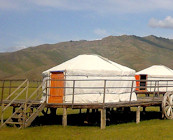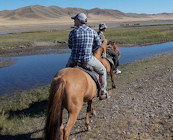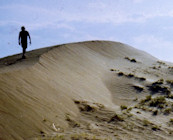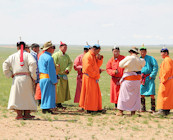 Ger Camps
Gers are the circular, felt-lined homes of more than half of Mongolia's population and you will see them everywhere, scattered like miniature circus big tops across the landscape. Some are more tourist-driven offering showers and fridges full of beer, and others are the real deal – nothing but home-cooked food and the comforting crackle of burning wood keeping you warm.
Horse trekking
About as off-the-beaten-track as you can get, Mongolia's landscape is still largely undeveloped, so though extraordinary areas of natural beauty exist, they're hard to reach on two legs or four wheels - your best bet is to do as the nomads do and find a four-hooved friend to take you across rivers and along mountainsides at a leisurely, stress-free pace.
Gobi Desert
The Gobi Desert might be arid, but it is awesome – a sprawling patchwork of desert basins and mountain ranges punctuated by fascinating rock formations, mammoth sand dunes and hot springs. The incredible pink and white limestone cliffs that mushroom up and out from the surrounding sands at Tsagaan Suvraga is just one of the natural phenomena you can encounter.
Festivals
Racing, wrestling, archery and of course the warrior spirit of Genghis Khan all collide in Mongolia's colourful and captivating calendar of festivals, which are all at once a sort of tipsy blend of the Olympics and Christmas Day. Top of the tree? Mongolia's Nadaam Festival, a riotous affair that combines traditional sport, lashings of airag and loads of good old-fashioned fun.
Overrated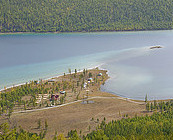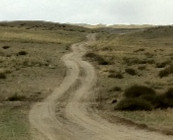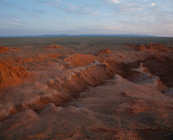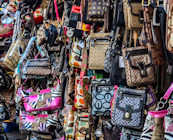 Lake Khovsgol
Known as the Blue Pearl, Lake Khovsgol holds 380 billion litres of freshwater, but is becoming grubbier because there are so many ger camps being developed around its edge. Add to this the imminent threat from sunken oil tankers that have broken through the frozen lake and sunk during its use as an ice road to Russia and you have a ticking pollution time bomb.
Long distance road travel
Driving about within the region that you're touring is all well and good; your guide will doubtless be behind the wheel of a huge 4x4 – pretty much the only way to tackle Mongolia's appalling roads. And they really are appalling: ranked among the worst in the world with an appearance that can only be described as regularly carpet-bombed. Pick a cardinal point and stick with it.
Flaming Cliffs at Bayanzag
Unless you're a budding paleontologist, a visit to the Flaming Cliffs at Bayanzag isn't necessary to appreciate the splendour of the Gobi Desert. Dinosaur fossils have been found there, but it's a bumpy five hour drive to get to and oddly, it's not officially protected, so litter, sandstone being broken off by tourists and surrounding saxual forest being used for firewood are not uncommon sights.
Naran Tull Market
There is nothing appealing about the Naran Tull Market, a dark, dank and mostly concrete market that's too loud, brash and full of fakes to be remotely authentic. It's also notorious for pick-pockets and bag slashers, so a thoroughly avoidable shopping option – your money is much better spent on local handicrafts from people that need it and work hard to produce them.
Food, shopping & people
---
Travel like a local on your Mongolia vacation
Eating & drinking in Mongolia
---
Vegetarians take note: if it derives form cattle, sheep, horses or yaks, Mongolians eat it; so named 'vegetable soup' is full of meat, but for one green ingredient.
'Airag' = Mongolian moonshine. Strong and dangerous, but beats another cup of salty tea.
'Tsagaan idee' are traditional dishes made from dairy as the inclusion of milk in Mongolian food denotes kindness.
'Boodog' is a speciality made by cooking a whole carcass from the inside using hot stones.


14 million more people live in the

Netherlands

than in

Mongolia,

but you could fit the

Netherlands

into

Mongolia

37 times

.
People & language
---
Rural Mongolians are among the last living nomadic people in the Northern Hemisphere and the country is not inhabited by one single ethnic group, the Mongols, but by over 20 subgroups including the Khalkhas and the Kazakhs, who all co-exist in harmony, mainly due to the god-fearing, peace-loving Buddhist religion that unites them. Importantly, Mongolians speak Mongolian and not Chinese as many people think.

When you meet a Mongolian stranger, smile, nod your head and say "sain bain uu?"
Mongolians meeting one another will not kiss on the cheek; instead the elder person will grasp the head of the younger and smell their hair or face.
Gifts & shopping
---
New Way of Life
in Ulaan Bataar is a quilting and design centre established to help unemployed poor women how to quilt – purchase one of their unique pieces and you're directly supporting local enterprise.
Mary & Martha is the only recognised Fair Trade shop in Mongolia and sells beautiful local handicrafts made from cashmere and felt.
Nomadic herders let no part of their beloved cattle go to waste - you can pick up intricate bone art and inscribed leather purses and wallets from local tribes for as little as £1.
No one knows what

Genghis Khan

looked like; flattering myth has made him tall with a

flowing head of hair

and a

bushy beard
How much does it cost?
---
Bus ticket: 20p

Kilo of fruit: 95p

Basic lunch: £1.25 - £2.50

Bike rental: £9

Bottle of beer: 95p
A brief history of Mongolia
---
Spanning 5,000 years, the history of Mongolia is anything but brief, but the bones are that until 1206 when Chinggis Khan (who we know as Genghis) founded the Mongol Empire, large numbers of ethnic tribes had inhabited the country, factions of which occasionally formed confederations that rose to prominence.
Read more ▼