Best time to visit North East India

North East India has a monsoon climate with rains ranging from heavy to
really
heavy; avoid June, when the downpours reach their most torrential.

The best time to visit North East India is outside the monsoon, which affects the region from June to September; June is the wettest month. Then, it's a case of checking the weather in the states you plan to visit; as this is such a large area, temperatures and climates vary. There can be a difference of over 10°C between the foothills of the Himalayas in Sikkim or Arunachal Pradesh, for instance, and the plains bordering the Brahmaputra in Assam, where it can hit a sticky 34°C. As a general rule, November to March is the driest and therefore the best time to visit North East India.
North East India month by month
January and February are good months to visit Meghalaya, Assam and Nagaland, with average temperatures at lower elevations in the mid to high teens centigrade. Up in Gangtok in Sikkim it's colder, with temperatures around 6°C or 7°C, but clear skies. The only region that receives heavy snow is the higher parts of Arunachal Pradesh, in the Tawang area, making it hard to reach in January and February, although tailor made trips do still run now. Late February, March and the first week of April are great times to visit Kaziranga National Park, as this is when controlled fires are lit to burn back the elephant grass, and visibility in these cleared areas is good. Trekking around Sikkim and Darjeeling is best in March and April, September and October, outside of the rainy season, with clear skies and sun, and before the deep cold of winter. May is heating up around the region, with Nagaland averaging a pleasant 20°C, Assam in the mid 20°Cs and Gangtok in Sikkim hovering between 13°C and 23°C. The monsoon rains fall in June, July, August and early September in North East India. June is the wettest month throughout the region, and July tends to be the hottest, hitting the low 30°Cs at lower elevations in Assam and Meghalaya, and the mid 20°Cs in Nagaland and Sikkim. In Meghalaya, the town of Cherrapunjee, at the top of a high plateau overlooking Bangladesh, was the wettest place on earth until recently, when climate change skewed things. It gets a massive 1,145cm of rain a year. The average rainfall in the Brahmaputra valley is around 200cm. During the rainy season, Kaziranga National Park is closed for four months from the end of May, reopening at the start of October. The Hornbill Festival in Nagaland runs in the first week of December each year and tours to see it depart in late November.
Our North East India Vacations
Gangtok, Sikkim Weather Chart
Our top North East India Vacation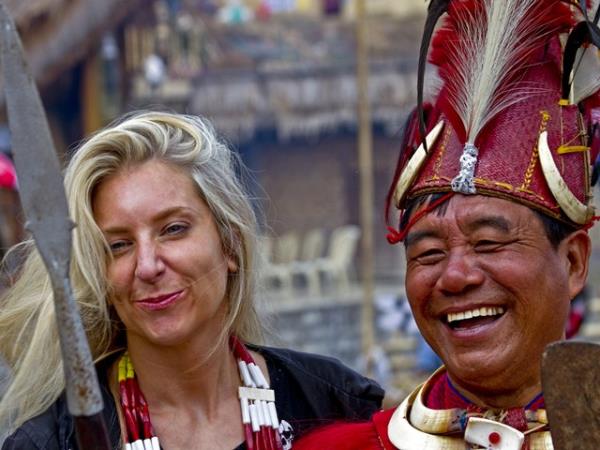 Wildlife, tribes & rural life in Assam, Nagaland & Manipur
From US $3495 15 days ex flights
Small group travel:
2023: 22 Nov
If you'd like to chat about North East India or need help finding a vacation to suit you we're very happy to help.

Things to do in North East India
Things to do in North East India…
Discover local culture. North East India is one of the most culturally diverse places on the planet, home to hundreds of tribes and various communities and religions. Culturally sensitive organised tours allow you to meet local people, to understand everything from their faiths to their farming practices. Visit a Mising tribal village for an insight into rural life in Assam and stay with a Lepcha tribal family in western Sikkim, learning about how they keep bees. In Meghalaya, meet indigenous animist communities, and also the Khasi, who now practice Christianity, and have constructed extraordinary living root bridges in their sacred forests. In Nagaland's Mon District, visit the Konyak Naga tribe, whose tribal elders have tattooed faces, and were once known to be fearsome head hunters.
North East India is distinct from the rest of India and too remote to be on any tourist trail as yet. There's little public transport and roads can be poor, so traveling as part of an organised small group or tailor made tour is the easiest way to get around. Specialist vacation companies will have built relationships with local people and tribal groups, too, providing introductions and insights that are hard to pull off as an independent traveler.
Take in a festival – the perfect way to round off a culturally immersive tour of North East India. The region's most famous extravaganza is Nagaland's Hornbill Festival, each December, which brings together tribes from around the state to perform traditional dances, games and ceremonies.
Things not to do in North East India…
Culturally immersive vacations like those running in North East India demand cultural sensitivity from you, the traveler. Don't photograph anyone without first requesting their permission, and dress modestly when visiting remote villages.
Don't forget your walking boots. Most exploration of North East India involves a little hiking. Small group trekking vacations explore the Eastern Himalayas, but even cultural tours will include some tramping about, whether that's through the sacred forests of the Khasi people in Meghalaya to see their amazing living root bridges, or simply to a monastery, lake or viewpoint.
Trips to North East India go big on cultural immersion, exploring this region's diverse tribes, religions and traditions, but don't overlook the wildlife. In Sikkim, hike to Maenam Wildlife Sanctuary to see deer, fox and rare red Panda. In Assam, Kaziranga National Park has a thriving population of one-horned rhinos, as well as tigers. Elephant safaris still operate here, in Kaziranga's Central Sector, although these are usually optional. At Responsible Travel, we no longer promote elephant rides in wildlife sanctuaries and parks, but currently make an exception for elephant safaris in national parks where other, more highly endangered species are involved, such as tigers and rhinos. Read about our stance on elephants and conservation.
Don't forget that Indian government permits are required for travel to Sikkim and Arunachal Pradesh. Allow at least three months to get one. Contact the respective state liaison office or the Bureau of Immigration – India for the latest guidance.
North East India travel advice
Sunita Ramanand from our specialist vacation company, Travel the Unknown, knows North East India well and has this advice:
What to expect
"North East India is still one of those places fairly untouched by tourism. Anything beyond West Bengal feels very far away, and the people look more Indo-Chinese or Indo-Burmese, so they are quite different. Also, in terms of food, culture and language this region is different. Even three or four years ago there was very little tourism here, very few domestic tourists at all, so local people are intrigued by what has brought you here. It is very rustic in some ways, but that's the beauty. It's not crowded and the pace of life is rather slow. You won't find architecture or grand monuments here, but it's very green, and there is lots of wildlife and natural beauty. There are tribal communities, too, although many young people are now leaving them to find work or an education in cities. They don't want to continue farming or living remotely."
Insights on infrastructure
"The infrastructure is not developed, this is slow to change. This region never got its due, not like the north and south of India. This has worked in its favour in some ways, but against it in terms of infrastructure, which is not the same standard as the rest of the country. But in terms of education, the percentage of people receiving an education here is much higher than in other parts of India and people are more forward looking."
Shifting attitudes
"In the past, people feared this region. I spent a lot of time there when I was growing up, but anything beyond Assam and the tea estates was feared. There were head hunting tribes! When you don't know much about a region and the only thing you do hear about it is that the people there are headhunters and cannibals, you form that image and you don't want to go!"
Why book an organised tour?
"This is not one of those places to travel around independently. You can't just go and pick up a taxi at a hotel or train station. Most people do speak English but it's safer to have something organised, so if you have any breakdowns you're not stranded. WiFi and phone networks are often only available in hotels so it's good to have the back up of an organised tour."
Food advice
"The food here is mostly boiled and bland: veg, meat and a lot of rice. It's not great for a vegetarian, although hotels can cater for vegetarian and gluten free diets. The one thing that is popular throughout the region is Tibetan momos [dumplings]."
Safety in North East India
"There was an FCO warning about Manipur, which related to insurgencies along the Myanmar border, which were mainly around Bangladesh. These were worse during the time of the Rohingya refugee crisis, but today we have no difficulties traveling in Manipur."
North East India advice from travelers
At Responsible Travel, we think the best people to advise our travelers are often... other travelers. They always return from our tours with packing tips, weather reports, ideas about what to do, and opinions about what not to.

We have selected some of the most useful North East India travel tips that our guests have provided over the years to help you make the very most of your vacation, and the space inside your suitcase.

If you have a connecting flight through an Indian airport remember to collect your luggage, go through customs, and check it back in!!

"Pack light and don't expect luxury but enjoy the peace and wonderful hospitality." – Pat Willis

"Driving on the roads was also either thrilling (the views) or terrifying (the conditions). Luckily our driver was highly skilled. Don't always expect seat belts by the way. Be prepared to be welcomed enthusiastically. And remember to take warm clothes. It can get chilly up in the mountains." – Katherine van Haeften

"Take a universal fit sink plug and secure your soap overnight when staying in the bamboo hut on Majuli Island otherwise it will disappear All the local people we met were very proud to 'show and tell' whatever they could about whatever they were doing. This included young women harvesting rice, a lady making terracotta pots without a wheel, a hotel chef and a village blacksmith proud of the rifle he had made. It was very clear that people with the least to offer had the most to give and our modest 'rupee donations' to village families in appreciation would benefit in some small way." – Terry Chambers
More about North East India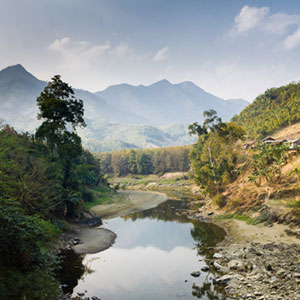 Physically remote and often overlooked, the eight states that make up North East India have much to offer any traveler keen to explore beyond the Taj and tigers.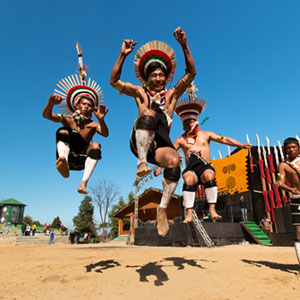 The festivals held by tribes in India's remotest regions provide a fascinating insight into their unique traditions, and are the glue that keeps many tribal communities together.