Where to go walking in Norway
Norway is wilderness on a grand scale, with some of Europe's most exhilarating landscapes. Many walking vacations focus on the south, which offers an immense variety of terrains, from the bare landscape and wild mountain peaks of Rondane National Park to the dramatic fjords of Breheimen National Park. In the north, the Lofoten Islands lure walkers with their white sands, pretty clapboard villages and Arctic light. Traveling in Norway is easy. There's an excellent public transport network, so while some walking vacations come with transfers from Oslo or Bergen, in many cases you make your way to the starting point yourself. Most walking trips take place purely on foot with little to no driving involved. Read on for further detail on our Norway walking vacation highlights.
1. Aurlandsfjord
Norway's fjords are incredible works of nature which will leave you open mouthed in awe, and Aurlandsfjord is considered one of the wildest and most spectacular. Branching off from the Sognefjord, the world's second longest fjord, it stretches over 17km and is popular with walkers for its waterfalls, snow dusted mountains, and picturesque farms which appear to cling to the mountainsides.
2. Breheimen National Park
Breheimen National Park has a jagged and untamed landscape, thanks, in no small part, to the Jostedalsbreen – mainland Europe's largest glacier. As you'd expect, the fjords within Breheimen are absolutely stunning with the UNESCO listed Nærøyfjord, an 18km offshoot from the second longest fjord on the planet, Sognefjord, making for one of the world's most scenic ferry journeys.
Fulufjellet National Park
3. Fulufjellet National Park
Connected to a national park in neighbouring Sweden, this lesser known park is fantastic for spotting wildlife. It's set in Norway's Hedmark county, which has the country's largest population of moose and second largest number of bears. You'll also find wolves, lynx and wolverines, and large wood ants, as well as a huge variety of birds, including golden eagles and grouse.
Jotunheimen National Park
4. Jotunheimen National Park
Mountains and 60 glaciers dominate a wilderness mecca dubbed 'Home of the Giants', with 275 peaks above 2,000m including northern Europe's highest, Galdhopiggen. Hiking routes take in deep ravines, plunging waterfalls and glassy lakes – plus Norway's most popular route along the Besseggen Ridge. Ibsen mentioned it in Peer Gynt as having an "edge like a scythe".
5. Lofoten archipelago
Fishing hamlets of red and yellow clapboard dot this magically diverse
northern archipelago
. Startling white sands fringe Flakstadoy, while spiky Moskenesoy is an island out of Tolkien. Spread across several islands, Henningsvær is known as 'Lofoten's Venice'. Museums range from dolls to Vikings, while atmospheric galleries showcase the myriad artists inspired by Lofoten's stunning Arctic light.
6. Rondane National Park
This landscape of bare plains, thick forest and sharp mountain peaks stretching over 2,000m was the first designated national park in Norway, and was listed in 1962. It's now one of Norway's best loved hiking areas, and the perfect place to experience the mountains and highlands of the east. As well as hiking, there's room for off-road biking, horse riding, rafting and river kayaking.
Our Norway walking Vacations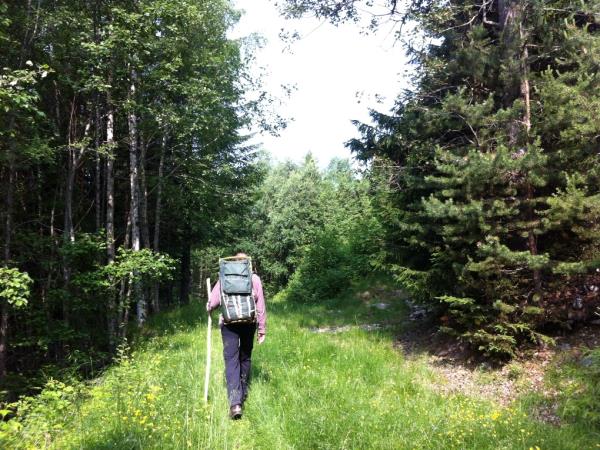 Hiking through Norwegian history
From
NKr

8700
6 days
ex flights
If you'd like to chat about Norway walking or need help finding a vacation to suit you we're very happy to help.

Norway walking vacations advice
Norway walking vacations advice from, from our leading supplier, Hilde Rindal at Discover Norway
How hard is it?
"Hiking in Norway can be more demanding than what you are used to. Mountain paths are steep, rocky and narrow, and a common day trip is about seven hours. Norwegian mountain areas are more desolate than most foreigners expect. The weather is unstable and that can make it even more demanding."
Packing tips
"Our guests always get an equipment list before they leave home, and they must be prepared for all kinds of weather. For the outdoors we recommend underwear (short and long, Norwegians prefer wool), a warm sweater or fleece, wind and rainproof trousers, a wind and rainproof jacket, a hat, mittens, a thin scarf or buff, shorts, and hiking boots."
Where to walk in Norway
"There are different things to take into account. First, you have to choose what else to see in Norway, and where to visit. Hikes can be combined with other activities and sights. There are nice hikes and great scenery everywhere, not only the highlights and the highest mountain peaks. The Fjord Coast and Northern Norway is popular, but also crowded. You will find the highest peaks in the national parks in Eastern Norway."
And a tip from one of our vacation reviews:


"We didn't need torches as we went in the last week in June when it is light 24/7, but a plane-style eyepatch would make sleeping easier. We camped in total isolation, and didn't see another human being. We used water from the crystal stream heated over a wood fire. We trekked and trailed the wildlife."
– Julian Walford, on a Norway walking safari vacation
More about Norway walking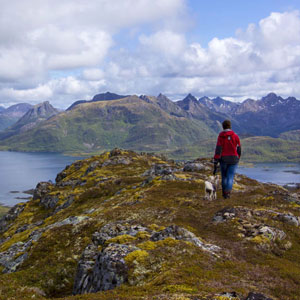 Our Norway walking vacations guide offers insight into what this type of trip entails as well as providing practical information on the best time to go on in terms of temperature and rainfall.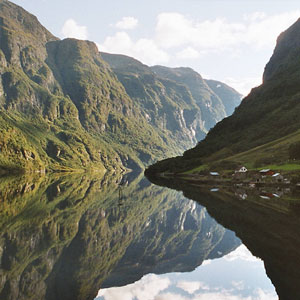 This guide to walking in Norway explores the awe-inspiring region of Fjordland, sculpted by glaciers over millions of years, and fills you in on what to expect while you're there.