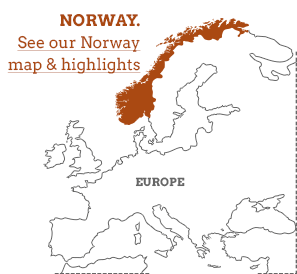 Continental Europe's largest ice cap is here. Ditto its highest and largest plateau. And the world's longest ice-free fjord, northern Europe's highest peak plus four of the world's highest waterfalls. You get the picture – or hundreds of them. Norway is a geo-blockbuster, laced with colourful myth (all those trolls...) The earth itself plays tricks here. Strange lights float magically around valleys that may just be remarkable 'natural batteries'. Wonderfully-named Fata Morganas muddle senses, turning sharp Nordic light into startling mirages over land and sea. The Northern Lights dancing above Arctic snowfields seem almost everyday...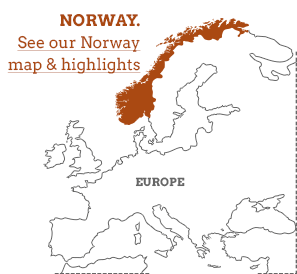 Norway is landscape as epic drama: glacial highlands, gorgeous archipelagos, arctic tundra and stunning fjords cleaving 2,500km of coast.

Norway's bestiary is equally unforgettable, thanks to its Arctic outpost, Spitsbergen: polar bears and walrus, snowy owls and king eider, 2m-wide king crab, Ice Age musk ox. Any Norway travel guide will make a place for human markers too – ancient Sami, bold Vikings, medieval merchants, hardy farmers and brave Arctic explorers. Norway is rich in every way.
Norway is...
... a unique wonderland that will linger long in your memory.
Norway isn't...
... just like all those other Scandi places, but with more money.
What we rate & what we don't
Aquavit
Norway is the HQ of Nordic firewater, producing over 50 lip-smacking aquavits infused with earthy herbs and spices - many distilled to pair with specific foods like lobster or shrimp. With 500 years of history, it's a venerable spirit. One of the best is Linie, uniquely mellowed on slow voyages to Australia and back in gently sloshing shipboard casks.
Alesund
Bergen is better known but Norwegians often vote Alesund their most beautiful town, as well as one of the country's gourmet hotspots. Dropped twixt ocean, islands and Norway's best fjords, its USP is the world's finest concentration of ravishing Art Nouveau buildings, built after fire destroyed almost all of the old fishing town one night in 1904.
Winter festivals
On Spitsbergen locals brighten the long months of Arctic winter darkness with two unique music festivals:
Polar Jazz
(late Jan/early Feb) and
Dark Season Blues
(Oct). Sun Fest Week celebrates the island's end of winter darkness in early March. Back on the mainland in Tromso, meanwhile, February sees reindeer racing and lassoing hit the streets during
Sami Week
.
Ferries
We don't just mean the iconic Hurtigruten coastal service which for decades has provided year round transport along Norway's vast coastline. Far up lovely fjords, little workhorse boats are part of Norway's soul, hinterland links offering wonderful vistas and cheery ambience - and which save hikers and bikers huge distances going around the water by leisurely chugging across it.
Fjords
The fjords have won galactic acclaim – well, if you believe their reputed designer Slartibartfast in The Hitchhikers' Guide To The Galaxy! UNESCO pick out Geirangerfjord and Naeroyfjord, but other gems include Lofoten's Trollfjord and Vestfjorden, the multi-spur Hardangerfjord, Spitsbergen's majestic Magdalenefjord, and Lysefjord - site of the famous Pulpit Rock viewpoint.
Lofoten Islands
This northern archipelago drops red clapboard fishing hamlets amid blue ocean and sharp peaks, the air a pure salty distillation of coastal bliss. With bridges linking main islands, tourism vies with cod as savvy hikers and cyclists follow artists who long came for the dazzling Arctic light. Viking heritage is gloriously recalled by the Lofotr Museum on Vestvagoy.
Stave churches
These unique Norwegian houses of worship pay homage to Viking woodworking mastery as Christianity displaced Norse gods. An incredible 2,000 or so stave churches were built between 1150 and 1350, adorned with intertwined animal figures nodding slyly to old beliefs. Today, only 28 remain – the most famous, Urnes by Lustrafjord, Heddal at Notodden, and Borgund near Flam.
Spitsbergen
Most go in summer to an island where polar bears considerably outnumber people, Arctic foxes chase guillemots, and giant walrus roar by stunning fjords. Old mines and atmospheric research stations offer human markers amid glaciers, ice plains and sharp mountains. In the months of Arctic night, scout for aurora - or enjoy cosy bars, little museums and cracking music festivals!
Whale meat
Norway continues to defy global opinion over commercial whaling, killing 1000-2000 whales a year for meat – much of it aimed at curious tourists in search of novel dining. Whalers cite tradition and also claim their prime target – minke whale – is abundant. We disagree. If you want to eat something distinctly Norwegian try elk/moose.
Troll merchandise
Norway's trolls boast long history and a distinctive mythology. But the plastic gaudy troll dolls hawked in way too many shops are more ugly than the slimiest Nokken or any of their multi-headed cousins. One leading troll doll producer boasts their wares are unbreakable. We think that's a challenge worth taking up...
Black Metal
Norway is big on black gold (oil) - and black metal too. For those not au fait with modern sonic genres, this is a kind of music characterised by shrieked vocals delivered by corpse-painted guys playing fast distorted guitar. Personal taste aside, the scene has also been linked to racism, arson and murder. Nice.
Fjord cruisers
Cruise ships are a common sight in Norway's most high profile fjords. But when a liner turns up, tiny settlements like Geiranger can be ruined by crowds and noise. As for pollution, we just hope ships obey Norway's strict rules banning discharge of sewage and grey water close to land, plus cleanliness regulations for ballast.
If you'd like to chat about Norway or need help finding a vacation to suit you we're very happy to help.

Eating & drinking in Norway
Much of the salt cod devoured in Iberia, South America and the Caribbean is caught and salted in Norway.

Reindeer is a classic Nordic meat, either roasted (reinsdyrstek) or in a hearty Sami stew (bidos). You may also wish to try elk/moose (elg).

Grilled or smoked Norwegian salmon (laks) is not only delicious but relatively cheap too!

Amber-coloured cloudberries (molteboer) are delicious in sauces or jam.

In 1934, a huge landslip into Korsnaesfjord created a 65m tidal wave that claimed 40 lives in local villages.

People & language
Most Norwegians speak English, from very useful standard to excellent. Basic Norwegian, however, includes God dag(hello), Ja (yes), Nei (no), takk (thanks) and Vaer sa snill ('veyr saw snil') for please.

Written Norwegian comes in two (similar) forms: Bokmal (literally, 'book language' – the main city choice) and Nynorsk ('new Norwegian' – commoner in rural spots).

Friluftsliv is a concept dear to Norwegian hearts – literally 'free air life', an appreciation of how simply being out in natural clean air is good for the soul.
Gifts & shopping
Linie aquavit is a memorable taste of Norway, uniquely mellowed by a long sea voyage in casks to Australia and back!

Traditionally-made wool jumpers will keep you snug – though top makes don't come cheap.

Little marzipan pigs are a quirky Norwegian Christmas sweet treat.

Since the 18th century, Norwegian rural crafts folk have painted colourful Rosemaling designs onto wooden objects – a flowing mix of stylised floral motifs with geometric elements and nods to architecture and landscape to brighten up any mantelpiece.

While most Nobel prizes are awarded annually in Sweden, the Peace Prize is administered by Norway and presented in Oslo.

How much does it cost?
Meal for two, three courses, mid-range restaurant (without alcohol): £75

Half-litre (around a pint) of beer: £7

Cup of coffee: £3

Minipris cut-price advance intercity train ticket to almost anywhere in Norway: £23
A brief history of Norway
Once Norway led the way in Europe courtesy of Viking might. Today, oil wealth does the trick, as North Sea black gold has filled its national coffers since the late 1960s. With Nordic good sense, successive governments developed Norway's infrastructure, paid off the national debt, then spent the past two decades building up the world's largest sovereign wealth fund to ensure the well-being of Norwegians long into the future. Admirably, the fund only invests outside Norway (to avoid stoking inflation at home), and invests within strict environmental and human rights guidelines.
Read more