Winter vacations in Norway travel guide
Winter is coming, and the Norwegians can't wait. In Norway, the 'dark season' is anticipated with glee. After all, the dayless days in northern Norway bring reindeer stews, the country's preferred Olympics and gorgeous indirect light from a sub-horizon sun. And of course, no one does Christmas like the Norwegians.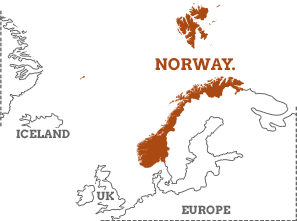 The powder looks as inviting as freshly-laundered bedding: time to strap on those snow shoes or shimmy onto those cross country skis.

The question everyone asks if you say you're going to Norway in winter is always the same: will you see the Northern Lights? Well, you'll certainly try. Set your aurora alarm and prepare to be dragged out of your tent by this luminous late night visitor. In fact, some people come to Norway just to capture the special quality of the winter light on camera. You can also embrace the Norwegian passion for winter sports. After all, this is a country where people commute on cross country skis and channel their inner Amundsens as they float on snow shoes. You'll quickly learn to love winter as much as your hosts do.
Our norway-winter Vacations
Go on a winter vacation in Norway if...
You think it's cool that the country's national sport is cross country skiing, and you're prepared to be significantly worse at it than the Norwegians.
You're the kind of photographer who gets excited about 'golden hour'. Prepare to be blown away by 'blue hour', where cerulean snow contrasts perfectly with the warm yellow cabin lights.
You don't mind taking a tumble. Norwegians are proud to be 'born with skis on their feet', but some of us are just starting out. Snow shoeing is relatively easy, but husky sledding and cross country skiing both have steep learning curves. You'll soon get the hang of it, but be prepared for a few snowdrift-related incidents at first.
Don't  go on a winter vacation in Norway if...
You're afraid of trolls. Or Vikings. But especially stories about trolls and Vikings. According to Norwegian folklore, the end of the world (Ragnorak) will be preceded by three years of winter known as fimbulwinter. You're a cat person. It's all about dog sledding up here. Imagine a pack of fifty friendly Alaskan huskies sleeping in the snow outside your ski hut on Spitsbergen, all with one ear out for polar bears. You want reliable weather. Yes, clear-cut blue sky days are a thing in early spring, but the weather can change from sunny to sullen with the alarming unpredictability of a trollish teenager. No wonder Norway has such accurate weather reports.
Our top norway-winter Vacation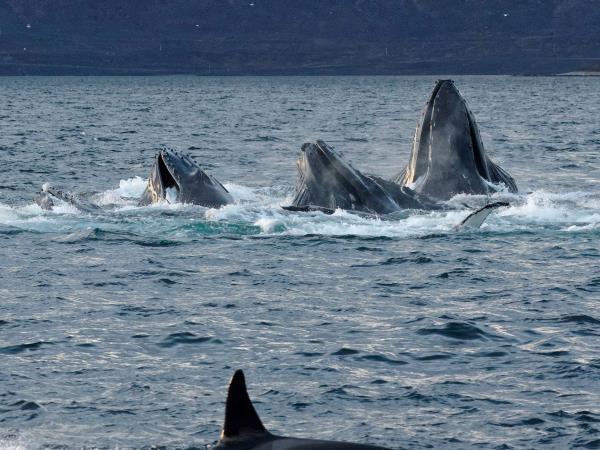 Far North. Far East. Whales and Northern lights.
From
NKr

13900
5 days
ex flights
Small group travel:
2023: 24 Nov, 29 Nov
2024: 12 Jan, 17 Jan
If you'd like to chat about norway-winter or need help finding a vacation to suit you we're very happy to help.

Norway winter vacation map and highlights
Norway extends a long way north above Oslo. Finnmark is its northernmost mainland province. Seven degrees of latitude further up you'll find the Svalvard archipelago, a kingdom ruled by polar bears. The further north you go, the longer the dark polar nights are, but it's not necessarily colder. Norway's climate is tempered by the Gulf Stream, so inland Norway can be freezing, but the coast stays mild – meaning you can enjoy the Lofoten and Vesteralen Islands, and look out for whales on boat trips, not icebergs. You don't have to go too far north to cross country ski inland. Try Lillehammer, Golsfjellet and around Lake Mostravn.
1. Finnmark Plateau
The Finnmark Plateau is right up at the top of Norway, and covers a huge part of Finnmark province. In the winter, it wears a hard hat of packed ice and snow which is perfect for dog sledding. With the lone and level snow stretching as far as the eye can see, a journey here feels all kinds of epic.
2. Lillehammer
There are some 2,500km of ski trails around Lillehammer and heaps suitable for cross country skiing around Nordseter, Sjusjoen and Rena. This makes sense once you recall that it's a former Olympic Village (for the winter ones, held in 1994). Ski hut to hut along the Troll Trail, or try the Peer Gynt Trail, which links Espedalen and Skeikampen. Both are famous way marked routes, popular among experienced ski tourers.
3. Lofoten Islands
Kept at a civilised temperature because of the Gulf Stream, this string of beautiful arctic islands gets very quiet in winter, unless you're a fisherman, in which case you'll be undertaking an enormous cod harvest. Only a few intrepid photographers will make it down to Reine, where they can hone their low-light photography on some stunning subjects. You might even be able to photograph the aurora.
4. Lyngen Alps
Deep within the Arctic Circle on mainland Norway the beautiful Lyngen Alps surround Lyngenfjord, rising high and mighty above the water. Stay fjord-side in a charming little lodge, pop your felt slippers on, and wait for the Northern Lights to make an evening appearance. This is one scenic place for a light show, but you can also sled along with a horse or dog team. Jingle all the way.
5. Svalbard
There aren't any trees on Svalbard. But who needs trees when you've got walruses dolloped onto ice floes, ice caves corkscrewing into glaciers, and the promise of polar nights and aurora borealis? The remote Norwegian islands are best visited at the end of winter as the sun only rises again on 16 February. Spotting wildlife is rare in winter, but dog sledding and ice caving are on the agenda for the intrepid.
6. Tromsø
It's relatively easy to reach the little arctic city of Tromsø, making it a great gateway for those in pursuit of the aurora borealis. Factor in a mild climate and stable weather, and it's one of the best places to keep your eyes on the skies. But Tromsø isn't just sitting in the dark waiting for the lights to come on. It's also home to a fascinating Polar Museum and the arctic cathedral.