Norway winter tips and advice
Tom Wilkinson from our supplier Exodus, has this advice:
Bad weather
"The first thing I'd say is to remember the old adage they use in Scandinavia that there's no such thing as bad weather, just bad clothing. Take the right gear and you won't be cold. Also don't worry about weather causing travel chaos, that's only the UK!"
What to pack
"Take lip salve and moisturiser, but be careful on the waterbased stuff, it can freeze! Also, people underestimate what a good workout cross country skiing is. Take lots of layers so you can ditch a few as you heat up, and pop them back on when you stop. The time of year will dictate this a bit too in terms of temperatures. When it warms up you may well only need something to cover your ears, for example, rather than a full on bobble hat. You can cross country ski in a t-shirt at times! Take sunglasses rather than ski goggles."
Traveling responsibly
"A person's right to enjoy the countryside is enshrined in law in the Nordic countries – it's called the 'right to roam'. This is probably less relevant in winter as you're not going to be camping out, but there are rules on what you can and can't do – all pretty simple in terms of rubbish disposal. You'll be out in the wilderness a bit, so obvious things like keeping hold of any wrappers until you're back at the hotel or lodge. Take a thermos and a water bottle, so you can fill up rather than buy new. Most places will allow you to fill up a thermos in the morning before going out skiing."
Our norway-winter Vacations
Britt Elton from our supplier Discover Norway explains why winter can be the best time to visit Norway for cross country skiing: "Norway is one of the few countries offering cross country skiing from hotel to hotel. It is relatively level terrain, with magnificent views in places like the Jotunheimen National Park and Rondane mountains. Eastern Norway has very good snow conditions from mid-December to mid-April."
Geraldine Westrupp, founder of Wild Photography Vacations, on photographing the Lofoten Islands: "The aurora's always a hook. As soon as we offered an aurora trip we realized we were onto a pretty hot thing. But the aurora is just part of the landscape for us, and there's no point shooting in a place that doesn't have good landscape to back it up. If there's no aurora you need to have good landscape as well for photographers. They often come along for the aurora, but then find that actually, the landscape is just as beautiful as shooting the aurora. So the Lofoten has that. It has interesting fishing villages, sheer mountains that come out of the sea, fjords… it's just very beautiful."
Our top norway-winter Vacation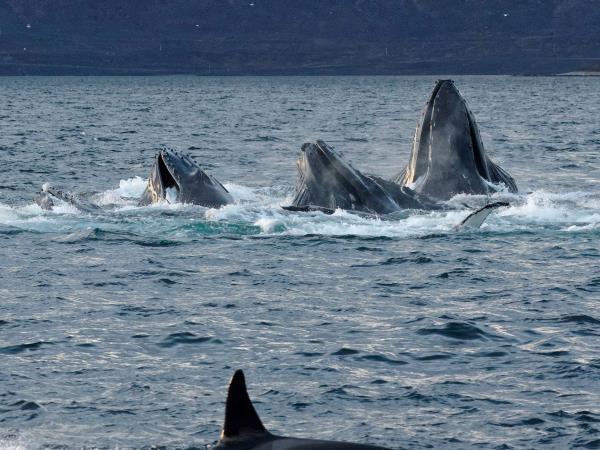 Far North. Far East. Whales and Northern lights.
From
NKr

13900
5 days
ex flights
Small group travel:
2023: 29 Nov
2024: 12 Jan, 17 Jan
If you'd like to chat about norway-winter or need help finding a vacation to suit you we're very happy to help.

Advice from our travelers
At Responsible Travel, we think the best people to advise our travelers are often... other travelers. They always return from our tours with packing tips, weather reports, ideas about what to do – and opinions about what not to.

We have selected some of the most useful Norway winter tips that our guests have provided over the years to help you make the very most of your vacation.

If you wish to take photos of the Northern Lights, make sure you read up about how to do it before leaving home; particularly, ensure you have a tripod and a camera which is capable to taking exposures of up to 30 seconds.

"The weather is very unpredictable in the Arctic in February. You don't need 'nice' weather to enjoy the photography but it can also be very wet and windy for several days on end. Don't set expectations too high. Shoe 'grippers' and a very sturdy (ie not lightweight travel) tripod are essential." – Carol Clarke booked a Lofoten Islands winter photography vacation in Norway

"One day, we had a heavy snowfall. According to the weather forecast it was going to clear up around sunset hour. We stayed in the van and had lunch in the storm. The experience itself was quite fascinating. The sky was all gray and windy. But miraculously, it did get cleared up within minutes right around sunset hours. Because of the decision to stay, we had one of the most beautiful sunset shots on the beach. It was the first time that I realize the ocean water can be in an emerald green colour instead of deep blue. The water was so clear in the shots that I can almost see through to the bottom." – Vivien Zheng booked a Lofoten Islands winter photography vacation in Norway

"hellvete" in Norwegian are broad, deep pits carved out in gorges where streams flow; in winter they become a fantastic cathedral of rock and ice and you can reach their bottom.

"Take gaiters. They're not on the kit list but you will need them for any off track. Bring your own alcohol. You don't need to bring your own tea or coffee. There is no day off on the 8 day trip. There is a free ski bus down to Rukjan if you want to visit the town. Bring a packed lunch for the flight out." – Catherine Harris booked a cross country skiing vacation in Norway

"Go slightly later in the year than we did to ensure longer daylight hours... Don't expect to see whales, they haven't been seen in the seas around Senja for some years." – Richard Seaby on a Norway Northern Lights vacation, Senja Island

"It was fun being given really good cold weather clothing so that we could be out of doors happily for reasonably long periods. We were lucky enough to see the Northern Lights on our first try, which was very exciting, and the guide took a good slow shutter speed photo of us with the lights behind us, which is very hard to reproduce on a mobile phone when you have cold bare hands." – Vicki Wiles booked a Northern Lights Vacation, Norway Adventure