Contrary to popular belief, you won't say 'mush' to get your dogs to move. They'll follow a lead sled. What you will need to do is keep the sled balanced, and learn how to use the brake!

Rugby, Upton, Bristol, Millhill, Songster, Sandy, Mack, Mercury, Wolf, Amundsen… in his memoir, explorer Ernest Shackleton wrote down the names of all 69 of the dogs that came on his 1912 Antarctic expedition. Explorers know just how valuable their sledding teams are. If you love dogs, you'll love a dog sledding vacation in Norway.
Our norway-winter Vacations
What does dog sledding in Norway entail?
You could do a day of dog sledding as part of a larger trip, or you could go for a five day hut-to-hut expedition. On a longer trip you can even spend a night in a lavvo tent – a traditional Sami-style tent – snuggled in arctic sleeping bags and smothered in reindeer skins. You'll be accompanied by a professional dog musher, who's normally in training for a big race and you'll be in a group of no more than eight. You can dog sled wherever there's snow; some trips take place near Alta, in Finnmark, where you can go high up on the Finnmark plateau. You can also try the sport in the Svalbard archipelago.

Dog sledding is a demanding activity for both musher and dog team. You'll get full training and introduction to your sled and dogs before you start. If you do this vacation with a reputable operator, then you don't have to feel bad for the dogs. You'll soon realise that these specially-trained packs absolutely love to run. You'll have much more trouble getting them to stop than go. The driver of the lead sled will use voice commands to tell the dogs what's happening, but you won't be shouting 'mush!' as much as you'd think – your dogs will follow the lead sled rather than you. You'll notice you don't have a steering wheel on board, or an accelerator... you'll use your weight to counterbalance and steer, a brake to make sure the sled isn't moving faster than the team. You might need to get off the sled and push if the going gets tough, and you might take a few tumbles at the start of the trip (the sled might tip over on its side, and you with it), so you'll need to bring an adventurous spirit. A tip: relax and enjoy it. If you're tense, you'll tire yourself out.
As you'll soon find out, these trips are all about the dogs – they're your transport and your companions. They'll even be your guards: if you dog sled across Spitsbergen they will be your watchdogs against polar bears. It's up to you to take responsibility for your team, feeding them before you feed yourself and checking their welfare. You'll have to learn all their names and soon enough, you'll have clocked the troublemaker, the lazy one, the greedy one – and you'll notice that dog teams are a little competitive with each other.

Whilst you're sizing up your pack, they'll be doing the same to you. Your dogs might test you a little on your first couple of outings to see if they can trust you to drive them safely. Like any new team, you'll need to learn to work together and bond, so if a blizzard hits you can weather the storm with confidence. You'll find your dogs noisy, boisterous, excitable (especially when you're just about to set off, when they'll lead a deafening, raucous choir of barks and howls) but ultimately utterly dependable.
Our top norway-winter Vacation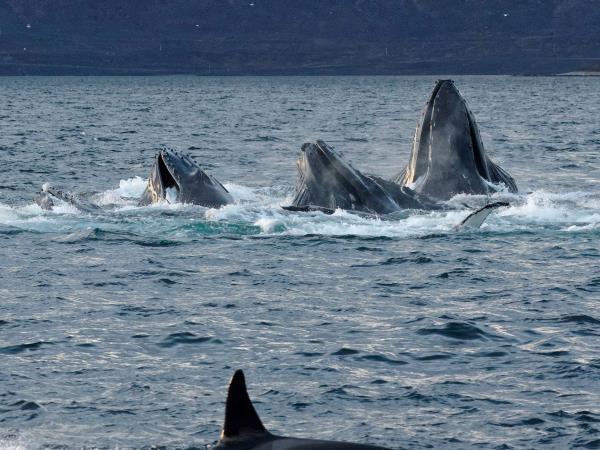 Far North. Far East. Whales and Northern lights.
From
NKr

13900
5 days
ex flights
Small group travel:
2023: 29 Nov
2024: 12 Jan, 17 Jan
If you'd like to chat about norway-winter or need help finding a vacation to suit you we're very happy to help.

The welfare of sled dogs is taken very seriously by their mushers – but it's important to travel with a trusted tour operator to make sure that dog welfare is the highest priority. Alaskan and Siberian huskies love to run, and are perfectly happy to sleep buried in the snow. They are strong dogs and can cover distances of up to 40 kilometres a day in the right snow conditions. To do this, they eat an extraordinary amount of meat every day. On race days, dogs can consume up to 12,000 calories. Because they love running, don't be surprised to see dogs kept chained or tied up when they're not pulling the sled. This isn't owners being cruel: the dogs might run away, or attack local wildlife if they're not contained or secured. They often wear little boots to stop balls of snow clumping between their toes. Some are even treated to a weekly dog spa to get their nails trimmed. If you can, try and time your visit with spa day, and treat your dogs to a pedicure.

Dog sledding vacations in Norway operate with minimum harm to the environment. They stick to trails, leaving nothing behind except for tracks. You'll get locally-sourced meals and use composting toilets and sustainably-sourced firewood.