Walking in Norway's fjordland
Fjordland runs around Norway's coastline, but is at its most dramatic on the spine of western and northern Norway. Some of these picturesque ocean inlets, such as the vast Sognefjord, are as long as 200km, as deep as the surrounding mountains are high and so wide they can only be crossed by ferry. Many countries have fjords of course, but it is Norway's that arouse the most fascination for their beauty and accessibility, as well as the sheer number of them: over 1,000, and protected by more than 40 national parks where almost no motor vehicles are permitted and you have the freedom to roam. It's an absolute paradise for walkers.
The name fjord originates from a Viking term meaning 'where you travel across' and in the past sailing up, down and across these outstretched fingers of water was the only way to get around. Guided walking trips in Norway are the best way to tackle this landscape, because getting your bearings as a newcomer in such a wild and fragmented place can be difficult. There are narrow channels branching off from the main fjords, mountain lakes, islands, glaciers and narrow peninsulas to navigate.
The walks here are diverse. You can admire the majestic scenery from a mountain peak, or feel it envelope you as you walk and sail through the valleys. Pounding waterfalls echo off the walls of canyons. Seals, porpoises and even whales can be seen swimming along the deeper fjords, and overhead eagles soar. Combined with the ever changing weather and the fact that once you get off the main tourist routes you have an atmosphere of complete silence and isolation, Norway's Fjordland makes a truly humbling backdrop for a walking vacation.
Our Norway walking Vacations
Walking among the fjords, it's easy to imagine this landscape having been forged by the gods of Norse mythology, populated by elves, trolls and valkyries. Or to picture Viking boats making their way across them, pulled ashore to cross between one body of water and another. Norway's Western Fjordland is a UNESCO World Heritage Site, and it is here that most walking tours are focussed.
Aurlandsfjord
A branch of the Sognefjord, the Aurlandsfjord is perhaps the most beautiful in Norway, which is quite something. It begins in the gorgeous village of Flåm and passes between steep, snowcapped mountainsides down which waterfalls tumble. Running through a nearby mountain range is the Lærdal Tunnel, the longest road tunnel in the world, at 24.5km.
Folgefonna National Park
Home to one of Norway's largest glaciers, Folgefonna National Park is a very popular place for hiking across rugged terrain. At lower levels you will often catch sight of red deer, while further up the mountainsides golden eagles prey on ptarmigans. Groups will sometimes walk on the glacier itself, a thick carpet of ice, while roped together and wearing crampons.
Jotunheimen National Park
The 'Land of the Giants', Jotunheimen National Park has more than 250 towering mountains forming a vast theatre of spectacle, where lynxes and wolverines prey on elk and reindeer. Man has been hunting here since the Stone Age and before, but today it is best known as a sought-after hiking destination, criss-crossed as it is with incredible walking trails. Scaling Norway's highest peak, Galdøpiggen (2,469m), is an option here – it's snow-covered but a relatively non-technical ascent.
Nærøyfjorden
The 'narrow fjord', measuring only 250m wide at some points, is regarded as one of Norway's most important natural treasures. Like the similarly idyllic Geirangerfjord, the Nærøyfjorden is UNESCO-listed and regally beautiful. Watch out for seals basking on the rocks.
Sognefjord
Fed by melting glacier water, Sognefjord is on a similar scale to the Grand Canyon. It's the longest fjord in Europe and ranks among the deepest, enabling cruise ships to sail freely along. Charming little hamlets dwarfed by the scenery line the fjord, which has a coastline of around 500km, more than the French and Italian Rivieras combined.
Trolltunga
The 'troll's tongue' is an iconic rock formation, a sheet of cliff that juts out of the mountainside 1,100m above sea level, looking out across Ringedal Lake. People come from all over the world to have their photo taken here and it's worth the hike involved for the romantic panoramic views.
Our top Norway walking Vacation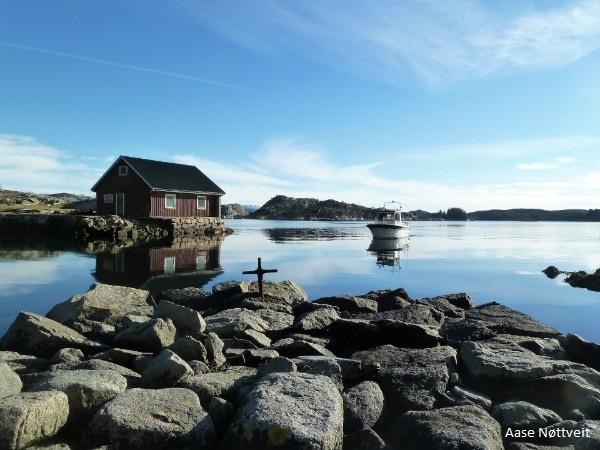 Experience the amazing Fjords south of Bergen
From
NKr

14550
6 days
ex flights
Small group travel:
2023: 11 Jun, 18 Jun, 25 Jun, 2 Jul, 9 Jul, 16 Jul, 23 Jul, 30 Jul, 6 Aug, 13 Aug, 20 Aug, 27 Aug, 3 Sep, 10 Sep
If you'd like to chat about Norway walking or need help finding a vacation to suit you we're very happy to help.

Best time for walking in Norway's fjords
Norway has a generally mild climate, where the weather is changeable but dramatic extremes in temperature are unusual. It's rare, but not unknown, that fjords freeze over in winter. January tends to be the coldest month of the year with daytime temperatures around 0°C to -3°C. Tailormade trips operate, allowing you flexibility in your travel dates, but the best time of year for walking in Norway is during the summer between June and September, and this is when most organised, small group walking vacations run. In July, temperatures are usually around 13°C. Western Fjordland is typically a few degrees warmer than that in the north.
"Very good. Well organised. Our guide was very professional and worked hard to deliver the itinerary, fill any free time with additional activities, and was very attentive and helpful especially as concerns blisters! Fitness is key but all the walks are doable. Make sure you have good boots."
– Sarah Dale on a Norway fjords hiking vacation.

You'll want to be in reasonably good shape for a walking vacation in Norway, but if you hike regularly you should be fine, as while the ascents and descents can be steep in places there is nothing too challenging involved. As far as footwear is concerned, you can't go wrong with a solid pair of walking boots or shoes, although on some trails you can easily get by with a pair of cushioned trainers.

Most Norway walking vacations are small group tours, led by experienced guides. They may be center based, staying in one accommodation throughout with daily walks spoking off in different directions, or point-to-point walks where your luggage is transferred by vehicle leaving you free to travel with just a light daypack. Trips will typically begin in Bergen, known as the 'Gateway to the fjords', staying in locally owned hotels, guesthouses and mountain cabins.


More about Norway walking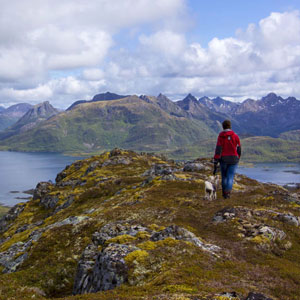 Our Norway walking vacations guide offers insight into what this type of trip entails as well as providing practical information on the best time to go on in terms of temperature and rainfall.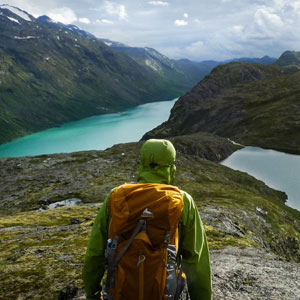 Our Norway walking vacation map and highlights will take you from the Arctic seas and scenic fishing villages of the Lofoten Islands in the north to the mountains of Breheimen National Park in the south.