BEST TIME TO SEE WILDLIFE IN NORWAY

Polar bears prowl over pack ice during winter while whales follow herring through Tromsofjords and white-tailed eagles wheel overhead.

The best time to go wildlife watching in Norway, around Spitsbergen in particular, is May-Aug. Polar bears inhabit these islands and pack ice, with
summer expedition cruises
offering chances to spot walrus, seals and migrating Arctic shorebirds. Arctic skrei spawning season signals a flurry of feathers around the Vesterålen and
Lofoten Islands
from Feb to April whilst the spring reindeer migration finds Finnmark's Sami herders heading back to summer grazing grounds closer to the coast. If you're looking for whales around Tromsø and Tromvik, head over in Nov or Jan; Dec is too dark.
WHERE TO SEE WILDLIFE IN NORWAY
Norway's philosophy for preserving nature is summed up in one word: 'Miljøvern' or 'enironment'. Conservation is considered a collective responsibility that perhaps stems from indigenous Sami communities and has grown into an ongoing love affair between Norwegians and the great outdoors. Notwithstanding the national parks of the south, serious wildlife watching in Norway is mainly undertaken in the north, with the northeasterly archipelagos of Lofoten and Vesterålen an essential feature of any wildlife watching small ship cruise. Head further north and the Svalbard islands are all that stand between Norway and the North Pole with the largest island, Spitsbergen, providing pack ice for polar bears to roam free beneath the midnight sun.
If you'd like to chat about Norway wildlife or need help finding a vacation to suit you we're very happy to help.

Our Norway wildlife Vacations
1. Polar bears - Svalbard
Svalbard bridges the gap between Norway and the North Pole, offering wild and rugged Arctic tundra - the ideal breeding ground for polar bears, Arctic foxes and seabirds, such as barnacle geese and snow buntings. The main island,
Spitsbergen
, encapsulates the wild nature of the Arctic, with walrus and whale sightings certain to ramp wildlife adventure levels way past eleven.
2. Puffins - Andoy Island
The fishing village of Bleik can be found on the northwestern shores of Andøy Island within the Vesterålen archipelago and features access to Norway's largest puffin colony on the nearby island of Bleiksøya. Chances to kayak, swim and hike in the shadow of Mount Røyken are absolutely unforgettable, matched only by a warm welcome at Kafe Jakobine.
Seabirds & Whales - Vesteralen
3. Seabirds & Whales - Vesteralen
The Vesterålen Islands are one of the prime nesting sites for Atlantic puffins with the protected nature reserve of Anda Island offering ample chances to spot harbour seals, guillemots and kittiwakes making the most of barren beaches and rounded rocks. Offshore, the Vesterålens promise porpoise, humpbacks and orcas in winter and sperm whales during the summer.
4. Whales - Kvaloya Island
About 30mins from Tromsø, via the Rya Tunnel, Kvaløya Island is also known as 'Whale Island' which gives you an inkling as to what might lie ahead. Herring-chasing humpbacks and orcas turn Kvaløya into one of the world's most exciting settings to
see these magnificent marine mammals
in their natural environment while also catching sight of the Northern Lights.
5. Whales - Lofoten Islands
Skrei, ferried via the warm Gulf Stream, ensure the human and marine inhabitants of the
Lofoten Islands
never go wanting for fish suppers and if you're looking to join them, head to Nordland. Sea eagles, cormorants, otters and puffins hang around coastlines alongside whales waiting for the catch of the day while mountainous interiors make the midnight sun all the more mystical.
Moose & Reindeer - Senja Islands
6. Moose & Reindeer - Senja Islands
Senja provides ample stomping grounds for wildlife watchers amongst the pine-covered mountain foothills of Ånderdalen National Park. Permanent populations of moose and semi-wild reindeer make for stop and stare moments while seals can be found at fjord heads and otters make the most of fish-filled rivers to combine wonderfully well with Atlantic views from Hamn Harbour.
NORWAY WILDLIFE HOLIDAYS ADVICE
The best experience?
Lorna Griggs, Polar Regions expert at supplierNatural World Safaris, shares her top advice on wildlife watching in Norway:
"My best Norway wildlife experience is a toss up between swimming with orcas and humpbacks off the coast of Norway in the winter or polar bear expeditions in Svalbard in the 24-hour summer daylight, when the bears are padding across the pack ice hunting for seals."
Lofoten Islands
"The Lofoten Islands are home to otters, foxes and whales, as well as moose on the larger islands. We have incredible trips out to see the orcas and humpbacks off the coast of Tromsø and Tromvik in the winter, where travelers spend a week swimming alongside these incredible creatures. Again though, the best place for wildlife is Svalbard. Whales – blue, beluga, humpback and orca, polar bears, reindeer, Arctic foxes, walrus… it really is a wildlife lovers' dream!"
Tips for birders
"Alkefjellet is an incredible bird cliff in Svalbard where you will find literally hundreds of thousands of Brunich's guillemots. Even if you're not a keen bird watcher, the sight of these incredible birds circling the skies is magnificent. Alkefjellet is featured often in Arctic documentaries, but it's far more spectacular in person."
At Responsible Travel, we think the best people to advise our travelers are often... other travelers. They always return from our tours with packing tips, weather reports, ideas about what to do - and opinions about what not to.
We have selected some of the most useful Norway wildlife vacation tips that our guests have provided over the years to help you make the very most of your vacation.

On the trip, it was cold as expected so I had all the warm layers...

"Don't set your heart on seeing anything specific. Be prepared for the changes in weather. It's not as challenging as I expected - to take account of the huge spectrum of ages and abilities. But most of all HAVE FUN!" – Lisa Thomas, polar bear watching in Spitsbergen

"There is no alcohol available on the boat, and we didn't go ashore for 5 days. Bring a good book. December, when the whales arrive, only has a couple of hours' daylight. You can see perfectly well either side of that, but by 3pm it's dark, so plenty of time below deck. Make sure you bring layers and PROPER waterproof clothes. The wind chill factor at sea can make it seem very cold. Be prepared for long stints on deck in inclement weather (worth it for the scenery alone)." – Paul Thomson, Northern Lights and whale watching

"Travel light with lots of wind proof layers! On the trip, it was cold as expected so I had all the warm layers but I was most thankful for the windproof outer trousers and coat. I was a solo traveler and everyone on board was very friendly – just book it and go!" – Claudia Philips, Northern Lights and whale watching

Don't set your heart on seeing anything specific...

More about Norway wildlife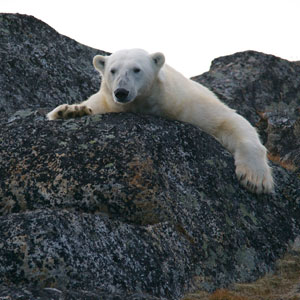 Let's face it, there aren't going to be too many opportunities to watch whales at midnight or peer at polar bears on pack ice and if you want to know how to do both then read on as our Norway wildlife vacations guide has got the complete low down.