Pantanal travel guide
---
2 minute summary
A vast wetland the size of France, Brazil's Pantanal shelters around 1,000 species of birds and over 200 mammals, making it one of the richest ecosystems on earth. A quick glance at a map reveals a network of tangled rivers and oxbow lakes, which flood on an immense scale in the rainy season meaning you'll need to take a boat through the inundated forest – a surreal experience.
The Pantanal's most famous inhabitant is the jaguar – and the rivers of the Northern Pantanal offer the best opportunities to spot jaguars on the continent, as they prowl the banks, seeking out prey. But this environment is superb for observing all kinds of wildlife. While the Amazon's dense vegetation means the wildlife can be heard but rarely seen, the sparser forests and grassy plains of the Pantanal means it has nowhere to hide, and there is every chance you'll encounter enormous jabiru storks, giant otters, comical capybaras and even the odd tapir.

Find out how in our Pantanal travel guide.
Pantanal map & highlights
---
Make the most of your time
This wetland is separated into the Northern and Southern Pantanal, each with its own highlights. This is no destination to dip in and out of; you'll need to fly to reach Brazil's remote interior, and from there drive further into the wilderness to reach the reserves and lodges – so you'll be spending three days here, at least. For the Northern Pantanal, in the state of Mato Grosso, fly into Cuiabá then drive along the Transpantaneira Road to one of several lodges strategically placed close to prime jaguar habitat. The Southern Pantanal, in Mato Grosso do Sul, is generally reached via the city of Campo Grande. This is a vast terrain of cowboy ranches, grasslands and rice fields, dotted with homely pousadas.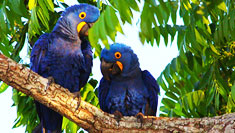 Hyacinth Macaw Research project
The hyacinth macaw, known locally as the arara azul, is a beautiful, vivid blue bird. Unfortunately, its good looks meant that it became popular as a pet – decimating wild populations. This research project, initiated in the 1990s, has managed to triple the number of birds in the wild. Visitors can learn about the macaws, how the project has conserved them, and visit protected nesting sites.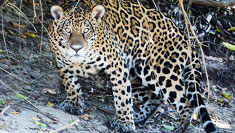 Jaguars in Porto Jofre
Jaguars are one of South America's most notoriously elusive creatures – but also, possibly, its most striking. Porto Jofre is the place to come to see them, and while sightings are never guaranteed, success rates are extremely high. Cosy lodges mean you can spend three days here, too – exploring the surrounding wetlands, and giving yourself many more opportunities to encounter this well camouflaged predator.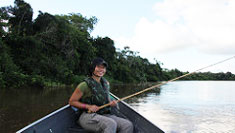 Southern Pantanal
The Southern Pantanal offers many more ways to see wildlife than its northern counterpart, with walking safaris along the trails of the national park, as well as horseback riding tours. Boat and kayak excursions on the Rio Negro offer opportunities for piranha fishing as well as wild picnics, and few experiences match a night safari, as this thriving ecosystem comes alive after dusk and reaches its screeching crescendo.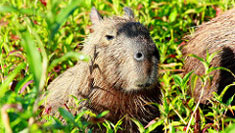 Taiamã Ecological Reserve
This remote little reserve is a wonderful place for seeking jaguars, and it receives even fewer visitors than other parts of the Pantanal. One of Taiamã's real treats is its house boat anchored on the Paraguay River – a suitably tranquil place to stay, with easy access to motorboats which will carry you down tributaries in search of giant otters, anacondas, capybaras, tapirs, macaws and jaguars.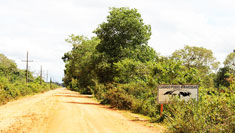 Transpantaneira Highway
This famous road crosses the Northern Pantanal between Cuiabá and Porto Jofre. Over its 147km course, it crosses over 120 wooden bridges. The Transpantaneira is a wildlife hotspot in its own right, with some 100 species of birds – including many waterfowl – and dozens of mammals such as anteaters and capybara, appearing along the way. This journey will be a slow one, with plenty of photo ops.