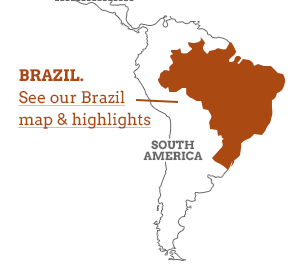 You'll need to conquer this colossus in tiny chunks – choosing one or two of its vibrant cities, a couple of stretches of beach, the northern or southern Pantanal, just a sliver of the Amazon. But as testament to its richness, the experiences to be had in just a slight space and time are enormous. Close to four million species live within Brazil's borders. The Amazon envelops visitors entirely, as you trek or canoe through flooded forest, past twined lianas to a cacophony of screeching birds and insects. But the Pantanal is where the wildlife hangs out – unobscured by umbrellas of leaves, this tremendous wetland is a playground for around 1,000 species of bird and over 200 mammals.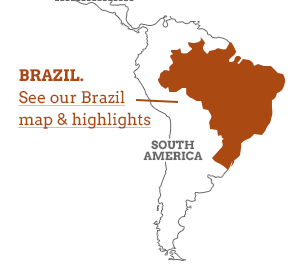 Encompassing half of South America, almost half the world's rainforests and still finding space for cosmopolitan cities, Brazil is more like a continent than a country.

The cities and beaches are the people's playgrounds – Rio is the party capital in a fantasy setting, while Salvador is the Afro-Brazilian heartland; colonial Paraty attracts artists and expats. Tropical islands, mountains dropping into the coast and the mighty Iguaçu Falls complete the package – leaving you wondering how you'll ever have time to sit and watch a game of football.
Brazil is...
immensely biodiverse, with more mammals, plants, freshwater fish and monkey species than any other country.
Brazil isn't...
an unspoiled paradise. Steel yourself for tough scenes in the cities and cleared forests.
What we rate & what we don't
Chapada Diamantina
This national park has some of Brazil's most stunning hiking trails, following valleys and mountains, traversing grasslands and passing 280m-high waterfalls with the chance to cool off in a crystal clear river afterwards. Snorkel or rappel into underground cave pools, or try mountain biking. There are colonial houses to stay in, as well as local homestays for a more cultural experience of the region.
Candomblé celebrations
This Afro-Brazilian religion combines Catholic and traditional African beliefs, and translates as "dance in honour of the Gods" – known as orixas. The religion has survived centuries of persecution, and today the powerful percussion, signing and dance can mainly be seen in Salvador. Visitors are often welcome at ceremonies (follow the drums to find one…) but dress respectfully, and in white.
Green Coast/Costa Verde
In the effort to tick of Brazil's big names, many delights are overlooked – including the Green Coast, just west of Rio. The name is a clue to the verdant mountains and emerald waters of this 280km coast. The mountains plunge into the ocean, tropical islands dot the waters, and fishing villages dot the winding coastal road, which offers dramatic bay views.
Diverse architecture
Brazil's natural riches are much celebrated – but its architecture should not be dismissed. As well as the colonial centers of Paraty and Salvador and the churches of Rio, Oscar Niemeyer's fabulous creations are well worth a visit – and an arty photo or two. His designs include Rio's Ministry of Education and Health, several buildings in São Paulo, a district of Belo Horizonte, and the whole of Brasilia.
Rio de Janeiro
Possibly the most dramatically situated city on the planet, Rio offers pretty much everything you could want in one place – awesome views, white-sand bays, tropical islands, buzzing nightlife, dance and drumming classes – all to the intoxicating beat of samba and bossa nova, with the lilting melodies of Brazilian Portuguese. Aside from the famed sights, the Botanical Garden is well worth a visit.
Pantanal
The Pantanal is the world's largest seasonal wetland, and Brazil's wildlife capital. Almost 700 species of birds can be found here, along with around 95 mammals – and the lack of jungle mean they can be easily spotted. Take night treks, canoe rides and horseback hacks, and see capybaras, anacondas, monkeys and hyacinth macaws. Porto Jofre is also the best place in the world to see habituated jaguars.
Ilha Grande
This is paradise as you would paint it; an island of pristine rainforest, tropical beaches and warm, sapphire waters. Despite its accessibility, Ilha Grande has remained fairly exclusive – for a real treat you can rent an entire villa, complete with staff and your own beach. It's worth leaving your sun lounger to discover the Ilha's colouful history – peppered with pirates and prisoners.
Paraty
Laid-back Paraty is a beachside colonial town with bohemian markets, fresh seafood restaurants and plenty of charm. If that doesn't sound tranquil enough – its cobbled streets are closed to cars, and this popular vacation retreat has lured artists and writers from Brazil and worldwide. You can also take a boat cruise around the bay or soak up the sun on one of several nearby beaches.
Copacabana beach
This iconic, 4km-long praia may be worth heading to for a sport of people watching, but if it's a beach vacation you want, then Rio's bays are not your best bet. Despite being beautiful, they're busy and built up, with plenty of ball games, vendors and beachfront hotels. Head to Bahia or Ilha Grande for empty-beach bliss.
Amazon wildlife
The Amazon is famed for its biodiversity; one in ten of all the world's species lives here. However, that doesn't mean you'll see them; the density of vegetation and high canopy means they remain well hidden. The Amazon is wonderful as an immersive jungle experience, learning about medicinal plants and waking to the sounds of the forest. But for wildlife, head to the open Pantanal.
Rio Carnival
It's become one of those "do before you die" experiences – but we're just not sold on the world's biggest party. As well as smashing the budget (even dorm beds can go for over $100) you'll need to do some serious advance booking. But all's not lost – Salvador and Paraty have incredible celebrations that manage to avoid the hype (and price hikes) – as well as feeling much more local and authentic.
Large Amazon cruises
Huge ships don't just sail the seas; they sail hundreds of miles up the Amazon River. Aside from the sheer madness of traveling all the way to the Amazon to spend five days in a floating, air conditioned hotel, the ships damage the environment and contribute little or nothing to local economies. Smaller, 12-berth luxury ships are a real treat – plus you can travel along the more remote tributaries.
If you'd like to chat about Brazil or need help finding a vacation to suit you we're very happy to help.

Eating & drinking
Brazil is home to "superfoods" like açaí, which have actually been used by native Brazilians for centuries.

Feijoada is the unofficial national dish – it's a cholesterol-raising stew of beef or pork trimmings, sausage and black beans. Traditionally, feijoada is prepared in a clay pot over a fire.

Cachaça is the native spirit – it's made from sugarcane and is used to make caipirinhas, along with lime and brown sugar. For a uniquely Brazilian twist, try a "caipifruta", made with crushed tropical fruits instead of lime.

Brazil borders ten countries and is the longest country in the world, stretching 4,395km from north-south. It also spans three time zones.

People & language
Brazil's 200 million people comprise one of the world's most diverse nations. More than half are of European origin, but there are many descendants of slaves – and some African customs, traditions and words remain, particularly in the northeast. Around 230 indigenous groups live in Brazil – most of them in the Amazon, though few remain uncontacted. English is not widely spoken – have a go at Portuguese!
If someone yells "Oi!" they're not being rude – it means "Hi!" in Brazil.
If the accent is flummoxing you – remember the "r" sounds more like a soft "h". So – "Rio" sounds like "Hio".
"Legal" is used a lot – it means "cool!"
Gifts & shopping
Brazil's cities host several "hippie markets" including Ipanema's Feira Hippie in General Osório square. Handmade clothing and accessories are sold here, scouts from prestigious fashion labels are known to scour the stalls.

Despite a wealth of native crafts, it's hard to find authentic items which have not been produced, poorly and cheaply, for tourists. São Paulo has several specialist shops, including Amoa Konoya (selling work by 60 tribes) and Iandé (featuring hammocks, pottery, baskets, stools and more).

If taking part in a favela tour, many include visits to craft workshops set up by NGOs as well as local artists' studios. These ensure your money reaches those who need it most.

Brazil may be famous for its natural attractions, but it's also a massive urban center; 13 of its cities have more than a million inhabitants.

How much does it cost?
Bus tickets: £1.20-£2.40 per hour of travel

Football match ticket: £6.20

Entrance to Iguaçu Falls: £12.90

Plate of feijoada: £4

Ticket on Rio Metro: £1.90

Can of beer on the beach: £1.30