Things to see & do in
Rio de Janeiro, Brazil
Even if you feel slightly underwhelmed by the idea of Rio Carnival – the 'world's biggest party' – or the famed but built-up stretches of sand that are Copacabana and Leblon, it's undeniable that Rio de Janeiro is geographically speaking one of the world's most striking destinations. Fringed with dramatic, thickly forested mountains to which rickety favelas cling, Rio boasts golden Atlantic bays dotted with islands and bobbing yachts, and sunsets so gorgeous that it's not unknown for them to earn a round of applause.
The 'Cidade Maravilhosa' is an unapologetically rambunctious place, a city that's constantly moving to its own rhythms of samba, bossa nova, funk and hip hop. No excuse for a good time is ever turned down and many trip routes will naturally either begin or end here because, let's be honest, if you haven't seen Rio, then you haven't really seen Brazil. There are several itineraries designed to culminate with joining the carnival, or celebrating New Year in Rio when cariocas (Rio residents) traditionally gather on the Copacabana beach, dressed in white and sharing around bottles of champagne.
Of course this is also one of those cities where the astonishing gulf between the super wealthy and the extremely poor could hardly be more starkly demonstrated. Favela shanty towns perch within walking distance of millionaires' mansions, and some tour organisers can provide eye-opening tours of these areas, guided by local residents, that may take in a visit to a community project where you can gain a deeper understanding of the challenges of living in places such as this.

A stay in Rio de Janeiro, whether you're arriving for Carnival or heading beyond, perhaps west to the idyllic beaches of Ilha Grande or north to Manaus and the Amazon, is sure to feature some of the best-known landmarks, several of which we'll go into more detail about below. But if you really want to get a feel for the rhythm of Rio, the chances are it will come from sipping caipirinhas on the beach among crowds of local sunseekers, wandering the electric samba clubs of the bohemian Lapa neighbourhood, or pausing for lunch at a roadside churrasquería (steakhouse).
Our top Brazil Vacation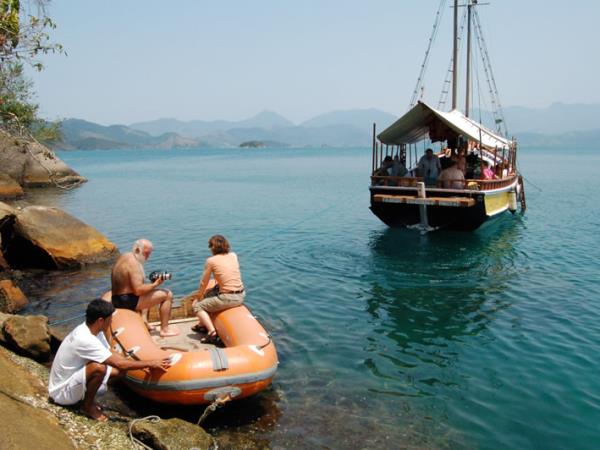 Wildlife & culture roundtrip through Brazil, all tailormade
From
€

4795
23 days
ex flights
Tailor made:
This trip can be tailor made throughout the year to suit your requirements
If you'd like to chat about Brazil or need help finding a vacation to suit you we're very happy to help.

Highlights of Rio de Janeiro
Christ the Redeemer
The defining symbol of Rio, this Art Deco statue, 40m in height and one of the Seven New Wonders of the World, stands atop Corcovado Mountain, presenting superb views over the city and bays. It is reached via a steep rack railway dating to the late 1800s, that takes you through the Tijuca National Park, a popular location for trekking with some 30 waterfalls to discover.
Sugarloaf Mountain
Panoramic views across Rio de Janeiro make a trip up the iconic Sugarloaf Mountain a must. At the mouth of Guanabara Bay, the summit is reached by a two-stage bubble cable car from the Praia Vermelha. Each stage takes around three minutes and offers spectacular 360 degree views.
Carnival
The Carnival in Rio de Janeiro, held the week before Lent, is the biggest in the world, attracting some two million revellers every day. We're not entirely sold on the carnival – it's incredibly expensive even for dorm rooms and there are plenty of other celebrations in the area that feel more authentic, but if joining in the ultimate party is on your bucket list then look at a Brazil vacation that either begins or ends with Carnival.
Beaches
Three of Rio's most famous beaches lie adjacent to each other: Copacabana, Ipanema and Leblon. All have been immortalised in song, and all have their own character. Leblon is very cosmopolitan, with dozens of bars, restaurants and samba clubs strung out nearby. Ipanema is elegant and refined, while Copacabana is a 4km arc of golden sand, bookended by historic forts, and flanked with a promenade of Portuguese decorative tiles.
Botanical Garden
A UNESCO Biosphere Reserve, the Rio Botanical Garden is a sanctuary of tranquility away from the often hectic city streets. So vast that many visitors choose to hire an electric cart to get around, the garden is thick with tall Amazon trees in which marmosets and toucans perch noisily. There are six lakes, a handsome Japanese garden with cherry trees, bonsai and Koi carp, and some 2,000 species of orchids to admire.
Selaron Steps
This epic and eccentric tribute to Brazil and its people is the work of a Chilean artist who saw it as a constantly evolving project. The staircase of 215 steps between the Lapa and Saint Teresa neighbourhoods is decorated with bright fragments of blue, green and yellow tiles, the colours of the Brazilian flag. Many of the tiles were donated by visitors from different countries, so in effect this is a global team effort.
Regua Ecological Reserve
Around 90 minutes from Rio de Janeiro, this area of the Atlantic Forest seeks to conserve one of the world's top five biodiversity hotspots. It's a superb place for birdwatching, with almost 500 species recorded, while the forest's mountainous topography and relative isolation provides rich habitat for enormous numbers of butterflies, primates, amphibians and reptiles.