Things to see & do in the Pantanal
If you were thinking the Amazon Rainforest was the best place to watch wildlife in Brazil, then think again. The Pantanal wildlife reserve is a vast expanse of tropical wetlands, savannah-like plains and low forests that provides habitat for countless species of mammals, birds and water dwelling creatures, many of them rare and endangered, and far more visible than they would be amid the dense vegetation of the Amazon. This landlocked river delta, sprawling across great swathes of Bolivia and Paraguay as well as Brazil, is the jewel in the crown when it comes to biodiversity in South America, a unique ecosystem shaped by rising and falling floodwaters. And the best part? Relatively few people go deep into the Pantanal, as many of our itineraries do, so that if youíre prepared to rough it a little (infrastructure is quite basic here), youíll find it far less busy than your typical Amazon cruise.
The Pantanal is divided into north and south. Southern Pantanal is usually entered through the town of Campo Grande, leading you into agricultural country. Here you have many different ways to explore the area, such as on horseback, canoeing along the Rio Negro, or trail walking with a naturalist guide. Usually staying on ranches, youíll be able to head out on nighttime safaris by 4WDs fitted with spotlight to see the Pantanal when it truly comes alive.
The main focus for Northern Pantanal is the reserveís most famous inhabitant, and also one of its most elusive: the jaguar. Due to protection and a growing familiarity with humans, jaguars can now be seen in greater numbers here, often along the banks of the CuiabŠ River around Porto Jofre, hunting for caimans. To explore the northern reaches of the Pantanal, youíll take the Transpantaneira Highway, staying in one of the lodges along it that are ideally placed for prime jaguar habitat.
So, letís talk about the wildlife. Beyond the jaguars, itís possible youíll see cute capybaras, giant river otters, caiman, ocelots, anteaters and armadillos. As you travel by boat, you may see piranhas, or even massive anacondas gliding through reams of aquatic plants. There are prolific numbers of birds here: parakeets, kingfishers, storks, kites, hummingbirds Ė itís a birderís paradise, especially in summer when flocks of migratory birds come to nest. In short, even if you donít have much luck, youíre still going to see far more wildlife than you ever would in the Amazon.
The Transpantaneira Highway
Back in the 1970s, the Brazilian government embarked on an ambitious plan to develop the Pantanal infrastructure with the creation of a highway running through it. It turned out to be a little too ambitious however, and the Transpantaneira Highway actually only runs a short distance, between the colonial gold mining town of Poconť and Porto Jofre. Yet this is a sensational driving experience, spanning over 120 sometimes rickety wooden bridges, with lakes teeming with wildlife and giant lily pads on both sides. Itís vital to keep your eyes open at all times, because you never know when youíre going to spy a jaguar on the prowl, a caiman floating surreptitiously among the reeds, or a flock of colourful macaws taking flight.
Our top Brazil Vacation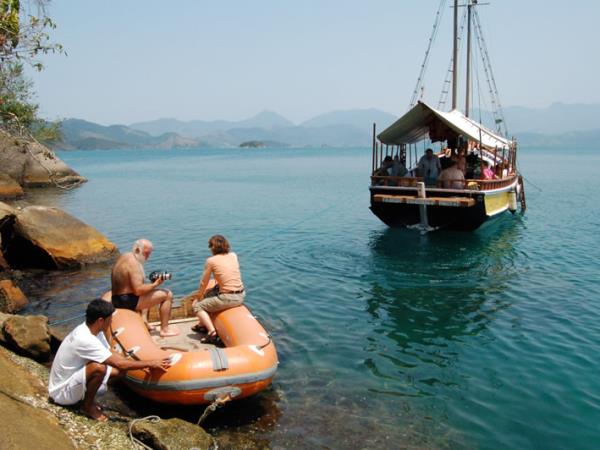 Wildlife & culture roundtrip through Brazil, all tailormade
From
Ä

4795
23 days
ex flights
Tailor made:
This trip can be tailor made throughout the year to suit your requirements
If you'd like to chat about Brazil or need help finding a vacation to suit you we're very happy to help.

The Pantanal will typically take up between two and four days of a Brazil vacation. On overland itineraries it will usually directly precede or follow a trip to the Iguazu Falls, Campo Grande being 10 hours by road from Foz do Iguazu. You can explore the Pantanal region either as part of a small group, with a structured itinerary accompanied by a tour leader as well as local guides, or on a tailormade trip that allows you to spend as much or as little time as you want there, and gives you greater flexibility in terms of activities and accommodation.
Best time to visit the Pantanal
You can visit the Pantanal at any time of year, but of course the weather conditions dictate how you will be getting around. During the rainy season between January and March (it rarely actually rains for more than a few hours each day) much of the Pantanal floods so you need to navigate its rivers and lakes by boat. The vegetation is glorious, mammals can be clearly visible as they seek higher ground, but there does tend to be greater quantities of mosquitoes around, too.

The flood waters recede from around April onwards, heralding the dry season which runs from July to September. This is the best time to visit the Pantanal, as creatures cluster around the remaining stretches of water. Itís also peak time for viewing the immense flocks of migratory birds that come to nest in the Pantanal, and itís also a little cooler. The other big advantage of traveling during dry season is that you can see the park on foot or by horseback, as well as by boat.

Go to the end of the transpanitaria to Porte Jofre this seemed the best place for jaguar spotting and for giant otters. Although we saw a couple of jaguars at Rio Claro I think we were extremely lucky as sightings here are not as common even our guide was surprised & pleased

Ė Alan Holmwood on a Brazil wildlife tour