Amazon rainforest tours in Brazil
Embark on a voyage deep into the Amazon rainforest, where youíll follow in the path of early adventurers and explorers, and youíre bound to return with a bulging knapsack of sensory memories. The most vivid are sure to be the bewitching sounds of the rainforest at night; of birds, reptiles, monkeys and insects chorusing away in the inky blackness among the trees, over the riverís gentle ripple. Atmospheric? You donít know the half of it.
There are 390 billion trees in the Amazon, spanning 16,000 species, over 2,000 species of animal and, it is estimated, some 2.5 million species of insect Ė a practically unlimited canvas of biodiversity stitched over countless fragile ecosystems, and 60 percent of it within the borders of Brazil. Yet while itís impossible to overstate the importance of the Amazon to the health of our planet, and the survival of the human race itself, the rainforest still faces enormous threats. Joining a responsible organised tour of the Amazon is a way to make a positive contribution to wildlife conservation here, to support traditional ways of life, and to show politicians and businesses that the Amazonís natural resources have the potential for more than just agriculture and forestry.

Amazon tours can either be the principal focus of a Brazil vacation, or form part of a wider itinerary perhaps taking in Rio de Janeiro and the Pantanal region. The usual departure point for cruises is Manaus, on the banks of the Rio Negro, a city whose rapid growth during the 19th century rubber boom is perhaps best exemplified by the astonishing and magnificent opera house. An opera house! In the heart of the Amazon basin with thick jungle all around. Just the first of many marvels youíll encounter.
ďManage your expectations. The trip is for good travelers, not tourists ... if you expect the luxuries of a modern cruise ship you will be disappointed. You will have the opportunity to make four excursions each day. During the rainy season you will get rained on during three of the four. Your clothes will dry out... Even at times when there was no wildlife, the sounds of the jungle were captivating.Ē - Jim Schwarz on a small group Amazon river cruise
If you want to get deep into the Amazon rainforest then you need to take a river cruise, traveling by small boat, one which can take you down small tributaries and channels such as the Jauaperi River to explore wildlife and communities that larger vessels cannot hope to reach. The typical Amazon riverboats that feature in our tours are well equipped expedition vessels, comfortable but not luxurious, and often with custom built observation decks useful for spotting animals amid the tangled vegetation on the riverbanks, but also for dancing samba and sipping caipirinhas in the gloaming. You may also venture out into more narrow bodies of water in smaller motorised boats or kayaks.
You might cruise the vast Anavilhanas Archipelago in search of pink river dolphins, paddle a kayak around Lago Turia and through flooded grasslands, or fish for piranhas from the deck, with your catch perhaps appearing on the eveningís dinner menu. You will see pristine parts of the forest that have lain untouched for millions of years, and fascinating natural spectacles including the Encontra das Aguas, or Meeting of Waters, where the black Rio Negro meets the sandy coloured Amazon without mixing, in a turbulent confluence several miles long.
Our top Brazil Vacation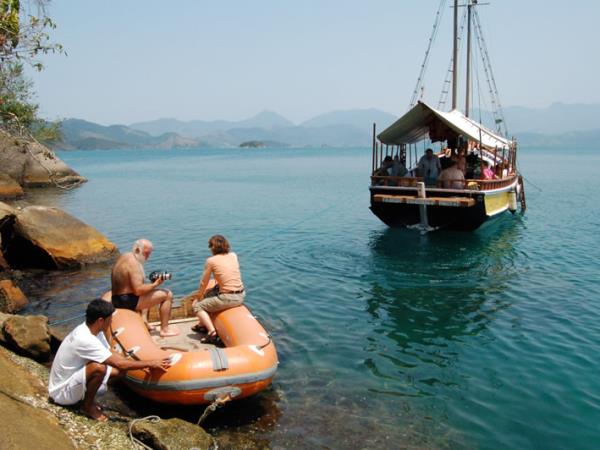 Wildlife & culture roundtrip through Brazil, all tailormade
From
Ä

4795
23 days
ex flights
Tailor made:
This trip can be tailor made throughout the year to suit your requirements
If you'd like to chat about Brazil or need help finding a vacation to suit you we're very happy to help.

Not all itineraries involve spending the entire time on a boat. There are opportunities to visit Caboclo villages to find out about lives that depend entirely on the river and the rainforest, or to stay in an ecolodge that serves as a base for nighttime walking safaris. Skilled naturalist and conservationist guides, often drawn from local communities, lead you through the hot and humid rainforest in search of orchids; to explain the use of different types of medicinal plants, and to spy by torchlight three-toed sloths, howler monkeys, wild pigs and iguanas, and the telltale red pinpricks in the dark that show youíre being silently watched by caimans.
Itís worth pointing out here that the Amazon foliage tends to be very dense and dark compared with destinations such as the
Pantanal
. Wildlife viewing here is not always easy, even with the assistance of torches and specialist guides Ė that doesnít mean you wonít get lucky, but itís better to focus on the overall atmosphere of an Amazon cruise, rather than count on seeing a particular creature and risk being disappointed if you donít.