Things to see & do in
Paraty & Ilha Grande
A major port during the Brazilian Gold Rush of the 17th and 18th centuries, Paraty is now a popular and tranquil resort on Rio de Janeiroís picturesque Emerald Coast. The townís historic center is pedestrianised, notable for its well preserved colonial architecture, Baroque churches and cobbled streets along which horsedrawn carriages pass. At high tide, some of these passageways flood with seawater and locals erect little wooden bridges to help people get around.
Paraty, meaning River of Fish in the indigenous Tupi language, is a regular stop on overland tours of Brazil, chosen as a place to wind down in. Itís a pleasingly restful resort and a great place to stretch your legs for a few days after some long drives, before the headrush of nearby Rio. This town is backed by mountains clad in tropical forest, and overlooks the Bay of Ilha Grande, dotted with islands. You can take day trips out on traditional schooners to explore the coast and its secluded beaches and swim spots, the waters are just perfect for snorkelling, diving, sea kayaking and paddle boarding.
Trekking in these parts is immensely fun: particularly notable is a short stretch of the 2,000km Caminho do Ouro route that follows a path through the rainforest laid by slaves to transport gold from Minas Gerais state to the coast. There is a circuit that takes around half a day to complete, which passes several idyllic spots for wild swimming in pools and waterfalls.
An island paradise: Ilha Grande
Should Paraty somehow be not quite relaxing enough for you, then youíll find a real life treasure island just a few hours off the coast Ė Ilha Grande. This huge island can be reached with ease from Rio, making it a regular weekend escape from the city for its residents, the cariocas. From Paraty itís a short journey by boat or ferry to the islandís main port, Vila do Abra"o.

Ilha Grande has an intriguing history. Legend has it the island was once a pirate lair, while it also served as a leper colony and a prison for highly dangerous inmates Ė Brazilís own Alcatraz. But today Ilha Grande is better known for its incredible levels of biodiversity, with healthy populations of several endangered species including brown howler monkeys and maned sloth living in the Atlantic rainforest that swathes much of the island.
Largely untouched by development, and car free, Ilha Grande has a rugged, pristine beauty to it, boasting over 100 beaches to discover if you have the time and inclination. There are no banks here, and only one ATM, so youíll need cash to make the most of Vila do Abra"oís famously good seafood restaurants, or to enjoy your fill of caipirinhas on the beach.
Beyond the considerate way the islandís nature has been preserved to date, what also makes Ilha Grande unusual is that the sea around it sees a remarkable convergence of tropical, subtropical and temperate zone marine life. Take a boat trip out to the Blue Lagoon, or one of the many uninhabited islets nearby, and you might see tropical fish swimming alongside sharks, sea turtles, orcas, dolphins and even penguins.
There are over 100km of marked hiking trails on the island, with the most well known including that to the magnificent Lopes Mendes beach, a long crescent of pure white sand; another to the islandís highest peak, Pico do Papagaio, or one leading you to the ruins of the now long abandoned prison.
Our top Brazil Vacation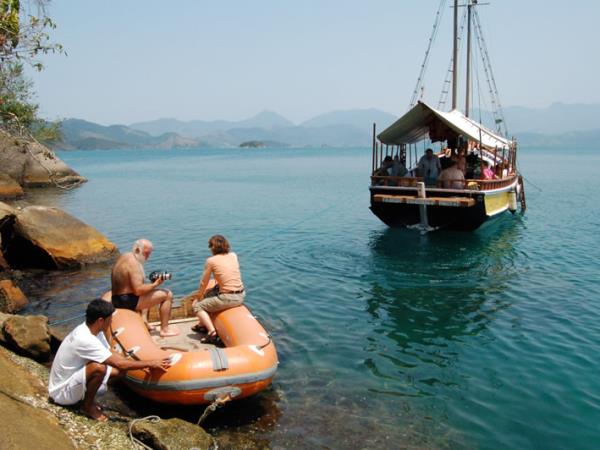 Wildlife & culture roundtrip through Brazil, all tailormade
From
Ä

4795
23 days
ex flights
Tailor made:
This trip can be tailor made throughout the year to suit your requirements
If you'd like to chat about Brazil or need help finding a vacation to suit you we're very happy to help.

Getting to Paraty & Ilha Grande
Paraty attracts a bohemian and cosmopolitan crowd, with a renowned dining scene and several galleries showcasing the artwork of local and indigenous craftspeople. Itís a popular place to visit just before or after Rio de Janeiro on small group tours of Brazil, and itineraries typically see you stay for a few days with plenty of free time for exploring Paratyís charming whitewashed architecture, or for beach hopping or trekking. Even if your itinerary doesnít include a jaunt to Ilha Grande, itís an easy day trip with regular ferries that take about one and a half hours.